Cakes come in all different shapes and sizes, and utilizing the best cake turntable for displaying your culinary masterpiece will increase its aesthetic appeal. That's because what impresses people most about a cake is often its decorations and presentation. We've researched and discovered nine top-rated cake turntables as well as one you may want to avoid.
Reviews of the 9 Best Cake Turntable, Plus 1 to Avoid
1. Ateco 608 Revolving Cake Decorating Stand 11" Round Review
While Ateco has a number of different turntables on the market, we found this particular one to be the best Ateco cake turntable available. The Ateco 608 Revolving Cake Decorating Stand is available in a number of different options, with the default one consisting of a plastic base. Other options include a cast iron base or an aluminum base. This turntable is quite affordable when compared to other options that are available and provides a flat round top that measures 11 inches in diameter. The flat top can easily be turned to help ensure you can reach around the cake without having to move from one position to the next position constantly.
2. Smoothest Spinning 12-Inch Cake Turntable and Decorating Supplies Kit by Cakes of Eden Review
After we did extensive research, we found the ForeverSmooth 12-inch Cake Turntable by the Cakes of Eden brand to be the best cake turntable of 2020. This turntable comes with additional accessories that make the process of decorating your cake easier. These accessories include a spatula, as well as a lifter board. In addition to these convenient features, this particular turntable also features a leveler, as well as a cutting mechanism built into the board that makes it effortless to cut your cake into multiple pieces. This is one of the best cake turntables with lock available, which ensures that you can keep the top part stable while working on more detailed decorations.
3. Wilton Trim-N-Turn Ultra Cake Decorating Turntable Review
The Wilton Trim-N-Turn Ultra Cake Decorating Turntable is a complete kit that will make your life much easier when it comes to decorating cakes. The turntable features a non-slip design that will ensure your cake stays on the tray while you are busy with your decorations. This is one of the best cake turntable with lock mechanism, ensures the tray does not rotate by itself. In addition to the main item, being the cake decorating turntable, this kit also comes with four couplers, a total of 12 decorating bags, and 12 accompanying ties that are used for the icing bags. Furthermore, the tool also comes with decorating tips that have been specifically designed for decorating cake borders.
4. Kootek Aluminium Alloy Revolving Cake Stand 12-Inch Cake Turntable Review
If you are looking for the best metal cake turntable on the market, then the Kootek Aluminium Alloy Revolving Cake Stand 12-Inch Cake Turntable might be exactly what you are looking for. The tray that is attached to this cake turntable has been made from a high-quality aluminum material to provide you with a durable accessory. In addition to the cake stand, this Kootek cake turntable also comes with a convenient metal spatula and a scraper, which will most certainly come in handy while you are decorating a cake. The tray attached to the top of this turntable measures a total of 12 inches in diameter, ensuring it is large enough for most types of cakes you may bake at home.
5. Cake Turntable Revolving Cake Decorating Stand, by Ohuhu Review
We looked at many different options on the market and found the best revolving cake stand that comes at an affordable price to be the Ohuhu Cake Turntable. This aluminum cake turntable provides a smooth surface that you can use to place your cake on for decorating. The turntable has a 12-inch top, providing adequate space to fit your entire cake. The icing spatula that comes included with this kit was designed with a unique angle, making it much easier to apply frosting to your cake as well. In addition to the spatula, this kit also comes with a number of different scrapers to help you create various frosting shapes.
6. 11-Inch Rotating Cake Turntable with Icing Spatula and 3 Icing Smoother by Kootek Review
Next up is the Kootek 11-inch Rotating Cake Turntable with Icing Spatula and three Icing Smoothers. Kootek cake turntables are probably one of the most affordable turntables that you are going to find on the market today. With the low price tags, comes its reputation as the best rotating cake stand around. The turntable itself is made from a quality plastic material and comes with a number of accessories to aid you in the cake decoration process. These accessories consist of a silicone spatula, two angled spatulas, as well as three smoothers that are used to shape frosting perfectly over a cake. The ball bearings of the rotating turntable are made from stainless steel to provide you with a smoother experience when turning the platform.
7. Cake Turntable Set by PrismaChef Review
Another excellent option for anyone looking to buy a cake turntable that will not break the bank, but still gives them a product that will make the job of decorating cakes a breeze. The Cake Turntable Set by PrismaChef is also one of the more affordable turntables currently available. The turntable itself measures 11 inches in diameter, which means it does not provide adequate space for larger cakes, but will fit the majority of cakes baked in standard cake trays. The base of the turntable is made from rubber to ensure the tool does not slip while you are busy decorating a cake. The ball bearing design also provides a durable and comfortable experience while using the turntable.
8. Rotating Cake Turntable Decorating Kit by Benir Review
The Benir Rotating Cake Turntable Kit comes with everything you need to get started with decorating your very first cake – and even provides adequate tools and features for those who are already experiencing in the business of cake decorations. The rotating turntable has an 11-inch diameter to ensure it will fit the majority of cakes that you may bake. The kit also comes with some accessories like an icing spatula that features an angled design, as well as three decorating combs for easy molding of the frosting you apply to the cake.
9. NY Cake Professional Cake Decorating Turntable Review
The best professional cake decorating turntable that you will find on the market at the moment is the NY CAKE Professional Cake Decorating Turntable. This turntable features a high-quality, durable design. While not the cheapest on the market, the base of the turntable is made from cast iron material to ensure it is heavy enough to stay firmly mounted on the tabletop where you will be decorating a cake. An anti-slip based, made from rubber, further enhances the stability of this turntable. This particular decorating turntable does not come with additional accessories, such as a spatula or scrapers. Instead, all the focus was placed on the overall design of the turntable to ensure it offers the user maximum performance.
Avoid – Cake Decorating Tilting Turntable by Craftit Edibles Review
Apart from introducing our readers to the top options they have when buying a cake decorating turntable, we also want to look at an option that should be avoided. If you are serious about decorating cakes, then you should definitely avoid this cake turntable. The Craftit Cake Decorating Tilting Turntable seems like a good option at first, but this tool does not seem to perform as well as one would think. In particular, it seems like the tilt can get stuck. Even though promoted as a non-slip surface, there have also been complaints about cakes falling off the turntable once tilted.
---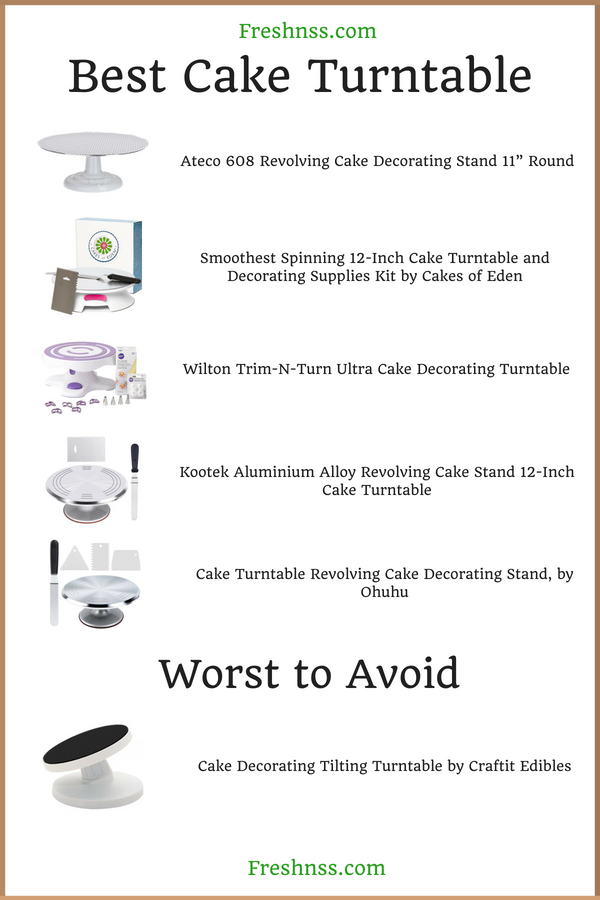 ---
---
2020 Buyers Guide to the Best Cake Turntable
If you're considering decorating a cake with printable designs, or airbrushed cake art, a cake turntable is a handy accessory. The idea of buying a cake turntable may seem simple, but once you get a look at the many options out there, you start to notice just how complex this process can be. To make things easier, we have compiled a list of three important factors that you should keep in mind while shopping for the perfect cake turntable.
3 Main Points to Consider
Turntable Size: The first factor that you should take into consideration is the size of the cake turntable you want to buy. These cake decoration accessories come in many different sizes – making this one of the most important elements that you need to consider. Essentially, you will need to look at the size of the cakes you are going to bake and decorate with the turntable. Ensure that the turntable offers enough space to ensure the cake will fit on the flat board that is mounted at the top. When the turntable's top is too small, your cake will overlap the edges, which could lead to problems such as your cake breaking while you are decorating.
Height: Apart from the size of the turntable's top-mounted board, you should also take the height of the turntable into account. There are many different options on the market. Some of these cake turntables are flat, while others offer a considerable height that will reduce the strain on your back. There are various options on the market that also comes with adjustable heights – when opting for this type of turntable, and you get to decide how tall the cake stand on the table should be in order to make the process of decorating the cake easier for you.
Features: Additionally, you should also take a close look at the features that are offered by the turntable you are interested in. Even though the majority of these tools might seem to be very similar, some of them have unique features that make them more effective and useful than other particular choices that you are presented with. For example, some turntables feature multiple shapes with a dual-side design, while others offer features such as the ability to tilt the mount. There are also some cake turntable with lock features, that can stablize the turntable, which is perfect for adding additional layers to your cake and for decorations that require more detail.
DIY Cake Decorating: A Few Helpful Tips
Buying a pre-decorated cake for a birthday, wedding, or any other event for that matter can be very expensive. Thus, many people are trying DIY cake decoration to help them use their creativity to create something unique, while also providing an attractive cake for the event that is coming up.
To help you get the most from your DIY cake decoration, here is a couple of tips:
If you find that your cake keeps sliding on the turntable as you decorate your cake, then apply a small amount of icing to the turntable before you place your cake on the cake stand. This will help keep your cake more stable while decorating. Additionally, this method will also apply to featuring cupcakes, or any baked-goods, on a cupcake stand.
When it comes to coloring the frosting used for decorating your cake, a gel coloring agent will offer a better and brighter hue as compared to liquid-based coloring agents.
If you do not have time to bake a cake and do the initial frosting, then simply buy a frosted cake at the store. Cut off any type of rosettes that might have been applied. Place the cake in the freezer for approximately one hour and then start decorating.
---
✅Cake Turntable: Reviews of the 9 Best Cake Turntable, Plus 1 to Avoid ❎:
---
Final Thoughts on Finding the Best Cake Turntable
Anyone who has baked a cake before knows that the decoration of the cake is often the hardest part. Without the right tools, it can be even harder to use your creativity for the perfect decoration. This is why we have decided to share with our readers the best cake turntable reviews of 2020 to help make the journey of decorating cakes even more sweet.