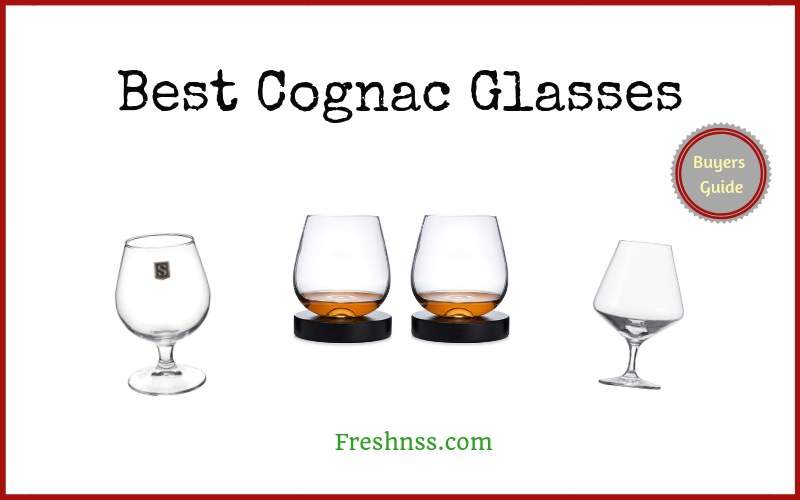 Do you love sipping on your cognac? Then take a look at the best cognac glasses to enhance the flavor and make your overall experience several times better. Knowing it can be difficult to choose the right snifter we decided to make things easier for you. We researched and identified seven best types of cognac glasses and one type of snifter you should avoid.
Reviews of the 7 Best Cognac Glasses, Plus 1 to Avoid
1. Schott Zwiesel Tritan Crystal Glass Pure Stemware Collection Cognac Glass Review
Schott Zwiesel is one of the most popular stemware brands. They're known for high-quality collections that ooze elegance and sophistication. You're probably wondering what makes their glass one of the best cognac glasses of 2020 and reasons for that are numerous. The glass is made of Tritan crystal which doesn't contain lead, an important factor in stemware quality as you'll learn below. Although made of a thin and crystal clear glass, the snifter is dishwasher safe and beyond stylish. Even with regular use (and washing), they stay clear, without marks and buildup that would taint the cognac taste as well.
The wide bowl cups naturally in your hand and allows enough room for swirling. Another huge advantage of this glass is that Schott Zwiesel reinforces their stemware at the zones that are most vulnerable in order to prevent scratches, cracks, and breakage. That way, you get to enjoy drinking cognac from your favorite glass for a long time, without having to go buy a new set quite frequently.
2. Personalized Cognac Whiskey Glass Monogram Initial Pewter Engraved Crest Review
If you're looking for the best small cognac snifter for a wedding, anniversary, birthday gift, or any other special occasion, then this is a perfect choice. The brand behind this piece of stemware is Fine Occasion, the leading online supplier of unique and high-quality personalized gifts. Their sophisticated snifters are monogrammed using their own lasers, embossers, and engravers that add an ooze of elegance into every occasion ranging from wedding day to unique presents and gifts for the dearest ones. Each snifter comes with a custom letter crest of a customer's choice. You can choose your own initials, a family name, or even favorite sports team, and options are truly endless. It's important to mention snifters are made of lead-free and hand-blown balloon glass while the crests are made from pewter and are hand-polished to perfection. What makes this glass even better is the money back guarantee. This snifter is also a good choice of a present for persons who love glasses that are on the heavier side.
3. Libbey Craft Spirits Cognac Glasses Review

Libbey is one of the most reputable glassware brands in the Americas. The company was founded in 1818 in Massachusetts as New England Glass Company and changed its name to Libbey in 1892. There are many reasons why this snifter is one of the most popular cognac glasses including its neat, simplistic, yet sophisticated design that suits every occasion, environment, and personal style. The short stem is smooth, but sturdy and design make it easy to cradle the bowl of the balloon glass to keep your cognac warm. Thanks to the wider bottom your cognac can breathe and release all its wonderful aromas. Plus, the snifter is lead-free which only enhances the sparkle.
The attractive glass enhances the artisanal libations that drinking cognac lovers simply adore. Besides drinking cognac, this snifter is also roomy enough for cocktails and soft drinks which only adds to the overall versatility of this piece of glassware. Made of high-quality balloon glass the snifter feels hefty and proper in hand, which is exactly what men want when sipping on cognac after a long day at work.
4. Riedel Vinum Leaded Crystal Brandy Cognac Glass Review
Looking for the best crystal cognac glasses? Then Riedel's is a wonderful option. Riedel is a glassware manufacturer based in Kufstein, Austria and it is mainly known for products that are specifically designed to enhance different types of wine. This elegant glass was made of machine-blown leaded crystal to add beauty and sophistication to your table. What makes the Vinum line of glasses so amazing is that it is the first machine-made glass in history to be based on the characteristics of the grape variety. The glass is designed to improve drinking experience and enhance the flavor of your drink. Besides drinking cognac and other types of brandy, Vinum is also suitable for wine and other beverages.
Thanks to its simple shape it's easy to warm up cognac in your hands, but it's important to bear in mind that although these glasses are high-quality they are also delicate and fragile so you need to be careful when handling them.
5. Aura Glass Stemless Cognac Snifter Glasses Review
Some people love traditional snifters while others prefer more modern designs. If you belong to the latter group, then you'll definitely want to consider Aura Glass's product. For starters, while most snifters have a stem this one does not. How cool is that? What makes it belong to the best snifter for cognac list is the spill-resistant design. The glass features a stainless steel ball on the bottom which allows the snifter to rotate without actually spilling your drink. Beautiful design isn't the only thing that makes this snifter a wonderful choice; it also elevates natural flavors of cognac. Heavy-duty feel together with lead-free quality makes this glass a great present as well. Two glasses come in the set which also features oak coasters with a hole in the middle where you can place the stainless steel ball to place the snifter upright. Since the brand focuses on customer satisfaction, they also offer a money back guarantee which allows buyers to return the snifters and get a refund if necessary.
6. Riedel VINUM Cognac Glasses Review
A vast majority of cognac glasses you see in the stores or online are small snifters with a tiny stem. Sure, snifters are considered the best type of glass for cognac due to their potential to improve the aroma and taste of the drink, but there are other options too. Riedel, a popular Austrian brand, created one of the best Hennessey cognac glasses and it is shaped like a tulip. The glass has a long stem, a wider bowl which narrows near the top and spreads again, just like the beautiful flower. The brand wanted to show that you can drink cognac in different ways and still experience that wonderful taste the same way you would with traditional snifters.
Like the above-mentioned Vinum glasses, these ones are also machine-made, and only the finest crystals were used in the process. The glass is dishwasher safe and remains clear and sophisticated even with regular use and handling. Tulip-shaped glass is beautiful and elegant, and it's more suitable for drinking neat rather than on rocks.
7. Vintage Russian Crystal Brandy Cognac Snifter Review
The last, but certainly not the least, the item on the list of best snifters is made by Neman Glassworks, a company with century-old traditions of glass melting. Unlike most snifters which have a plain "body," this one is decorated and incredibly classy. Premium quality hand-cut crystal class was used to make this beauty which is, in addition to cognac, suitable for other types of brandy, tequila, vodka, mini cocktails, and other beverages.
This particular snifter gives more elegance to your home, some specific occasion, and it's also a great gift. Lavishly faceted walls still showcase the deepest nuances of color and texture of cognac. Plus, the snifter is durable and doesn't require too much maintenance meaning it won't develop spots and other problems that impact the sparkle of the glass. Two snifters come in the set.
Avoid – English Pewter Company Brandy Cognac Glass Review
Indeed, cognac enthusiasts have plenty of snifters to choose from and buy the one they find ideal for their needs and preferences. At the same time, some glasses are not a good choice, and that also includes the snifters made by English Pewter Company from Sheffield, England. These are personalized glasses that feature a customer's initials or any other letter of their choices.
While they claim only the highest standards were followed in the making process that may not be true as customers complain the letter simply falls off. In addition, some customers complained that while the snifter looked great when it arrived, they still rubbed off monogram just by holding a thumb there while turning the glass to inspect it. So, bearing in mind that cognac enthusiasts expect a certain standard and quality this is one of the worst cognac glasses on the market.
---
---
---
2020 Buyers Guide to the Best Cognac Glasses
At first glance, the choice of a snifter may seem totally irrelevant. Glass is just a glass, right? Well, not exactly! If you want to get the most out of your cognac, it's vital to choose a good snifter in order to get the most out of your drink. Always take some time to think before you buy snifters because you want to make sure you made the right choice and when it's time to drink, your cognac will definitely let you know whether the decision was good or bad.
3 Main Points to Consider:
Lead-Free: The material used for the making of the snifter is a crucial factor to consider. The reason is simple; the type of glass or crystal can either enhance the aroma and taste of cognac or impair it. When looking to buy cognac glasses, it's always useful to opt for lead-free options. You see, lead-free glasses have a great sparkle and transparency. They showcase all the beauty of cognac you pour into the snifter and allow you to absorb every moment of the overall experience. That's why the best snifters on the market are lead-free. If you want to have super sparkly and transparent glasses, then this factor is a must to consider.
Type: Besides the material used for making of the cognac glass you also need to consider the type, i.e. the shape. It's easy to assume the shape of a glass has no importance, but the reality is entirely different. You have various options to choose from including tulip-shaped glass which captures the aroma of cognac and allows it to breathe but also can help you warm up your drink a little bit if that's how you prefer it. On the other hand, there's also snifter or a balloon-style glass with a short stem, wide bottom, and narrow top. You have to determine if they will fit in your portable bar or your home liquor cabinet for safe keeping. Snifters usually have a heavy base and a thick rim, and they come in different styles ranging from traditional to modern.
Brand: Some may say the name of the manufacturer doesn't always matter, but it is still an important factor to consider when choosing a cognac glass. Some brands have designed their own snifters and tulip glasses which went on to become a standard in cognac-drinking experience. It's always more practical to go for snifters made by reputable brands which have developed their own techniques to help buyers enjoy every sip they take. That way, you get the best value for your money. A simple Google search can tell you a lot about some brand so it won't take hours to learn a thing or two about a company behind the product prior to making a decision.
What is cognac?
Cognac is a type of brandy named after town Cognac in western France. Most people assume cognac and brandy are two terms that can be used interchangeably, but that is not entirely correct. You see, brandy is a term that refers to any kind of distilled spirit made from fermented fruit juice. In most cases that fruit is grapes, but it's also possible to find brandy made of pears, apples, and other sweet fruits.
Basically, cognac is just a specific type of brandy so we cannot use those terms interchangeably. Nearly all kinds of cognac are made of the grape variety called Ugni Blanc (Trebbiano), and it is produced by twice distilling white wines. White wine used for the production of cognac is very dry, thin, acidic, and although it's basically undrinkable, this wine is excellent for distillation and aging which give us wonderful cognac. Cognac is aged in Limousin oak casks for at least two years before it hit the shelves and sold to the public.
Cognac is one of the most popular alcoholic drinks around the globe. For example, cognac exports continued to increase in 2017 for a 3rd consecutive year and chances are high records for 2018 could be similar. A total of 197.4 million cognac bottles were sent overseas from that region of France which is around 98% of the total production and 3.15 billion Euros turnovers.
What are cognac glasses or snifters commonly made of?
You've probably seen tons of movies where people, usually men, would drink cognac or some other type of brandy from a specific type of glass. That's because these alcoholic drinks are usually served in specifically designed glasses whose purpose is to enhance the flavor. These glasses are called snifters. A snifter is a short-stemmed glass whose vessel has a narrow top and wide bottom.
What makes a good snifter is its construction which directs the flavors to the right part of your nose, mouth, and palate. Snifter glass allows the aromas and flavors to flourish and blossom for an ultimate cognac-drinking experience.
Quality of material used for the making of the glass is crucial which is why it's important to make sure snifters are made of the nicest crystal only. Many snifters are made of Tritan crystal which is invented by Schott Zwiesel, and it is entirely lead and barium free. Instead, this crystal uses oxides of titanium and zirconium. Also, high-quality snifters are made of hand-blown tempered glass. It's important to make sure crystal is hand-cut and lead-free in order to get the most out of your snifter.
Why is a cognac glass shaped like a tulip?
The most commonly used cognac glasses are snifters, but tulip glasses are also common. Tulip glass was designed by Riedel to show that a traditional balloon glass isn't the only way to drink cognac. The great advantage of a tulip glass is that it captures the aroma of cognac in the best way possible. Plus, tulip glass allows cognac to breathe sufficiently to improve the flavor of cognac and improve the overall experience. Tulip glass has a long stem and a bell that opens up around the top, but it slightly flares outwards. The unique shape allows the nose to remain concentrated on the top in order to enhance the taste of cognac. Some of the best cognac glasses are shaped like a tulip, as you had the opportunity to see in the list above. A great thing about tulip glass is that it can be easily cradled so the cognac can be warmed if necessary. On a side note, once you find the perfect cognac glass, you might like to look into getting a portable bar to really impress your friends. 
---
Best Cognac Glasses Reviews (2020 Buyers Guide):
---
Final Thoughts on Buying One of the Best Cognac Glasses
As you can see, cognac glasses are not built for something like wine, or margaritas. Your goal is to enhance the flavor and fully enjoy everything this type of brandy has to offer. You have plenty of options to consider, as seen in this post. The best cognac glasses of 2020 are made of the finest crystals, are lead-free, and are shaped to allow you to get the most out of its flavor and aroma.