This year you've decided it's time to update your business' margarita game. You realized that the best option was to buy a commercial margarita machine, but you're still on the fence about which one would work best for you. Have no fear, we have done all the work for you!
What is the best margarita machine of 2023 to buy? Our money is hands down on the Margarita Girl Double-Bowl Full Size Margarita Slush Frozen Drink Machine. Margarita Girl Double-Bowl Machine is large enough for you to serve 100 margaritas in a row before needing to refill the chambers, and that may well be enough for most businesses. Chill your drink ingredients before adding them in, and this machine can have drinks ready to go in less than an hour
What's more, we've researched and discovered the save top-rated commercial margarita machines, as well as one to avoid.
---
Our Top Picks
---
---
Reviews of the 7 Best Commercial Margarita Machine, Plus 1 to Avoid
---

If you've looked around for more than a minute to find a good, high-quality commercial margarita machine, this one from Margarita Girl will certainly be familiar to you. Margarita Girl Double-Bowl Full Size Margarita Machine usually hits in the top three of any list, and there's a very good reason this product comes up on top every time—it is nearly impossible to get better quality at a better price point. For that reason, we just had to agree that this is the best commercial margarita machine.
Most frozen drink machines are loud, and after a while you just get used to the hum in the background of your life. Unlike some other machines, this one runs surprisingly quiet and you would be forgiven if you forgot it was even on. You certainly won't be able to hear it above your customers, but more importantly they won't feel inclined to try to talk over it.
Looking for something that can withstand high demand? Margarita Girl delivers on that as well! Great for use in any busy bar or restaurant, this slush machine can deliver consistently great results—and repeat customers.
At the end of a long night, it's nice to know that you have at least one machine that will be a breeze to clean up. It's even nicer to know this one is easy to maintain and comes with an extra set of seals. The only real downside to the machine is that the dual chambers mean you can only have two drink flavors going at a time.
To watch the Margarita Girl Double-Bowl Full Size Margarita Machine Review on YouTube, click here.
Pros:
Quiet
Easy maintenance
Great output for its size
Perfect for bars
Cons:


Happybuy Slushy Machine is a very high capacity machine! Three 15-liter chambers contain enough margaritas or other frozen drinks to dispense up to 62 drinks EACH for a total of around 186. It can hold the drinks indefinitely at -2℃ ~ -3℃, and drinks are ready to serve in 30 to 45 minutes. This short wait time should equate to a far larger number of customers served.
This slush machine has an eye-catching design and is LED backlit. It's a good choice for anyone with limited space behind the bar, as it has that 'hey look at me' appeal. Because there are three large chambers, you can mix three different types of colorful drinks with relative ease. The controls are intuitive and easy to use, and they allow you to set how hard or soft you want your drinks so the possibilities for customized mixed drinks are truly endless. You can even make drinks with low alcohol content and still have them come out smooth and perfect.
Our very favorite thing about this machine? Clean up! All you have to do to clean this commercial margarita machine is empty the drinks out, add hot water to the fill line, and press the 'Mixer' button. Let it run a few minutes and drain. No removing trays, no reaching inside to wipe anything out. Just pour, mix and drain and focus on cleaning the rest of the workstation. This baby can pretty much handle itself. It's a great value for the cost.
To watch the Happybuy Slushy Machine Review on YouTube, click here.
Pros:
High Capacity
FAST
Handles on the sides make it easy to move
Clean-up doesn't come any easier than this
Cons:
Mediocre customer service
Large and bulky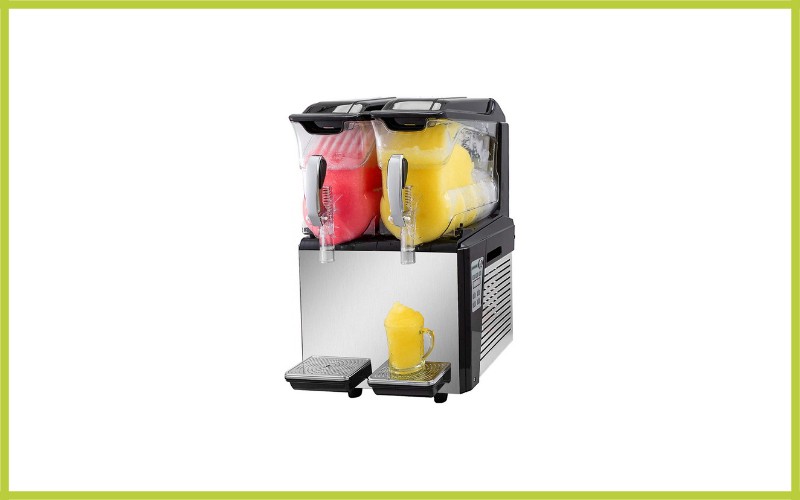 This frozen drink machine from VBENLEM comes with two 20-liter containers and can easily serve 80 drinks per side. Another super-fast slush machine, you can mix your drinks and have them ready in 30 minutes flat. Dispensing the drinks is quick and easy and the faucet isn't known to leak.
On the controls side, the buttons are conveniently placed and easy to understand. It would not be hard to get into the flow of work and operate this machine without too much effort or thought. It even has a night mode, so the buttons are clearly visible in the dark. During the night, when your bar comes alive, this commercial margarita machine's electric glow will help the bartender keep track of it and entice the customers to order more drinks from it.
We loved that VBENLEM 110V Commercial Slushy Machine has a more compact design than many of the other frozen drink machines we reviewed. At only 21 inches wide and 22 inches long, it fits easily in most cramped restaurant and bar settings. It would even fit into some food trucks, although the 600W power drain might be a concern.
VBENLEM's compact design also took moving the machine into consideration. There are a pair of handles on either side of the frozen drink machine that makes lifting and moving it a real breeze, but as they're built into the side itself, you don't have to worry about them getting in the way. Unfortunately, that also means if you aren't careful, you could spill something inside and have a nasty surprise waiting for you the next time you put your hands in.
It's the best commercial margarita machine on a budget and a machine worth considering if its size and output capacity are what you're looking for.
To watch the VBENLEM 110V Commercial Slushy Machine Review on YouTube, click here.
Pros:
Day/Night mode
Compact
Easy maintenance
Easily moved
Cons:
Only two compartments
Hard to clean handles


Unlike the majority of commercial margarita machines, the BRAVO ITALIA is manufactured in Italy and they've kept their customer service there as well. Our favorite model by this manufacturer, this machine has three super-sized bowls that each hold a whopping 3.2 gallons of mixed drink. 3.2 gallons equate to roughly 150 cups of frozen beverage, and with three separate chambers you can make a great flavor selection.
BRAVO ITALIA 3 Bowl Margarita Machine is not a lightweight. It was made with an eye toward creating a product that would last and that certainly shows in all the details. From the heavy gauge nearly unbreakable plastic slushie containers to the thick metal used in its construction, this beast weighs a good 135 pounds when empty and will need a strong person to set it in place. That said, choose wisely where you put it because you aren't going to want to have to move it.
At 1000W power usage, BRAVO ITALIA's commercial margarita machine is probably not suitable for a food truck and you will definitely be able to tell you have it running when you see your next electric bill.
We cannot stress enough how important lubrication is to the running of this machine. It is important to lubricate this frozen drink machine twice a month if you want to keep it working in tip top shape. Otherwise, you may run into issues. Fortunately, the people at BRAVO ITALIA understand that no business can withstand long downtimes, so their customer service is always ready to help and this slush machine is backed by a two year warranty on all parts.
All in all, it's not a bad buy, but you do pay an extra shipping costs and they may not ship to you if you don't provide a business address.
To watch the BRAVO ITALIA 3 Bowl Margarita Machine Review on YouTube, click here.
Pros:
2 year warranty
Super capacity
Heavy duty construction
Cons:
Constant lubrication
Heavy
1000W
Shipping is extra


This is another double bowl frozen drink machine. Like the BRAVO ITALIA, each bowl can hold up to 3.2 gallons of slush at the time, and like the Margarita Girl it does a good job keeping those drinks cold without causing them to freeze solid.
Drink mix can easily be added to the chambers. A powerful condenser means freeze time is short at only 30-45 minutes, and you can shorten that even more by chilling your ingredients before use. Timed right, you might even be able to get your first drinks out within 20 minutes, but even at its typical 30-45 you should be able to get a frozen drink out to the first customer of the day as long as you set it going when you first arrive.
The buttons are all easy to read and use. It's a simple margarita machine to set up out of the crate, without really going into details with the included instructions. There's a digital display for the temperature of the drinks, which comes in handy, and the tanks are very well illuminated as well. That makes VEVOR 110V Slushy Machine a good machine to set behind the bar, as it will undoubtedly draw customers' attention to it.
Included with the machine are a number of accessories such as a measuring cup and whisk, but additionally they included posters so you can let all your customers know about the new addition. They also throw in some extra gaskets and the lubricant you'll need to keep your slush machine in good working order. Customer service can be slow to answer, but when they do, they are a friendly helpful lot and the company seems glad to help you get any extra parts you may require.
Priced to sell with free shipping, this is a great machine for the price.
To watch the VEVOR 110V Slushy Machine Review on YouTube, click here.
Pros:
Easy setup
Easy to clean
Quick setup
Cons:


Another great slush machine from BRAVO ITALIA, this one bowl version has a high profile and slim build that make it the perfect choice for any business with limited counter space. It may be smaller than the other machines on our list, but this one has earned its place, nonetheless. It has a sleek design and user-friendly controls. It can pump out up to 50 cups of frozen margarita in an hour.
BRAVO ITALIA 1 Bowl Margarita Machine has a heavy-duty design with a tough plastic container you'd have to put real effort into breaking. Like other products from BRAVO ITALIA, this one is made using heavy gauge metal. Of course, all that heavy construction makes for a beast of a margarita machine and it can be hard to get it in place and move it if the need arises.
Lubrication is still important for this machine—as it frankly is for all commercial drink machines—so you'll want to stay on top of the maintenance. Clean up is a little tricky, but with careful viewing of the instructions, the company provides on their website, its easy to get the hang of it. The company has a great record for outstanding customer service and in fact it's easy to get the owner on the phone when needed.
At only 500-Watts of power usage and 19X12X28 dimensions, this is also the commercial margarita machine we would most highly recommend for use in a food truck setting. Sadly, what makes it best for a food truck also makes it the least recommended for a busy bar, but even a small restaurant could benefit from its inclusion. With free shipping, this a great little machine.
To watch the BRAVO ITALIA 1 Bowl Margarita Machine Review on YouTube, click here.
Pros:
Best choice for a food truck
High capacity output
Heavy duty
Cons:


Similar to our number one choice, this Margarita Girl Single Bowl model is the best commercial margarita machine with a single-bowl dispenser. We found the Margarita Girl customer service to set the brand apart. They really stand behind their products and provide an industry leading 2 year warranty.
The machine itself is a high capacity model that makes up to 50 cups of frozen margaritas, daiquiris, and more. It is made from durable BPA free plastic with stainless steel panels made to withstand shocks. It's also simple to clean. The parts disassemble and go back together easily for a quick wash.
The Margarita Girl commercial margarita machine uses a ¼ hp air cooled compressor that will keep a consistent temperature throughout the day, without worrying about freeze-up. The compressor is also among the quietest of the margarita machines we reviewed.
We liked the compact frame of this margarita machine. Although suitable for commercial use, it stands 32" high x 13" wide x 15" deep, making it also a suitable choice as a margarita machine for home. The drink mix only takes about an hour to freeze once started. The slush will remain frozen while the machine is running and there is a night mode to keep the product cold but not frozen.
Pros:
Superior Customer Service
Has an night mode
Heavy duty construction
Cons:


Avoid: VEVOR Slushy Machine 110V Mini Review
VEVOR 110V Mini slush machine was such a cute little thing that we really wanted to love it. Its stylish color is eye-popping, and its compact design makes it at least appear to be a great option for home use, as you can store it in your liquor cabinet in preparation for a party. Unfortunately, we found this to be one of the worst commercial margarita machines on the market.
Although there are two bowls for mixing, and two control panels, the controls are connected and the bowls operate as a single unit. As a result, you have very little control over how hard anything freezes. This margarita machine is only 300-Watts, so it has very low power usage. Unfortunately, that also equates to an extremely long freeze time. At times, it fails to freeze the drink mix. When it does work to freeze the drink mix, this margarita machine will freeze both sides solid if you don't dispense the drinks in a hurry.
Speaking of hurrying, dispensing the drinks is yet another issue as the mix usually comes out at a tiny drizzle. It is often necessary to pump the dispenser handle repeatedly to get even a little drink out.
The instructions included with this machine don't clear up very many questions. They aren't at all helpful when it comes to set up and for clean-up you're pretty much on your own. Virtually nothing comes off this machine, so the entire thing must be cleaned in place.
With VEVOR's mini margarita machine, the price tag is way too high for something this poor quality and purchasing this will likely be a regret you carry around a long time.
To watch the VEVOR Slushy Machine 110V Mini Review on YouTube, click here.
Pros:
Only 300W
Compact design
Inexpensive
Cons:
Not commercial grade
Doesn't always freeze
Single control for both sides
Difficult to dispense drinks
Can freeze solid


---
---
Buyers Guide to the Commercial Margarita Machine
---
When buying a commercial margarita machine, there are a number of factors to keep in mind before making your purchase. These considerations include gross machine size, maximum output volume, and overall quality versus purchase price.
3 Main Points to Consider:
Size: If you don't have the space behind the bar to install a three chamber frozen drink machine without it sticking a few inches past the edge of the counter and becoming a hazard for your bartenders, you'll have to go with a small unit. If you're just starting out and have all your counters clear, you'll still want to make sure the measurements work out correctly, so the machine isn't a liability waiting to happen.
Output: The whole point of getting a commercial margarita machine for your bar or restaurant was to up your potential drink output. The more you can put out, the more money you can make back on your purchase. The machine itself is a time saver for anyone who needs to make a large number of frozen drinks but also has other duties. All that being said, there's not a lot of point in having the capacity to serve 400 frozen drinks an hour if you only have around 100 people ordering them in that time frame.
Quality: It doesn't matter how inexpensive a machine is if it won't work more than half the time. It also isn't very helpful to buy a frozen drink machine that has three chambers if one or more of the chambers starts leaking or stops freezing the drink mix. Of course, every margarita machine on our list has a warranty—commercial products generally do—but no one wants a machine that really needs a warranty on it.
What is the difference between a blender and a margarita maker?
The difference between a blender and a margarita maker is vast, even though the two machines seem to have a similar function. You can make a decent margarita in a blender if you know how. Your bartender probably does already, and margarita night is a nightmare for everyone on staff. That's why getting a commercial margarita machine is so important for your business. There is no way a single person could make 100-200 drinks in thirty minutes. There's also no way you could keep a good bartender on your staff if you expected that kind of volume out of them all night. A slush machine frees up your bartender to make all the other drinks your customers are clamoring for, dramatically increasing your potential sales.
How do you clean a commercial margarita machine?
Cleaning a frozen drink machine usually isn't terribly complicated. Some of the machines on our list require you to pull out the containers and wash them manually. This can be a little tricky if you lack the cleaning tools needed, but it's otherwise straight forward. Other commercial margarita machines have a built-in cleaning cycle that just requires you to add hot water, push a button and wait.
Do I have to add alcohol to my slushy machine?
No, you do not have to add alcohol. The slushy and margarita machines work perfectly without alcohol added to the mix. Simply follow the instructions with only flavor syrup and water to make your slushies.
How much margarita mix do I put in a margarita machine?
The easiest way to remember the ratio is one part alcohol, two parts margarita mix, two parts water. You can adjust that ratio according to your liking. There is no need for ice, as the machine freezes the liquid. Each mix or commercial margarita machine may be slightly different, so make sure to read the instructions.
How to make a margarita in your margarita machine?
If you are wondering what you need to make margaritas in your margarita machine, you are not alone. Many times your margarita machine will come with margarita slush flavoring. (if not, here is our favorite flavor) To make margaritas in your margarita machine, start by adding the flavor syrup into the machine. Then pour a 1.75 liter bottle of white tequila. Lastly, fill the margarita machine to the water fill line with water. If you are making non-alcoholic margaritas, simply do not add tequila to your machine.
Can I make more than just margaritas?
Yes, you can make many different slushy drinks with your commercial slushy machine. Liquor is not required to make drinks in slushy machines. However, daiquiris, wine slushies, tropical drinks, and margaritas are all popular choices. The critical part is using the correct ratio of liquids and quality slushy syrups. It is primarily based on sugar content for how much syrup to add. You can also make skinny versions of cocktails without sugar and but it may be more challenging for them to freeze.
---


Final Thoughts on Buying the Best Commercial Margarita Machine:
Margaritas are a great money maker and the right commercial margarita machine will pay you back in dividends. The drinks can be dispensed so fast your customers will never get angry again about the length of time it takes to get served. The fact that so many of these frozen drink machines are also eye-catching and convenient to clean just makes them that much better.