Homebrewing of beer has become a relatively popular activity enjoyed by people around the world. Since beer is such a beloved drink, people are often using the opportunity to homebrew in order to experiment with different types of ingredients to create their own perfect craft beer varieties. While there are many different accessories and tools that are needed during this entire operation, the best conical fermenter of 2020 is certainly one that any enthusiast who is serious about brewing good beer will need. We've researched and discovered the seven best conical fermenter, as well as the worst one to avoid.
Reviews of the 7 Best Conical Fermenter, Plus  1 to Avoid
1. SS Brewing Technologies Brew Bucket Stainless Steel Fermenter Review
Since stainless steel is most certainly the better material to opt for those looking to start using a conical fermenter at home, we decided to start this review post by looking at the best stainless steel fermenter that you will currently be able to find on the market. The SS Brewing Technologies Brew Bucket Stainless Steel Fermenter is a high-quality option at a decent price.
The fermenter weighs around 12.99 pounds, making it a relatively portable option. It can hold up to 6.95 gallons of content, which means you can ferment a relatively large amount of beer at a time. The product uses a .375 ball valve as a connector and is very durable, which means you will be able to use the SS Brewing Technologies Brew Bucket Stainless Steel Fermenter for a significant period of time without having to worry about wear.
2. Strange Brew Fastferment Plastic Conical Fermenter Review
If you are on a lower budget and you are rather looking for the best plastic conical fermenter that is currently available on the market, but sure not to miss the Strange Brew FastFerment Plastic Conical Fermenter. This particular option can be mounted to a wall, thanks to the built-in mounting system, or you can have it stand on the floor, due to the accompanying floor stand.
The Strange Brew FastFerment Plastic Conical Fermenter can take up to 7.9 gallons of liquid at a time and is made from HDPE Food Grade plastic, which means the plastic is high-quality and not as likely to scratch like some of the competitor plastic conical fermenters that you will find on the market. This fermenter comes with a one-year warranty and is available in a white color.
3. SS Brewtech Home Brewing Brew Bucket Fermenter Review
The best conical fermenter for homebrewing in cases where people are looking for an option that is made from higher quality materials without worrying about spending more money would be the SS Brewtech Home Brewing Brew Bucket Fermenter. This product is made from top-quality stainless steel materials that will last a significant period of time without scratching, staining, or wearing out. The product only comes in a standard stainless steel option with no painted varieties available.
An LCD thermometer is built-in on the SS Brewtech Home Brewing Brew Bucket Fermenter in order to provide an accurate reading on the internal temperature of the conical fermenter. In addition to being a great choice for homebrewers looking to brew their own beer at home, this particular option can also be an excellent option for professionals making crafted beer.
4. FastFerment Conical Fermenter – Home-Brew Kit Review
The best small conical fermenter that we found available for those people who are on a very small budget, but would still like to try to brew their own batch of beer at home, is the FastFerment Conical Fermenter. This is a plastic fermenter that is appropriate for brewing smaller batches of beer, as the container only holds about one gallon of liquid at a time. The product's container is made from a relatively high-quality plastic that helps to reduce the risk of scratches, while also providing a safer environment for the liquid that is being brewed to ferment properly.
In addition to the default one-gallon option, it should be noted that the FastFerment Conical Fermenter Home Brew Kit is available in a two and three-gallon option as well. With these, a somewhat larger batch of beer can be brewed, while still having a product that does not take up too much space.
5. The Catalyst Fermentation System Review
The Catalyst Fermentation System is, as the name implies, a complete system that makes the entire process of fermentation in a conical fermenter easier and more convenient than with many of the other option that you'll find. The product can take up to 6.5 gallons of liquid at a time and comes included with a range of accessories that eliminates the need to first pour the liquid to another container before bottling your freshly brewed batch of beer.
This fermenter system comes with a tank made from a BPA-free polymer that is classified as food-safe. What this means is there are no chemicals that will slowly seep into the liquid that is being fermented while the product is in use.
6. Fermenter F3 Conical Blichmann Review
Those looking for a professional option that will allow them to brew up large batches of beer at a time and offer them the quality they need to continue fermenting liquid continuously should definitely have a look at the Blichmann Fermenter F3 Conical. This particular one can store as much as 27 gallons of liquid at a time.
The Blichmann Fermenter F3 Conical is made from a very high-quality, industry-standard stainless steel material. The fermenter comes with a set of wheels that can be attached and the tank is fitted into a stainless steel frame. This makes the device relatively portable, even though it is much larger than some of the other options we have listed in our review.
7. BrewDemon Conical Fermenter Review
Finally, we also want to list the BrewDemon Conical Fermenter in our list as this is a perfect option for people who are looking to start their own homebrew operation on a small budget. The product is available for under $50 and comes with a complete system that takes away the need for pouring the beer into a separate bucket or container and running the liquid through special accessories before the batch is ready to be bottled.
The BrewDemon Conical Fermenter can brew batches of up to 2.5 gallons. The fermenter can be used to produce beer, wine, cider, and many other beverages. An adjustable flow spigot comes included, as well as a temperature gauge, a bubbler upgrade, and a CO2 venting plus.
Avoid – Fermentasaurus Starter Kit Review
We've done a lot of research on conical fermenters in order to bring you this particular list. While we did find a lot of good options available right now, we want to share with you some details about one of the worst conical fermenter on the market. It is crucial that you avoid buying a poor quality product as this may increase the chances of serving up contaminated beer, and it can greatly affect the taste of the beer that you are brewing.
We found that the Fermentasaurus Starter Kit is really not worth your money. While this particular option is relatively affordable, it is important to consider the fact that it is not made from the safest plastic available. If the plastic scratches, it may lead to a higher risk of bacteria started to collect in these scratches, which could ultimately cause your batch of beer to be contaminated with bacteria.
---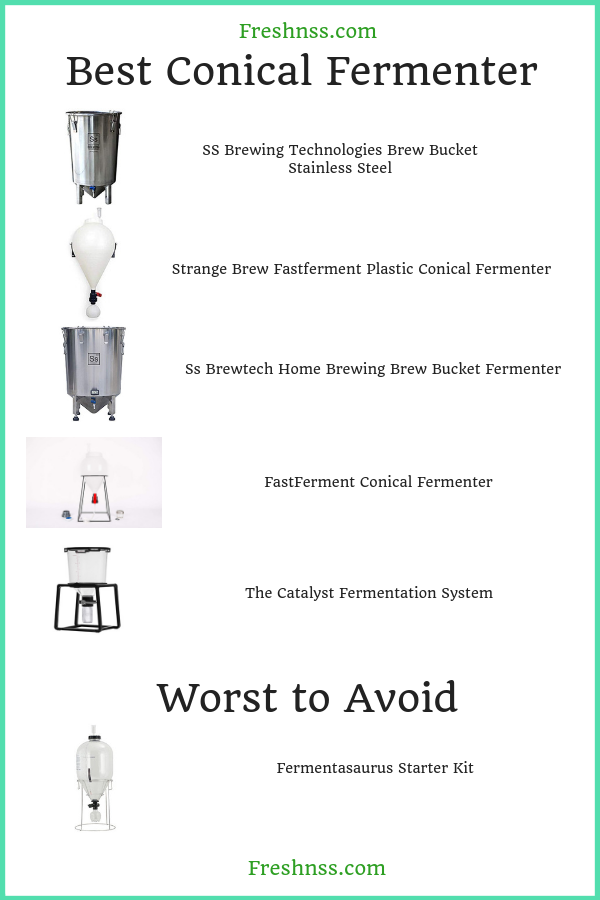 ---
---
2020 Buyers Guide to the Best Conical Fermenter:
Buying a conical fermenter is no easy task, since there are hundreds of options that you need to filter through in order to find the one product that is perfect for your particular homebrew operation. While we have already provided you a list of the top-rated options that you can choose from, you might still want to explore the additional conical fermenters that are currently available on the market. If you are still weighing your options, then take a look at the three points we share below. These will help make the process of filtering through the hundreds of conical fermenters on the market faster and easier, so you can find that one that will fit in with the project that you are working on.
3 Main Points to Consider:
Quality: First up is most certainly the quality, as we found that some of the conical fermenters on the market are truly a waste of money and tend to break rather quickly. When it comes to quality, there are various factors that you should really be looking at. One of the most important factors that we recommend you take into consideration when you are trying to determine whether a particular conical fermenter is of high quality would be the material used to manufacture the product. Conical fermenters primarily come in two different options in terms of the material – this includes plastic options and those fermenters that are made from stainless steel. Plastic conical fermenters are generally cheaper than those that are made from stainless steel, but their quality is much poorer. In fact, when a plastic conical fermenter is scratched (which can happen rather easily in some cases), it creates the perfect environment for bacteria to collect and thrive in. Apart from considering the specific materials used in the construction of the conical fermenter that you might want to buy, be sure to take the brand behind the product into account as well. Within every industry there are a couple of brands known to produce better quality products than the rest.
Features: Second, take the features that a particular conical fermenter you are interested in has to offer. The majority of these devices will be relatively basic, but some brands go the extra mile in order to provide more convenient features in their products that will further improve the ease-of-use that these particular products offer. The majority of the conical fermenters that are currently out there on the market will require a hose for when the fermentation process is complete. The liquid inside the fermenter will need to be extracted, and the trub will then stay behind at the bottom of the cone shape – this is, after all, the main benefit that a conical fermenter has to offer. There are a couple of these products that offer added functionality that will make it possible to tap out the liquid that you will continue to use in your brewing process, without the need for a hose or any additional equipment and accessories. Buying such a device might cost a little more than a device that requires a hose, but is certainly more convenient as no additional items need to be purchased when everything is provided in a single product.
Price: Ah, the price – a factor that many people tend to ignore, because they are simply interested in making sure they have a good quality conical fermenter on hand and they then just hit the buy button. Unfortunately, if you are too hasty in the process of buying a conical fermenter, you might end up paying much more than you should. Opting for the cheapest conical fermenter that you can find will also likely give you the worst experience possible – perhaps even increasing the chances of brewing a contaminated batch of beer. Research is the key to finding the right conical fermenter at the right price. Don't be hasty when you buy one of these items – look closely at all of the options that are available. Consider the materials used in their construction, the features offered by the device, and then take a look at how much these products cost. This will help you find a conical fermenter that does not only fit your particular budget, but also one that falls in line with the particular features you desire, as well as the material options that you prefer in terms of a fermenter that will be sanitary.
What is a conical fermenter?
Homebrewing of beer has become popular, so brands are constantly coming up with a range of useful ways to streamline the process of homebrewing and to make this particular journey for the homebrewer easier and more convenient than ever before.
When you choose to use a standard fermentation bucket during the fermenting process of beer brewing, then it means you will have to go through an extensive list of procedures in order to avoid contamination and to brew clear beer, instead of beer that does not taste well and appears cloudy.
A conical fermenter takes many of these processes and streamlines it. What this means is that with a conical fermenter, there is no need to worry about racking. Cleaning becomes easier. And yeast that is collected at the bottom of the fermenter, which is in the shape of a cone, can be cleaned and reused at a later time when brewing another batch of beer.
Why should homebrewers own a conical fermenter?
There are many reasons why you should look into buying a conical fermenter if you are planning to brew your own beer at home – and even if you have already started to do this. As previously explained, the use of a conical fermenter makes the process more convenient, faster, and, very important, can also make fermenting beer during the homebrew process more sanitary.
The number one reason why many people do decide to opt for a conical fermenter is because these products allow all of the dead proteins, yeast, and other particular products that should not be carried over to the next step of the homebrewing process to collect at the bottom of the device. The bottom of these products is formed like a cone – this is where all of these products tend to collect.
When the trub collects at the bottom, it makes the process of removing the fermented liquid from the fermenter much easier and also makes it less likely for some of the waste products, as well as the yeast, to be carried over to the batch that will be processed further in order to make the beer.  
Tips on how to use a conical fermenter for homebrewing?
People use conical fermenters in their own ways in order to practice homebrewing and to experiment with different kinds of beer recipes. Essentially, the device is really easy to use – in fact, most people who come from using a fermentation bucket over to using a conical fermenter find that this particular option is much easier to use than other fermenting products that can be used during the fermentation process.
One particularly important tip that homebrewers should keep in mind is the fact that with a conical fermenter, the yeast that collects at the bottom of the fermenter can often be reused in the next batch that they are going to be brewing. This can yield a better taste in the next batch, in fact. It is, however, crucial that you do sanitize the yeast and clean it properly, and that the yeast is stored in the right conditions until you are ready to brew your next batch of beer.
---
Best Conical Fermenter Review (2020 Buyers Guide):
---
Final Thoughts on Buying the Best Conical Fermenter:
Brewing beer at home is not only a fun activity, but also allows you to do some experimenting and create a couple of unique brews that you can enjoy, as well as brews that you can serve to your friends. This is an economical way to brew up batches of beer that you prefer, instead of having to limit yourself to the options that are available at the local liquor store. Brewing beer takes time, patience, and a couple of accessories. Adding the best conical fermenter of 2020 to the batch of tools, such as a homebrew burner, you use can greatly improve the process of brewing your own beer and has a number of additional benefits in store for you.