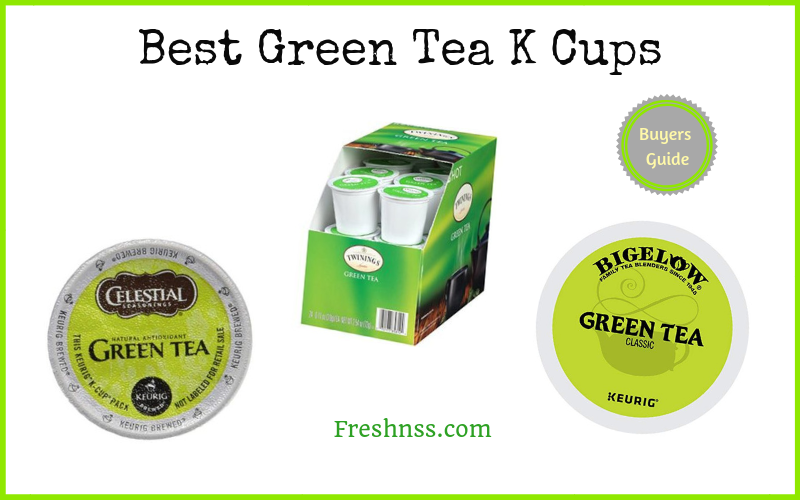 The Keurig become a worldwide phenomenon after it was released to the public just over a decade ago, allowing people to prepare a single cup of coffee quickly and easily, without the need to wait for an entire kettle to boil up. These devices have evolved since their initial announcement and are now not only used to prepare delicious cups of coffee, but also a variety of other beverages – including green tea. If you are looking to brew up a cup of green tea with your Keurig brewers machine, then be sure to buy the best green tea K cups of 2020, as the quality of these products can really make a big difference in how the green tea will taste once you sit down and take a sip. We've researched and discovered the five top-rated green tea K cups of 2020, as well as one to avoid.
Reviews of the 5 Best Green Tea K Cups, Plus 1 to Avoid
1. Twinings of London Green Tea K-Cups for Keurig Review
After some initial research, we found that the Twinings of London Green Tea K-Cups for Keurig is definitely the best Keurig green tea that you are going to find when both quality and price are taken into considering. The brand that manufactures these K-cups are reputable and known to produce quality tea-related products. The pack is available in eight different sizes, ranging from the 12-per pack, up to 110 per pack. Additionally, for those who are not a particular fan of green tea, but would still like to enjoy a cup of tea brewed with a Keurig machine can choose from 28 other flavors, including English Breakfast, Irish Breakfast, Nightly calm, and Jasmine Green.
2. Celestial Seasonings Natural Antioxidant Green Tea K-Cup for Keurig Review
Another great option if you are looking for the best green tea K-cups that are currently available on the market would be the Celestial Seasonings Natural Antioxidant Green Tea K-Cup for Keurig. This is a premium-quality product that includes a combination of natural green tea leaves, along with a small number of white tea leaves in order to make the taste of the tea smoother and more enjoyable. These Celestial Seasonings packs are available in sizes that start at 12 K-cups per pack all the way up to 96 cups per pack. You can also choose between 10 other flavors if you do not particularly like green tea.
3. Bigelow Green Tea Keurig K-Cups Review
If you are looking for the best green tea for Keurig that has a classic taste to it, then the Bigelow Green Tea Keurig K-Cups is truly another excellent set of these cups. The manufacturer, Bigelow Tea, is highly respected as one of the top manufacturers of teas in the U.S. This particular product is packed with high-quality green tea leaves, making it an essential drink for anyone who is looking to boost their intake of antioxidants. The cups are very easy to use and, of course, there is no need to worry about having to clean up afterward. When you buy a pack of these K-cups, you can choose between a 60-count or a 72-count box. Bigelow Green Tea Keurig K-Cups are also available in different flavors that will ensure there is something for everyone, whether or not you are truly a fan of green tea, or would rather prefer something else.
4. Cha4TEA 36-Count Green Tea K Cups for Keurig K-Cup Review
Next up is the Cha4TEA 36-Count Green Tea K Cups for Keurig K-Cup. If you are looking for a pack of green tea K-cups that won't make you spend too much money, but still allow you to enjoy a cup of green tea to give this method a try, then this surely is the right product for you. At just over $13, you get 36 K-cups, making this a relatively large pack as well. The product is manufactured within the United States, and the K-cups that are included with the product are all compatible with the new Keurig 2.0 device. The K-cups only contain 100% natural green tea leaves, making it a much more potent option than some of those that contain additional ingredients that aim to improve the taste of the tea and to make the tea more appealing to the potential user.
5. Starbucks Black Coffee K-Cup Variety Pack for Keurig Brewers Review
For those who are looking for an alternative fill for the spot that they are leaving open for some caffeine, the Starbucks Black Coffee K-Cup Variety Pack for Keurig Brewers might be an ideal option. This one is from the most popular coffee shop in the United States, Starbucks, chain-operated in many different cities and states throughout the U.S. The variety pack includes a number of different blends that you can try out, including the original French Roast and Café' Verona blends from the Starbucks brand. Each variety pack contains K-cups that are ideal for those who enjoy a dark roast, as well as for those people who would much rather enjoy sipping on a medium-sized hot beverage.
Avoid – Turveda Golden Tea Turmeric Lemongrass Tea for Keurig K-Cup Brewer Review
Before we conclude with the reviews, let's take a quick look at one of the worst options that we found on the market while we were shopping for the perfect k-cup products with green tea blends. The Turveda Golden Tea Turmeric Lemongrass K-cups does not seem to be compatible with the recent versions of the Keurig machines, sometimes referred to as Keurig 2.0. Additionally, it also does not seem like the taste of this particular green tea blend is as good as some of the alternative options that you would be able to find on the market. While the price of these K-cups is very low, the taste and overall quality do not match the other options that we discussed in this review.
---
---
---
2020 Buyers Guide to the Best Green Tea K Cups:
Fancy a cup of green tea without the mess? Then a green tea K cup might be the ideal solution that you have been waiting for. The only problem is there are so many brands that now manufacture these products that it can be rather difficult to determine which one to buy from. After we reviewed some of the best and top-rated options that are available, we noticed that there are certain points that should always be considered when it comes to buying one of these products – we share three of the most essential points that we used to pick the best out of all below.
3 Main Points to Consider:
Quality And Brand: The very first factor you should consider when you are looking to buy a pack of green tea K cups would be the quality of these products, as well as the brand that manufactures them. As mentioned, there are quite a large number of brands that specialize in manufacturing K-cup products that can be used with the popular Keurig machine. Yet, not all of these brands are able to provide you with the quality, flavor, and the exquisite taste that you are looking for in a cup of green tea. First, consider the brand of the particular pack you are interested in buying, then try to do some research to see if they are able to produce quality products. If the brand is not known to manufacture products with high standards, then it might be a good idea to start looking at alternative options. If you find that the brand is reputable and people are raving about their products, then consider the quality of the actual K-cups that you want to buy. See if you can find some reviews about the particular k-cup product that you might be interested in – if you find that most people do enjoy the green tea k-cups, then you should have a good product on hand and you should be able to continue your purchase with confidence that you are buying a quality product that won't disappoint you.
Ingredients: Next, also take a good look at the ingredients of the K-cups that you want to buy. While we are focusing on green tea k-cups in this review, it should be noted that not all of the k-cups on the market are made only from green tea leaves. There are a few options that contain additional ingredients. Opting for a product that is not purely made from green tea leaves is not necessarily a bad thing – this is an important factor that you should note. This comes especially into play when you are looking at some of the more gourmet or premium ranges of k-cups on the market – many of these brands understand that there are a lot of people who want to consume green tea for the health benefits that the beverage has, but these people are not always too keen on the taste of green tea. Thus, they sometimes add additional compounds to the tea in order to make it more tasteful or to allow for a smoother overall taste. When added ingredients are present in the k-cups that you might want to buy, make sure you take a close look at these ingredients. While there are some companies that will add quality and tasty ingredients to green tea k-cups, but still keep them healthy, other companies may add "bad" ingredients that take away from the health benefits that are usually associated with the tea.
Price: Apart from quality, brand, and ingredients, the last factor that we want you to take a look at when you are interested in buying green tea K-cups is the price of the package that you are interested in buying. Just because you are able to pick up a pack of 12 k-cups for under $10 doesn't mean you'll be able to enjoy a delicious cup of green tea at home. Sure, there is a chance that the K-cups you buy will be compatible with your Keurig machine, but chances are, the green tea will taste really bad and might not even be made from high-quality green tea leaves. At the same time, consider the fact that buying the most expensive box of green tea K-cups that you can find on the market does not guarantee you will be enjoying the best possible cup of green tea back home. You should really first focus on the previous two points that we discussed, and only then move on to considering the price. You should, however, also be sure to take into account your specific budget – there is no use in filtering through products only to come up with results that are too expensive for your budget. Know how much you can spend on a pack of green tea k-cups before you set out to buy them. Also be sure to shop around, as you'll be surprised at how the price of the same product can defer from one supplier to the next.
What is a green tea k cup for Keurig?
Green tea is a beverage that millions of people enjoy every day. In the modern world, people are increasingly becoming more aware of common health problems that issues like free radicals cause in the body, leading to the consumption of foods, drinks, and supplements that are high in antioxidants – what better to fight off those free radicals than with a cup of quality green tea!
Traditionally, green tea is made by putting a couple of leaves in some hot water. The water is usually added to a special teapot, where the leaves are kept in the water. After simmering for a while, the water is thrown through a strainer, which helps to avoid the leaves from getting into your cup while pouring out some of the green tea beverage for yourself. Green tea leaves were also added to tea bags in order to make the process of brewing up a cup of this healthy tea faster and more convenient for people who are on-the-go.
With the introduction of the Keurig machine, the process is now even more streamlined and convenient. A k-cup is essentially a single-serve batch of a specific beverage that you would like to enjoy – most often coffee. In this case, however, we are looking at a special selection of K-cups that contain green tea mixtures.
How much caffeine is in a green tea k cup?
Even though not as potent as a cup of coffee, it is important to realize that (if you do not already know) a cup of green tea also naturally contains some level of caffeine. This substance is what makes you feel awake when you have some coffee – and it is also found in a variety of tea blends, including green tea leaves.
Since brands tend to make their own green tea blends when manufacturing K-cups, it is usually difficult to determine exactly how much caffeine you should expect to find in such a cup of tea on average. Generally, it is known that a single cup of the tea (regular green tea, in this case) can contain from 30 mg to 50 mg caffeine. The same is likely to apply to the use of a K-cup that contains a special blend of green tea leaves.
Some green tea K-cups does contain additional ingredients, apart from the green tea leaves. In such cases, fewer green tea leaves might be used in the blend – this, in turn, might mean that the level of caffeine per cup of the green tea is lower than with a regular cup of green tea.
How to use a K Cup without a Keurig?
A Keurig is most certainly one of the most convenient machines to hit the market for those people who simply cannot go through the day without a cup of their favorite coffee or tea blend. The machine makes it incredibly easy to brew up a cup of green tea – in this case – or whichever beverage you tend to prefer. Unfortunately, just as the Keurig is a very convenient machine, so is it a relatively expensive product.
Some of the best coffee flavors and tea blends on the market now comes in K-cups – and you could find it really difficult to find the same blends in a version that does not require the use of a Keurig to prepare.
Luckily, you can still buy a packet of K-cups and make a great cup of green tea without having to worry about not owning a Keurig. There are several ways that you can use these K-cups to still prepare a delicious cup of green tea or another type of beverage, without the need for a Keurig.
One of the most effective options would be to remove the foil and to pour warm water through the K-cup slowly. The water will run through the coffee and come out the other side through the filter – enriched with the delicious flavor of the green tea leaves that make up the blend and internal contents of the K-cup.
---
Best Green Tea K Cups (2020 Buyers Guide):
---
Final Thoughts on Buying the Green Tea K Cups:
If you have decided to try out a different beverage than coffee with your Keurig machine, then green tea is an excellent option to start out with. Green tea itself has a lot of potential benefits to offer you in terms of your general well-being. When it comes to buying the best green tea K cups of 2020, there are a few factors that you should consider, as these products are not made equally and some will provide you with a better taste than others. Take the tips we've shared in this review into account and consider some of the top-rated options that we have shared – then also ensure you do not opt for the worst one we found available on the market, as this will most likely make your experience with making green tea through your Keurig machine unpleasant.