It comes as no surprise that you can keep food and drinks cool in an outdoor kitchen by using one of the highest quality outdoor refrigerators on that market. If your home is built with a spacious backyard and area for cooking and eating with family and friends, then having an outdoor use option to store drinks and food items that should be kept cool, can really be a convenient item. We've researched and discovered the seven top-rated outdoor fridge of 2020, as well as two you may want to avoid.
Reviews of the 7 Best Outdoor Refrigerator, Plus 2 to Avoid
1. Premium Outdoor Rated Compact Refrigerator by Bull Outdoor Products Review
The Premium Outdoor Rated Compact Refrigerator by Bull Outdoor Products is most certainly the best outdoor refrigerator of 2020. This particular option might be somewhat more expensive than alternative options on the market, but its quality, design, and overall features definitely make it worth the purchase for an outdoor kitchen.
This is a 24-inch refrigerator that is built with premium-quality stainless steel construction, which means it is far more resilient to rust than a lot of the other options that you are going to find.
On the inside of the product is an LED control panel, which can be used to control the temperature of the refrigerator. Temperature can be adjusted between 23 and 68 degrees, depending on what you need to keep cold.
The door offers a self-closing feature with a special locking mechanism. There are three shelves on the inside. Two of the shelves can be adjusted to make extra space for larger containers that you might want to store on the inside of the device.
2. Danby 120 Can Beverage Center Stainless Steel Review
The Danby 120 Can Beverage Center Stainless Steel outdoor refrigerator is a great option for individuals who are looking to buy one of these products on a tight budget.
The fridge comes at a portable size, which makes it easy to place on countertops and to move it around when needed. The internal compartment features a capacity of 3.3 cub feet and can hold as many as 120 cans of beer, sodas, and energy drinks.
A mechanical thermostat is built into the inside of the product that can be used to adjust the temperature. The temperature settings range from 43 to 57 degrees.
This product is energy efficient and only consumes approximately 368 kWh of electricity per year when used constantly.
The inside of the refrigerator features an LED light that illuminates a blue light that makes it easy to grab a drink when there is no lightning available in the environment where the product is kept. There are three wire shelves on the inside that helps to create adequate storage space for cans of beer and other beverages.
3. Outdoor Refrigerator with Stainless Steel Front Review
The RCS Gas Grills Outdoor Refrigerator with Stainless Steel front offers a great balance between price and quality. The product is available at a relatively affordable price and offers a quality design that will perform well in an outdoor kitchen.
The refrigerator offers an internal capacity of 4.8 cu ft, allowing you to store soda and beer cans, along with food and other items, so that you have everything on hand when you throw a barbeque. The front side of the refrigerator is made from a durable, quality steel that provides a better level of rust-resistant, ensuring the product will last for an extended period of time.
One particularly convenient feature that is provided by the RCS Gas Grills Outdoor Refrigerator with Stainless Steel Front is the fact that the product was designed to be used as either a portable or a built-in refrigerator. The product also comes with an automatic defrost feature, interior shelves that are made from glass, and a thermostat that allows you to control the internal temperature of the device.
4. Danby Compact Refrigerator Spotless Steel Door Review
If you are looking for the best outdoor compact refrigerator, then you should definitely take a look at the Danby DAR044A5BSLDD Compact Refrigerator. This particular option features a very compact and portable size, allowing the product to be placed at various convenient locations – even on top of the counter in your outdoor kitchen.
The internal capacity of the product is 4.4 cu ft, but smaller options are also available if you want an even more portable refrigerator. This outdoor fridge is also available in a variety of colors, including spotless steel, standard stainless steel, black, patriotic, and white.
The Danby DAR044A5BSLDD Compact Refrigerator is Energy Star compliant and features a door that is made from stainless steel construction. This helps to reduce the risk of the refrigerator starting to rust when exposed to wet weather conditions of outdoor use.
The internal storage compartment of the refrigerator ensures you can store cans, tall bottles, and containers. There are two full-width shelves, as well as a half-width shelf. These shelves can also be adjusted based on the requirements of the items you want to store in the refrigerator.
5. Avallon Outdoor Built-in Refrigerator Review
The Avallon AFR151SSODRH 15" Outdoor Built-in Refrigerator is a great option for those looking to buy one of these products that will last for a long time. The product is built into existing structures in your outdoor kitchen and was built to be able to withstand the weather conditions that are present on the outside – be it warm, cold, or wet.
The attachable wheels also make it possible to use this refrigerator as a freestanding option. The temperature of the product can be adjusted based on your requirements, between 34 degrees and 50 degrees.
LED lights are built into the inside of the refrigerator and can be adjusted to emit either white or blue lights. The exterior of the product is made from stainless steel that can withstand rust. A carbon filter is included with this refrigerator. It also features a convenient handle that is made from stainless steel. Additional features include a touch control unit, three shelves on the inside, and an auto defrost feature.
6. EdgeStar 142 Can Built-in Beverage Cooler Review
After we looked at different options from the brand, we found that the best EdgeStar outdoor refrigerator that is currently available on the market would be the EdgeStar CBR1501SLD 142 Can Built-in Beverage Cooler. The product features a large internal storage compartment that can keep up to 142 cans of soda, beer, and other beverages cold at the same time. The internal capacity equals 5.49 cu ft, which means the refrigerator is not only perfect for keeping your beer cool, but can also be used for other items like food, containers, and even bottles of wine.
Compressor cooling technology is used in this product, which helps to save energy in the long run. The temperature can be adjusted between 38 and 50 degrees. The device was primarily designed to be used as a built-in outdoor refrigerator for an outdoor kitchen setup, but can also be used as a freestanding one. The door is made from a solid stainless steel construction.
7. hOmeLabs Beverage Refrigerator and Cooler 120 Cans Capacity Review
The hOmeLabs Beverage Refrigerator and Cooler is a great option if you are looking for one of these products that come with a glass door, allowing you to see the contents that are being cooled on the inside without having to open the door every time. The refrigerator can hold up to 120 cans and also features adjustable shelves to ensure you can store wine bottles, as well as other containers, and keep them cool.
The outside of the hOmeLabs Beverage Refrigerator and Cooler is black with a stylish design. On the inside, a blue light is installed that makes it easy to see what is on the inside of the product, even in the dark. An advanced temperature regulatory system also comes standard with this product, allowing you to set the exact temperature at which the content you store inside the device should be kept. This particular option also comes with an automated defrosting feature.
Avoid – Sunstone Grills Outdoor Refrigerator Review
Even though we primarily focused on the best options when it comes to buying an outdoor fridge, we also want to share with you one of the worst outdoor refrigerators on the market. We did a lot of research and found the Sunstone Grills outdoor Refrigerator to be the worst option that you could choose.
This is an extremely expensive option, especially when you consider the fact that it does not provide the same quality, stylish design, and overall features that you can get for a cheaper price with some of the competing brands.
The Sunstone Grills Outdoor Refrigerator features a 304 stainless steel material construction, along with front venting. It has been designed to be used as a built-in device and is most appropriate for under counter usage. It has an internal storage capacity of 4.1 cu ft. The shelves of this device are not as strong as they should be and the fans of these products seem to break quickly; thus requiring a replacement.
Avoid – Blaze Stainless Steel Refrigerator Review
Another option that you should avoid when you want to buy one of these devices would be the Blaze Stainless Steel Refrigerator.
The price of this particular product is more affordable than some alternative options, but it is not a great option for what you will find in this price range.
The device features a 4.5 cu ft internal storage compartment. It is a built-in refrigerator that should be installed into an existing structure in your outdoor kitchen. Even though promoted as a stainless steel outdoor fridge, this product does not feature a UL outdoor rating, which means it could start to rust easily when used outside.
The Blaze Stainless Steel Refrigerator was designed to allow different types of items to be stored on the inside. This includes beverages like beer and soda, bottles of wine, and even food. It comes with a built-in locking system, which adds extra security for the items you decide to keep cold. Three wire shelves are included, with seven different adjustable options to suit your needs.
---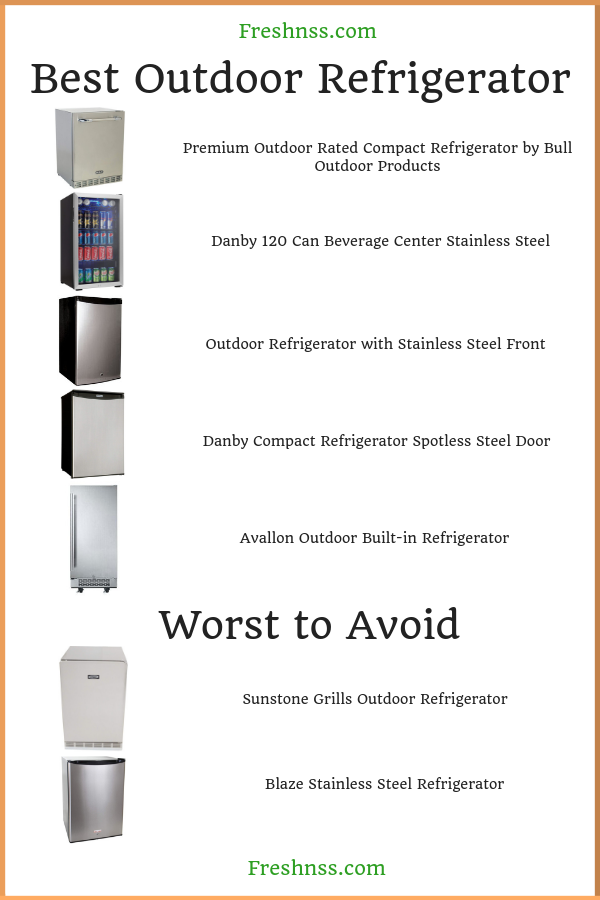 ---
---
2020 Buyers Guide to the Best Outdoor Refrigerators
Buying one of the top-rated outdoor refrigerators for an outdoor kitchen may seem like a simple task, but when you look at the various options that are available, you may be faced with a challenge. Even though many of the outdoor use refrigerators on the market tend to look very similar and even offer similar features, there are differences in quality, as well as other factors, that sets them aside. Below, we share some of the most important points that need to be considered if you are planning to buy one of these devices.
6 Main Points to Consider
Quality: The first point to take into account when you are looking to buy an outdoor refrigerator is the quality of its design. There are different options when it comes to buying one of these products, and each has its own set of quality features. Several aspects contribute to the quality of an outdoor fridge, including the material that the product is made from, and the particular safety features it offers to protect the product from external weather conditions. Consider how the refrigerator has been constructed, what materials were used, what type of weatherproofing features it offers, and any other factors that ultimately relates to the overall quality of the product.
Size: The size of an outdoor refrigerator that you are interested in buying should also be taken into consideration. There is no right or wrong option when it comes to size, however, as it really depends on what you will be using the refrigerator for and where it will be placed. If you are looking to buy one of these products with the sole purpose of using it to store a couple of beer cans when you are having a barbeque with a couple of friends, then there is no need to opt for an excessively large outdoor refrigerator. On the other hand, if you want to store more than just a couple of beer cans in the refrigerator, then it may be a good idea to opt for one with more internal storage space.
Material: The materials used in the construction of an outdoor fridge has a direct impact on its quality. The most common material used for these products would be stainless steel because this type of metal is known to be more durable and resistant to rusting. Even though stainless steel is known to be better for outdoor products, there are different grades of this steel that can be used for an outdoor refrigerator. Thus, do not only consider the type of material used for the product, but also take the steel grade into account. A higher grade stainless steel option might cost more, but it will give you a refrigerator that will last longer and provide a more durable performance in outdoor conditions.
Installation: It is also important to take the installation method needed to utilize the refrigerator that you are looking to buy into account. There are two main categories of these refrigerators available on the market – including portable ones and, of course, built-in options. The portable options are great for an open plan barbeque area and when you would like to move it around sometimes. When you have a less open plan space where the refrigerator will be used, and there is already cupboards or similar structures in place, then a built-in option may be an ideal option for you. When you decide to opt for a built-in outdoor refrigerator, know that you will not be able to move it around from time-to-time, as it will be built into a cupboard or other structure that is present in the area where you are going to install the refrigerator.
Features: While not the most important factor that should be taken into consideration when it comes to buying a refrigerator to be used outdoors, you should look at what particular features the product you are interested in offers you. While many of these refrigerators tend to look the same – or at least very similar in its design – some offers convenient features that make them easier to use and more reliable. For example, there are a couple of outdoor refrigerators that features built-in lightning within the product, which makes it convenient to grab a beer when it is dark outside. Some of these refrigerators also come with built-in control panels that can be used to adjust the temperature – this is great when you want more control over how cold you want to serve beers or to keep other items cold.
Price: Considering the price of an outdoor refrigerator is also an important point that you should keep in mind when you decide to shop for one of these particular products. With this in mind, it is important to consider the fact that you will ultimately need to determine how much you can really spend on the product. This will make it easier to find an outdoor refrigerator that is the right option for you. In addition to taking your own budget into account, it is also important to understand that it is usually not a good idea to opt for the cheapest option that you find on the market. While this may seem like an ideal way to get a refrigerator next to the barbeque for keeping your beers cold, the cheaper options usually do not last long. This, however, does not mean you have to spend thousands of dollars on an outdoor refrigerator – there are affordable options that are made from quality stainless steel material.
Is it safe to use a refrigerator outside?
A standard refrigerator meant to be used inside of a house will not perform well for outdoor use as they were not built to withstand external weather conditions. Since the refrigerators promoted for outdoor use tend to look very similar to the ones we often place on the inside of our houses, a question arises as to whether or not it is really safe to place the refrigerator outside.
Generally, the main difference between an indoor and an outdoor refrigerator is the fact that the one meant for outdoor use contains stainless steel material. This is an important feature as stainless steel is known to be resistant to rust. The materials used for indoor options are usually not as durable as stainless steel options.
Even though made from stainless steel, it is important to consider the fact that stainless steel can rust in some cases, even though more resistant than other types of metal. For this reason, it is important to place the refrigerator at a spot where it will not be directly exposed to wet conditions.
Furthermore, when temperatures outside fall below that at which the refrigerator operates under, then it will cause the refrigerator to shut off. This can cause food and other items placed on the inside of the product to spoil. Thus, when the weather outside is very cold, it may be a good idea to empty the refrigerator and to switch it off.
---
✅ Outdoor Refrigerator: Reviews of the 7 Best Outdoor Refrigerator, Plus 2 to Avoid ❎:
---
Final Thoughts on Buying an Outdoor Refrigerator
An outdoor fridge can be very convenient when spending some time outside. You have access to a cold beer, as well as other cold items, instantly – without having to go into the house to grab one. It is important that you choose the top-rated outdoor refrigerator of 2020 for maximum performance, however, which is why we have tested a few options to bring you the top ones that you should choose from. We also shared two of the worst options to help you avoid disappointment.