In order to make the best protein shakes for women, first you've got to find the right protein powder that meets your nutritious needs, along with it delivering a palatable flavor. Ready to drink protein drink options are convenient, but they don't let you decide on the quantity and concentration, and, sometimes, you feel like adding your own ingredients to the mix, to improve its taste and nutritional value. We've researched and discovered fourteen top-rated protein powders for women to use in a shake, as well as one option you may want to avoid.
Reviews of the 14 Best Protein Shakes for Women, Plus 1 to Avoid
1. Garden of Life Organic Vegan Protein Powder Review
The reputation of the manufacturer, the raw and organic formula, and the presence of the 3 billion colony-forming probiotics should be enough to make this protein powder your favorite. Add the sugar-free vegan content, the vitamins and digestive enzymes, and the low caloric index (110 calories), and you have the greatest health booster on the market.
This powder formula has everything required to boost your digestion and your metabolism, while supporting muscle growth, raising your energy levels, and strengthening your immunity. You should feel better after the first shake, but you won't know until you try it.
2. Optimum Nutrition Gold Standard 100 Whey Protein Powder Review
This protein powder is extremely popular, and it is easy to see why. With a clean and light formula, it comes in 5-pound jars holding no less than 50 servings. Each serving provides 24g of protein, 4g of glutamine and glutamic acid, and 5g of BCAAs (Leucine, Valine, and Isoleucine).
The 3g of carbs, 1g of sugar, and 120 calories per serving are a small price to pay for a delicious and nutritious shake that will boost your weight loss and muscle building efforts, and support your overall health and well-being.
3. R1 Rule 1 Protein Powder Review
Not as popular as its predecessors, but just as promising, R1 Protein powder is low in calories, free of sugar and fats, and has a delicious taste ensured by stevia and monkfruit as sweeteners, and natural flavors.
The jar contains 38 servings. Each serving provides 25g of whey protein isolate, and 6g of L-Glutamine and BCAAs. We love the affordable price, and the clean formula free of lactose, gluten, and artificial additives.
4. Orgain Organic Plant Based Protein Powder Review
If your diet relies on organic foods and drinks, you will most likely fall in love with this Orgain protein powder. There are 20 servings per container, and each one provides 150 calories, 21g of protein, 5g of fiber, 3.5g of fat, 15g of carbs, and 1g of sugar.
Sweetened with stevia and monkfruit, this is one of the healthiest protein shakes on the market. It is also affordable and easy to travel with, so you can think of it as a must have snack and pre- and post-workout drink.
5. Her Whey Ultimate Lean Protein Review
If your goal is to lose weight and tone your body, this protein powder is designed especially for you. Each jar contains 16 servings, but weighs only 1 lb. One serving delivers 20g of protein, 110 calories, and only 3g of carbs and 3g of sugar.
Free of gluten and RBGH hormones, this powder uses stevia as sweetener and natural flavors only, so you don't need to worry about allergies, blood sugar spikes, or any other inconveniences.
6. Alpha Isolate Lean Whey Protein Powder for Women Review
This may not be the most affordable protein powder on the market, but its impressive features make it worth the price. It supports fat loss and muscle building with a unique formula relying on healthy and effective ingredients: whey protein isolate, Acetyl L-Carnitine, Conjugated Linoleic Acid, and green tea extract.
With just 90 calories, you get 20g of protein, 2g of carbs, and 0.5g of sugar, so enough fuel to work out and burn fat more efficiently, without worrying about allergens or artificial additives. It is no wonder hundreds of women endorse Alpha Isolate Lean.
7. Whey Protein Powder Isolate Bulksupplements Review
Thousands of users stand by the clean formula and nutritional value of this protein powder. Available in 2.2 lbs jars, with approximately 33 servings per jar, it contains only whey protein isolate (90%) and soy lecithin.
Milk and soy may be a concern for those suffering from allergies or unable to digest lactose, but the good news is that there are no added sugars or artificial flavors. The 27g of protein come with a huge load of amino acids, but only 1g of carbs and 115 calories.
8. Vega One All in One Plant Based Protein Powder Review
If you prefer protein powder in small containers, to be able to switch between flavors or take it with you wherever you go, try Vega's All-in-One Vanilla Chai. Sweetened with stevia and flavored with fruits, vanilla, and chai extracts, this protein powder can take your body shaping and health boosting efforts to the next level.
Each of the 10 servings offer 20g of quality plant-based, amino acid-rich protein, 50% of the daily recommended intake of minerals and vitamins, 25% of the recommended fiber intake, 1.5g of omega-3s, bacillus coagulans, and antioxidants, at just 170 calories and 10g of carbs.
9. Fitmiss Delight Protein Powder Review
This is one of the lightest protein powder shakes on the market, with just 90 calories per serving, 1g of sugar, and 3g of carbs. It does have a high content of protein (20g), and numerous valuable digestive enzymes, vitamins, and minerals.
Its most important ingredient is Solathin®, a vegetable protein known to suppress appetite. Besides promising to help your weight loss efforts, this nutritional shake is really affordable and free of major allergens and artificial additives, so it should be worth at least a try.
10. Natures Bounty Optimal Solutions Protein Shake Review
If you're looking for solutions to boost your health, this protein powder shake could be one of them. Besides providing valuable proteins, it boosts your energy metabolism with B-Vitamins, aids digestion with probiotics and digestive enzymes, supports cardiovascular health and proper hydration with Omega-3 and electrolytes, and improves immune health with C and D vitamins.
The 6g of sugar and 15g or carbs may seem a little too much, but they should be an acceptable price at just 120 calories per serving, especially given the delicious vanilla taste and flavor.
11. Her Natural Whey Protein Powder Review
Everything we said about the creamy vanilla variety above applies to this protein powder shake as well, with the only difference that chocolate rules. You'll get a lot of goodness and nothing to worry about, in a convenient package, and at an affordable price. Losing weight and building lean muscles has never been easier or more delicious!
12. Her Whey Ultimate Lean Protein Review
When your goal is to build lean muscle, but you feel like devouring vanilla cupcakes all the time, this protein shake can really change your life. Besides providing 28g of protein per serving, it has a complete amino acid profile and it is an excellent source of vitamins and minerals.
It takes only 170 calories, 14g of carbs, and 2g of sugar to fuel your body with everything it needs to reach full health and peak performance. The price is not exactly affordable, but hundreds of women assure it is worth paying.
13. Aria Womens Wellness Protein Review
The low price, the low caloric index, and the high nutritional value are just a few reasons why you should give this protein shake a try. With just 90 calories per serving, it provides 15g of protein, 5g of carbs, 3g of fiber, and 1g of sugar.
Add to that prebiotics, vitamins B, C, and D, calcium, iron, and phosphorus, and you no longer need dietary supplements. The most important feature is the focus on natural, healthy ingredients, so you can forget about allergens, artificial flavors, and blood sugar spiking sweeteners.
14. Alpha Isolate Whey Protein Isolate Review
Few protein powder supplements match the excellent rating of Alpha Isolate, and it is easy to see why. Its convenient package of 28 servings is not as important as the nutritional value of each serving: 27g of protein, with just 3g of carbs, 1g of sugar, and 125 calories.
Although the main recommendation is to use it after workouts, there is no reason not to enjoy it before training, between meals, or even as a meal replacement. The price is surely not an impediment.
Avoid – Pure Protein Whey Protein Review
Although, at first sight, it looks promising, we find this protein powder average and not worth its price. It contains too many calories (150) for its nutritional value (25g of protein, 9g of carbs, and 2g of sugar), it poses high allergy risks, and it contains artificial additives.
---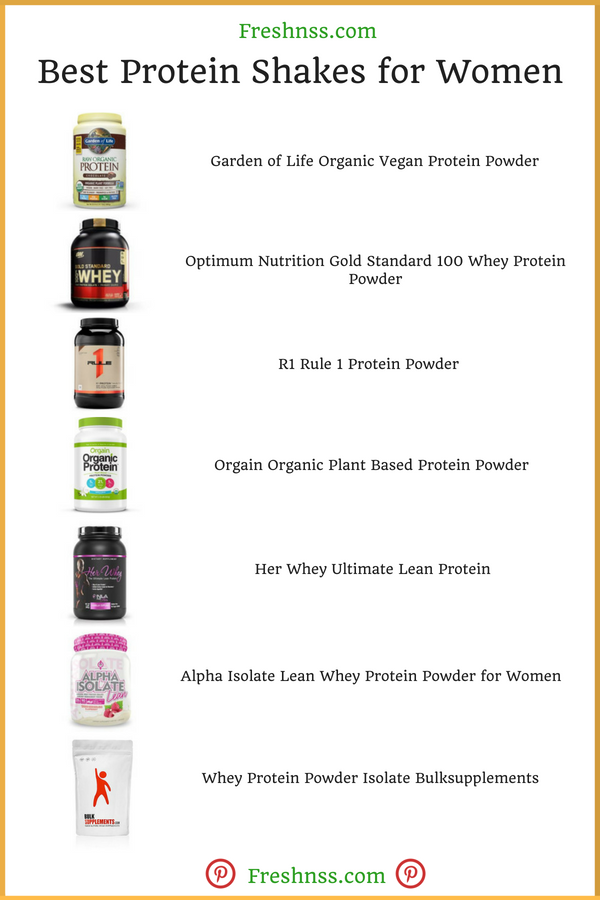 ---
---
2020 Buyers Guide to the Best Protein Shakes for Women
As you already know, protein shake can significantly ease your weight loss and muscle building efforts, while supporting your health and boosting your energy levels. Choosing the best one for you can be a challenge, especially when you are not familiar with the various product categories. Let's make everything easier by review them in the following lines.
· Whey Protein
It is a proteins mixture extracted from the cheese by-product with the same name. It is rich in essential amino acids, quickly absorbed, and available in 3 forms: concentrate (70-80% protein, contains lactose and fat, has great flavor), isolate (90% or more protein, less fat and lactose, and fewer nutrients), and hydrolysate (pre-digested, absorbed faster, higher impact on insulin levels).
There are numerous ready-to-drink and powder protein drinks on the market, but the best ones in our opinion are Optimum Nutrition Gold Standard 100% Whey Protein Powder, Cake Batter, 5 Pound for powders, and Protein2o Low Calorie Whey Protein Drink, Tropical Coconut, 16.9 Ounce (Pack of 12) for liquid protein drinks.
· Casein Protein
Casein is the other predominant milk protein. While whey boosts protein synthesis, casein maintains a positive protein balance. Its effects last longer. That is why, unlike whey protein drinks that are best before and after workouts, casein protein drinks are better before bed, as they sustain the anti-catabolic environment during sleep.
According to our research, the best casein protein powder currently available is Optimum Nutrition Gold Standard 100% Casein Protein Powder, Cookie Dough , 2 Pound. As the best casein protein drink for women, we recommend Muscle Milk 100 Calorie Protein Shake, Vanilla Crème, 20g Protein.
· Egg Protein
Only exceeded by whey in terms of bioavailability, egg protein enjoys a slower release than its main competitor. This makes it perfect for le protein second only to whey, as previously discussed. It is a released more slowly than whey, which makes it perfect for use between meals or as meal replacement.
As the best egg protein powder, we recommend Jay Robb – Egg White Protein Powder, Outrageously Delicious, Strawberry, 21 Servings (24 oz). As the best egg protein drink for women, we suggest Eas Myoplex Original Nutrition Shake Rtd Chocolate Fudge.
· Soy Protein
Although an incomplete protein on its own, soy is rich in BCAAs and has numerous health benefits for women, so it should be worth some consideration. The best soy protein powder seems to be BulkSupplements Pure Soy Protein Isolate Powder (500 grams), while Soylent Meal Replacement Drink (cocoa) seems to be the best soy protein drink.
· Plant-Based
Protein drinks remain a viable option for vegetarians as well, as there are numerous plant-based protein shake varieties out there. They use lentils, soy, rice, almonds, chia seeds, avocado, spinach, broccoli, and other plant extracts, and they provide impressive health benefits.
Just check out Orgain Organic Plant Based Protein Powder, Creamy Chocolate Fudge if you're looking for powder, and Orgain Plant Based Organic Vegan Nutrition Shake, Sweet Vanilla Bean, 11 Ounce, 12 Count, for a more convenient, ready-to-drink option.
· Pea Protein
Pea is comparable to whey when it comes to protein, calories, fat and carbs content, but it has a slightly lower BCAAs content. It contains all nine essential amino acids, so it should be your first choice if you're on a plant-based diet.
Although many protein shakes rely on pea protein, we recommend Naturade Pea Protein Diet Supplement Jug, Vanilla, 19 Ounce, as powder, and Vega Protein+ Ready to Drink Protein Shake, Chocolate, 11floz, 12 Count on the go.
· Hemp Protein
It is extracted from hemp seeds and has a nutritional profile similar to flaxseeds. It is rich in dietary fiber, minerals, chlorophyll, and antioxidants, and low in saturated fats, sugar, sodium, and cholesterol.
Among the best rated products, we found Nutiva Hemp Protein Powder, Organic, (50% Protein), and Vega One All-In-One Plant Based Protein Powder, Berry, 1.88 lb, 20 Servings.
· Rice Protein
It is a common vegetarian alternative to whey protein, and it successfully replaces soy protein as well. Since it does not contain all the essential amino acids, it provides the most benefits combined with pea protein.
Many plant-based protein shakes rely on rice protein, but, according to our findings, the best rice protein powder is Orgain Organic Plant Based Protein Powder, Sweet Vanilla Bean, 2.03 Pound, 1 Count , while the best RTD protein shake is rgain Plant Based Organic Vegan Nutrition Shake, Smooth Chocolate, 11 Ounce, 12 Count.
What Kind of Protein Is Good for Women?
As discussed above, you can choose from several types of protein. You're probably wondering which one is best for you. Unfortunately, there is no universal answer. Whey is an excellent choice for pre- and post-workout protein drinks. Casein provides more balance and suppresses appetite, therefore making a better meal replacement choice.
If you are vegetarian or lactose intolerant, you'll surely prefer pea protein, as soy poses allergy risks itself. It is up to you whether you stick to a single protein source or choose a drink that combines several. The bottom line is that each type of protein comes with its own pros and cons, and you have to decide which ones are more important for you.
I've Heard Protein Is Good for Muscle Gain, But Is Protein Powder Good for Weight Loss?
Indeed, protein powder is mainly used for muscle gain, but it helps weight loss as well. It provides huge nutritional value with few calories, and it has valuable thermogenic properties. By taking in more protein, you provide your body with essential nutrients, but you also force it to work harder and burn more calories. Protein drinks are the best solution to boost and maintain your metabolism high, while suppressing your appetite and controlling your cravings.
DIY BONUS! Top 7 Recipes for the Best Protein Shakes for Women:
Sometimes, even though you've found a great product, you want to prepare a healthier version at home, using natural and widely available ingredients. We have 7 excellent recipes for you, bound to excite your taste buds and meet your nutrient needs. Here they are:
Mixing a cup of coffee with a scoop of chocolate protein powder will get you a delicious and energy-boosting mocha to enjoy for breakfast or before your workouts. If you use vanilla protein powder instead of chocolate, you'll get a mild and creamy latte.
Your breakfast should be the most important meal of the day, but you don't necessarily need solid foods for it. Try mixing 2 ice handfuls with a protein powder scoop (chocolate or vanilla), ½ of a frozen banana, 1 cup of milk, and 1 cup of coffee, and you'll get a delicious and nutritious way to jumpstart your day.
For a healthy, low calorie, but delicious meal replacement, all you need to do is mix one banana with 2 cups of ice, ¼ cup of skim milk, ¼ cup of water, and 2 tablespoons of peanut butter protein powder.
This smoothie can add savor to your mornings or make a great afternoon snack if you give it a chance. To prepare it, you only need to mix 8 oz. of unsweetened coconut milk, with 1 scoop of strawberry protein powder and 1/4 cup of Coconut flakes. What can be more refreshing than that?
Who knew meal replacements and snacks can be so delicious? See for yourself by mixing 1/2 of a banana with 1 tablespoon of low-fat peanut butter, 1/2 scoop of chocolate protein powder, 3/4 cup of low-fat milk, and 1 ice cube!
Refresh your summer days and recover after your workouts with this delicious and easy to make weight loss drink. You only need 3 handfuls of frozen berries, 2 glsses of water, 1 full scoop of whey protein poder, and some crushed ice. Mix them all together and enjoy!
It is so good that you can't help craving it, and easy to make as well. Simply mix 2 scoops of your meal replacement chocolate protein shake with 1 cup of fresh raspberries, 1.5g protein, 1 banana, ½ cup of water, and 2 cups of crushed Ice.
---
Best Protein Shakes for Women (2020 Buyers Guide):
---
Final Thoughts on Learning How to Make the Best Protein Shakes for Women:
Whether you prefer to make your own protein drinks with the best protein powders, or the convenience of a ready-to-drink protein shake, we are sure the products reviewed above will provide the benefits you are after and more. Don't hesitate to try the simple yet delicious recipes suggested above, to enjoy your days to the fullest, and make your goals easier to attain.