Our experts tested and reviewed the 7 best salt free water softener systems based on performance, NSF certifications, customer satisfaction, and affordability. My top pick for 2023 is the SpringWell FutureSoft Salt Free Softener.
Quick Comparison Of Our Favorites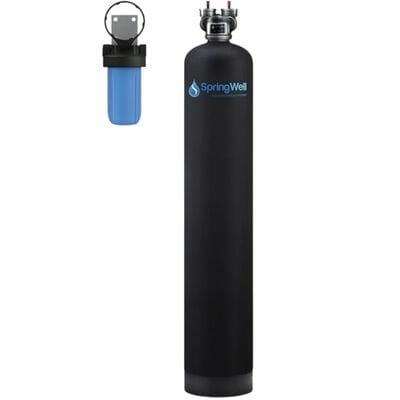 SpringWell FutureSoft
Best Overall
Check Price
Bottom Line
Made in the United States with NSF certified components, this salt-free softener system comes with a lifetime warranty and unparalleled ant-scaling performance.
Pros
Removes 99.6% of scale build-up
Guaranteed no drop in water pressure
Lifetime warranty with 6 month money back guarantee
Cons
Need to replace 5-micron sediment filter every 6-9 months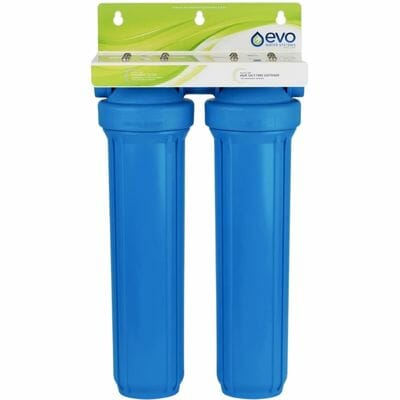 Kind E-2000
Best Cartridge Based
Check Price
Bottom Line
This budget-friendly cartridge system eliminates scale buildup, is very easy to install, and is built with NSF-certified components in the USA.
Pros
Prevents & removes scale build-up
High 15 GPM flow rate so no drop in pressure
Easy installation that takes no floor space
Cons
Need to replace sediment filter annually
US GreenWave
Best For Large Homes
Check Price
Bottom Line
This Eco-Friendly water softener alternative is one of the most efficient and longest-lasting salt-free water conditioners on the market.
Pros
Handles 81 GPG of hardness with pre-treatment
Protects electric appliance components
Up to 25 GPM flow rate for large houses
Cons
Slightly more premium priced option
If you've landed on this article you already know the pitfalls of hard water. Dry skin, damaged appliances, spotty dishes, and scale buildup all over. The good news, there is hope! Salt-free conditioners can eliminate those issues without salt, chemicals, or wasted water [1].
Best Salt Free Water Softener
Comparison Table For Salt Free Softeners
| | | | | | | |
| --- | --- | --- | --- | --- | --- | --- |
| | Rating | Flow Rate | # Of Bathrooms | Warranty | Max Hardness | Price |
| SpringWell FutureSoft | 5/5 | 12-20 GPM | 1-7+ | Lifetime | 81 GPG | $$$ |
| Kind E-2000 | 4.5/5 | 15 GPM | 1-6 | Lifetime | 75 GPG | $$ |
| US GreenWave | 4/5 | 10-25 GPM | 1-8 | Lifetime | 81 GPG | $$$$ |
| SoftPro Elite | 4/5 | 12 GPM | 1-5 | Lifetime | 17 GPG | $$$ |
| Crystal Quest | 4/5 | 13 GPM | 1-3 | 1 Year | 25 GPG | $$$ |
| Aquasana | 4/5 | 14 GPM | 1-3 | 6 Year | 15 GPG | $$ |
| Yarna Descaler | 4/5 | N/A | 1-5 | 1 Year | 75 GPG | $ |
Our Review Methodology
Price
We weigh the saltless conditioner's price against the peer group's price range, and also consider the model's price relative to its performance capability.
Performance Testing
We will either directly test the product or use certified 3rd party testing data to not only assess the salt-free conditioner system's effectiveness but also its efficiency in treating hard water problems. We were primarily focused on the ability to remove scale buildup and treat calcium and magnesium.
NSF Certifications
To what degree do the products have NSF certifications? Maybe the entire unit is certified, or the components are, but we want to know that there is a high standard of quality being adhered to.
Customer Satisfaction
We analyze customer satisfaction and net promoter scores of the companies. This gives us real-time feedback on what is working and what is not.
Salt Free Water Conditioner Reviews For 2023
SpringWell FutureSoft Salt-Free Water Softener
Best Overall
SpringWell FutureSoft Specifications
| | | | |
| --- | --- | --- | --- |
| | FS1: 1-3 Bathrooms | FS4: 4-6 Bathrooms | FS+: 7+ Bathrooms |
| Softener Type | Salt-Free (TAC) | Salt-Free (TAC) | Salt-Free (TAC) |
| Warranty | Lifetime | Lifetime | Lifetime |
| Tank Height | 39 Inches | 52 Inches | 58 Inches |
| Tank Width | 6 Inches | 9 Inches | 13 Inches |
| Flow Rate | 12 GPM | 15 GPM | 20 GPM |
| Flow Direction | Upflow | Upflow | Upflow |
| Pressure | 20 – 80 PSI | 20 – 80 PSI | 20 – 80 PSI |
| Temperature | 34 – 120 F | 34 – 120 F | 34 – 120 F |
| Ph Range | 7.0 – 9.5 | 7.0 – 9.5 | 7.0 – 9.5 |
| Hardness GPG | 81 | 81 | 81 |
| Salinity PPM | 35,000 | 35,000 | 35,000 |
| Free Chlorine PPM | 3 | 3 | 3 |
The Springwell FutureSoft ranked the highest based on our review methodology, and for good reason. The technology built into the salt-free water softener provides 99.6% scale prevention. No chemicals or salt requirements ensure your water pressure never drops unexpectedly.
The salt-free Futuresoft water softening system wastes no water because it doesn't have to regenerate. Therefore it never discharges harmful salt brine into the environment like with ion exchange.
Springwell FutureSoft salt-free water softeners process your home's water via Template Assisted Crystallization (TAC). In this process, hard water minerals like calcium and magnesium are converted to a crystalline form.
Once the minerals are neutralized, they no longer stick to the plumbing, china, and glassware and keep your appliances and water heaters free of annoying scale and build-up. But what I especially like about this process is it removes even existing scale buildup, not just future scale.
So far I am positively surprised. We have pretty much no scale buildup in the sink, which we used to have before. We used to have extremely hard water. Also, I have not noticed any buildup elsewhere. I am very happy and would recommend.

Andrew M. – Verified Buyer
The durable Springwell FutureSoft salt-free water softener system incorporates 20 years of water quality science and expertise and is manufactured using only premium NSF-certified components so it will last for years to come.
Since it comes in 3 configurations depending on the number of bathrooms your home has, you can get a tailor-fitted solution. This ensures optimal performance without overpaying for the capacity you don't need. You can check the different specifications above.
Read Our Full SpringWell FutureSoft Salt-Free Softener Review
Watch SpringWell FutureSoft Review Video
Pro Tip: H
omes that rely on private well water sources should pre-treat any iron, manganese, hydrogen sulfide, or other harsh contaminants to avoid fouling the Futuresoft media.
Pros
Eliminates 99.6% of scale buildup
Does not use salt or chemicals
Guaranteed no drop in water pressure
No waste water from regeneration
Made in the USA with NSF-certified components
Lifetime warranty and 6-month guarantee
Cons
May require professional installation if not DIY inclined
Does not remove calcium or magnesium like ion exchange
Kind E-2000 Salt Free Water Softener
Best Cartridge Based
Kind E-2000 Specifications
| | |
| --- | --- |
| | Kind Water Systems E-2000 |
| Number Of Stages | 2 Stages (Pre-Sediment, Salt-free Conditioner) |
| System Type | Cartridge Based |
| System Dimensions | 25 ¼"(H) x 15 ½" (W) x 8″ (D) |
| Max Flow Rate | 15 Gallons Per Minute (GPM) |
| Max Capacity | 6 Bathrooms |
| Max Hardness | 75 Grains Per Gallon (GPG) |
| Connection Size | 1″ FNPT |
| Operating Pressure | 25 – 120 psi |
| Operating Temperature | 36 – 120 F |
| Ph Range | 6.5 to 11 |
The Kind utilizes the latest high-performance salt-free conditioning technology and is specifically designed for healthy water from every tap in your house without the negative effects of sodium and hard water scale.
The two-stage softener system starts with the 20-inch 5-micron sediment filter. This extra-large filter removes dirt, silt, and other debris to cleanse the water and help protect the salt-free softener cartridge in the next stage.
The proprietary eSoft salt-free cartridge uses Template Assisted Crystallization (TAC). Once hard water comes into contact with the eSoft media, the calcium and magnesium ions are altered so they are no longer able to stick to plumbing and appliances.
I installed the system and immediately lost the chlorine taste and odor along with the "musty"

smell. It descaled all my shower heads and no more water "spotting".

Richard S – Verified Buyer, Florida
The best part is you get all this without a drop in water pressure. The Kind has the capacity to support a house with up to six bathrooms and has a huge max flow rate of up to 15 gallons per minute.
What really sets the Kind apart from its tank-based competitors is its ease of use. This system can be installed in under 90 minutes thanks to its inline design. It only has two connections – water in, and water out. The included install kit comes with everything you need. And because it's cartridge-based, it takes up no floor space.
Made in the USA with NSF-certified components, the Kind comes with a lifetime warranty and a 120-day guarantee.
Read Our Full Kind E-2000 Salt-Free Water Softener Review
Watch Kind E-2000 Salt-Free Softener Review Video
Positive
Prevents & removes scale build-up
Uses no salt, chemicals, or electricity
Filters out sediment, debris, and dirt
High 15 GPM flow rate
Made in USA with lifetime warranty
Negatives
Need to replace sediment filter annually
Might need additional water pre-treatment if using well water that is heavily contaminated
May require professional installation if not DIY inclined
US Water GreenWave Salt-Free Water Conditioner
Best For Large Homes
US Water Systems GreenWave Specifications
Specs for GW-100, GW-150, GW-200, GW-250 models:
| | |
| --- | --- |
| | US Water GreenWave Salt Free Conditioner |
| Softener Type | Salt Free (NAC) |
| Max Service Flow | 10 – 25 GPM |
| Warranty | Lifetime (Tanks & Valves) |
| Tank Height | 52.5″ – 52.5″ |
| Tank Width | 9″ – 13″ |
| Connection Size | 3/4 – 1″ |
| Max Pressure | 100 psi |
| Max Ferrous Iron | 0.3 mg/L |
| Max Manganese | 0.05 mg/L |
The GreenWave salt-free water conditioner is the best eco-friendly system for the environmentally conscious. Unique patented Filtersorb SP 3 media and an industry-leading Vortech distributor plate work in tandem for long-lasting and efficient salt-free water conditioning.
Filtersorb SP 3 media uses Nucleation Assisted Crystallization (NAC). This process deactivates the hard water minerals, then converts them into harmless, microscopic crystals. Once suspended in the water, they can pass through the system and bypass your plumbing – offering your home clean, clear, softer water!
US Water softener systems focus on removing as much calcium and magnesium as possible by neutralizing minerals that adhere to surfaces and inside your home's plumbing.
A water softening system to exceed your expectations, the GreenWave salt-free water softener allows water to pass through a pressure vessel, transforming the calcium bicarbonate into calcium crystals. As the NAC reaction occurs, the crystals filter away from your plumbing, allowing the fresh softened water to flow into your home.
Each US Water GreenWave salt-free water conditioner system includes a stainless steel tank, Vortech plate, media to eliminate clogging and build-up, a bypass valve, and an installation manual.

The single tank US Water GreenWave Salt-Free Water Conditioner measures 58.5" H x 9" W.
Watch GreenWave Salt-Free Water Conditioner Review Video
Positive
97% effective

at eradicating scale and build-up 

Protects electric water-powered appliance components

Eco-friendly

design uses no salt or chemicals
Can handle up 81 GPG of hardness with pre-treatment
Negatives
Slightly more premium priced option
Pre-filter water system upgrade recommended
Installation may require a professional plumber 
SoftPro Elite Salt-Free Water Softener
Runner Up
If you want the best efficient salt-free water conditioner, with a maximum of 12 GPM and eliminates hard water scaling, look at the SoftPro Elite. For starters, no programming, adjustments, or electricity to operate the system means all you have to think about is soft, conditioned water flowing through your plumbing.
A SoftPro Elite can pay for itself within 3.5 years, Which is almost $500 in real annual savings. Over time your investment in the SoftPro Elite "pays" you. Scale Control Technology (SCT) effectively prevents 99.6% of hard water scaling.
As hard water minerals dissolve during the conditioning process SCT transforms into inactive, harmless crystal particles which pass through your home's water and go straight down the drain!
SoftPro salt-free conditioner system includes a unique 5-micron NAC sediment and chlorine pre-filter which removes particles in your home's water that build up over time in water heaters, shower heads, and appliances.
Each SoftPro comes with a washable, removable neoprene tank jacket to help reduce condensation and unexpected water pooling at the base of the tank.
The SoftPro has a 6-month money-back guarantee and a lifetime warranty on tanks and valves.
Watch SoftPro Elite Salt Free Water Softener Review Video
Positive
Eliminates the effects of hard water without the use of salt

Works for

water hardness up to 17 GPG

Install and forget it operation
Lifetime warranty on tanks and valves
Negatives
Lower 12 GPM flow rate

Professional plumber may be required 

for install
Crystal Quest Salt-Free Water Conditioner
Best For Added Filtration
Crystal Quest 4-stage salt-free water conditioner softens water using four unique filters. The key to perfectly conditioned water is the Crystal Quest's ability to transform hard water minerals into mechanically stable and heat-resistant calcite crystals. Calcium is what creates scale in your pipes and faucets which leads to higher utility bills and frequent expensive appliance repairs. Scale can also be a breeding ground for bacteria in your drinking water.
Fortunately, the Crystal Quest Salt-free conditioner uses the latest technology to eradicate all these issues. Lime and calcium deposits simply rinse from the system. All that's left is clear, fresh drinkable water with positive health benefits.
Stage one, a 20" sediment filter cartridge that removes sediment, silt, sand, and dirt. Stages two and three push water through the Crystal Quest Eagle Anti-Scale media tank, and a 20" solid carbon cartridge to remove volatile organic carbon compounds (VOCs), insecticides, pesticides, and industrial solvents.
In the fourth stage, a 20" 0.2-micron ultrafiltration (UF) membrane uses Crystal Quest purification technology to produce high-purity water quality for your home. UF removes colloids, bacteria, viruses, parasites, plus organic molecules larger than 0.2-micron.
Watch Crystal Quest Salt-Free Water Conditioner Review Video
Positive
Continuous anti-scaling and water conditioning

Available in sturdy fiberglass or stainless steel construction

Uses premium

Eaglesorb ES3 scale control media
Negatives
More premium priced option
Need to replace pre and post filters every 6 months
Short 1 year warranty period
Aquasana Salt-Free Water Conditioner
Budget Pick
Aquasana is the leader in reliable, high-performance salt-free water conditioning and filtering. For starters, Aquasana technology includes guaranteed water descaling for six years.
The water heater, washing machine, and dishwasher will never come in contact with harsh, hard water. Your home's internal plumbing won't be affected by the adverse effects of high iron levels.
Better yet, gone are the days of lugging heavy bags of salt from the big box or hardware store. And no more scheduling when and how much salt to add to your water softening system.
Aquasana salt-free water conditioners never harm the environment with chemical or salt backwash. Scale Control Media (SCM) salt-free technology keeps the scale buildup from forming in your plumbing. Your water appliances, skin, and hair don't suffer the effects of anything harsh or irritating.
SCM allows your home's water to flow effectively and continuously. Mineral causing scale buildup dissolves into microscopic crystal particles. The particles go down the drain, and Aquasana sends fresh conditioned water to your faucets and appliances.
Aquasana's Salt-Free Water Conditioner is compact, easy to install, and low maintenance making it the best water softener if you're on a budget. With a small installation footprint of only 27" L x 46" H x 9" D, pulse a 600,000 gallon capacity with a maximum operation of 100 psi, Aquasana has your water softening covered!
The Aquasana has a 6-year warranty and a first 90-day guarantee.
Watch Aquasana Salt Free Water Conditioner Review Video
Positive
Prevents adverse effects of iron and scale buildup
Easy to install and maintain

Easy installation and maintenance

Upflow, dual tank design increases water contact time
Negatives
Lower flow rate than other models
Lifetime capacity is only 6 years
Shorter warranty and guarantee than competitors
Yarna Capacitive Electronic Descaler
Descaler Choice
The Yarna Capacitive Electronic Water Descaler is designed to be a whole house hard water treatment solution. The system uses capacitive electric impulses to descale the appliances and pipes, reducing the effects of hard water. The simple installation makes it a great choice for both homes and apartments.
The key differentiator of the Yarna from other descalers is it works with any water hardness level. Unlike most competitors, the Yarna has no max hardness limit making it capable of working with well water and extra hard water conditions. And the Yarna works with any pipe type up to 1" thick, whether iron, copper, or PVC.
Because the system doesn't remove any of the healthy minerals that are good for our bodies, you can be confident your water will be safe to drink while improving hair and skin. Best of all, the Yarna descaler comes with a 365-day money-back guarantee, so you can try it out risk-free.
Watch Yarna Electronic Descaler Review Video
---
Salt Free Water Softeners Buyer's Guide 2023
More than 85% of the United States is affected by hard water issues, so it's not a surprise if you're battling water hardness in your home.
When searching for a saltless water softener system, there are key considerations to finding the ideal fit for your home. This guide will walk through everything you need to know to make an informed decision. Here we will discuss how a salt-free conditioner works, what to look for when deciding which model is best, and the pros and cons of a saltless softener.
How do salt-free water softeners work?
Salt free softeners work using a process called template-assisted crystallization (TAC). A recent study demonstrated that water softener alternatives using TAC are very effective in treating hard water issues [2]. This report concluded that TAC was shown to reduce scale by more than 90%.
Template-assisted crystallization consists of a resin media tank where hard minerals (calcium and magnesium) are collected as water runs through it.
Crystallization of the minerals occurs within the resin at microscopic nucleation sites. The minerals are given a crystalline coating that keeps them suspended in the water. At this point, the crystals can no longer stick to surfaces and form scale.
Once a TAC salt-free water softener has been installed, further scale buildup in plumbing and fixtures will be prevented.
This is why they are commonly referred to as salt-free water conditioners because the TAC process does not remove minerals like in the salt-based ion exchange process.
Key Considerations
Here are the key factors to consider when purchasing a saltless water softener for your home.
Water Quality
Understanding your water composition is critical in deciding the best salt-free softener. The levels of hardness, pH, calcium, magnesium, and sediment will determine which size softener you'll need. There are two primary ways to understand your home's water quality.
The first is Testing your home's water with a test kit. Here you can purchase a DIY kit with test strips or can get a home lab water test. The DIY kits are quick and inexpensive but are not nearly as accurate as a home lab test kit. I would recommend the lab test kit as they are very accurate and cover dozens more variables than a DIY.
You can also check your local municipal water by checking the annual water quality reports they publish. Simply type in your zip code to see the contamination and hardness levels of the local water supply. The downside of this method is it doesn't test your specific home, it is showing data from the water supplier. So, it's a good starting point and it's free.
Water Flow And Pressure
Singing your favorite tune in a relaxing hot shower can come to an abrupt and shocking halt when an unexpected blast of cold water releases itself through the showerhead. That means you have lousy water pressure. Once the faucet turns on in the kitchen or the washing machine is on, the rest of the faucets suffer.
Understanding the correct water pressure for your home keeps your pipes from bursting or your taps drying up. And you need efficient water pressure in the winter months to keep your lines from freezing.
But, nothing is more critical than water pressure on your whole home water conditioner and filtration systems. The Gallons Per Minute (GPM) flowing through the cartridges and filters determines how long they will last, which should be the manufacturer's recommended six months or more. You'll save tons of money, and your showers will stay hot from beginning to end!
System Technology
Once you've determined your water flow and pressure, it's good to tour your home and count your faucets, water-powered appliances, showerheads, toilets, and any other inflows.
Some water conditioners and filters use no electricity, while others require a dedicated outlet. You'll need to determine the compatibility and the type of technology that works best for your home to rely consistently on your whole house water softener.
Installation
To DIY or not to DIY. Suppose you're not a professional plumber and have no clue how to install a whole house water conditioner or filter.
If installation seems out of your wheelhouse, call around for a free estimate and when the plumber arrives, ask probing questions about the system you've purchased. Most of all, ask how much the installation will cost. You can expect to pay between $300 to $800 to have the softener system professionally installed. This depends on the system type and hourly rates.
Maintenance
If a maintenance-free whole house salt-free water conditioner sounds like a good fit for your home's water conditioning needs, go that route first. Most systems need little more than a regular filter change and no additional water to run or clean. Most salt-free water conditioner system manufacturers use materials that can allow them to be installed inside or outside and face the elements.
If you want to commit to having time to maintain a whole-house salt-free water softening system, the good news is that you won't be dragging heavy bags of salt home from the big-box garden centers. The bad news is you'll be maintaining a system and not making a professional plumber's wage.
Warranty
We covered the warranty for each of the whole house salt-free conditioners we've reviewed. Most manufacturers offer a 3-6 month money-back guarantee at the time of purchase. That is in addition to a limited lifetime warranty. If the system comes with a warranty, make sure you fully understand what parts are covered and if the system can be returned when it kicks in.
Certifications & NSF Standards
Look for the NSF "seal of approval." If you see it on your salt-free whole house water softener and conditioner system, you know it was rigorously tested ​​by the respected leader of global independent product testing organizations.
It is easy to take the safety of your water, food, and consumer products for granted. The National Sanitation Foundation (NSF) ensures industry standards and safety regulations. The NSF holds companies accountable to these standards when producing the vast array of products we use daily.
Physical Space Available
When researching your whole house water conditioning system, you'll discover that each model comes in varying sizes.
From a compact, wall-mountable 27″ L x 46″ H x 9″ D, like the Aquasana Salt-Free Water Conditioner, to taller individual vertical cylinders measuring several feet high.
Be sure to walk the perimeter of your house – inside and outside – and locate your home's inlet where the filtered, conditioned water and the external water source meet. Take vertical and horizontal measurements, then shop for the salt-free water conditioning system that fits into the suitable space and your budget!
Cost Involved (Upfront Cost and Ongoing Maintenance Costs)
Some systems may have a higher upfront cost, but also a shorter replacement cycle. For example, the Aquasana has a 6-year life, while the SpringWell or Kind systems can last towards 10 years.
But the good news is since these systems are all salt free, they don't require ongoing salt refills in a brine tank. The only ongoing maintenance is to replace any pre or post-filters that come with the systems which need to be done every 6 – 12 months. These typically cost about $30.
Don't forget that the cost of your whole house salt-free water softener system may cost more if you're treating well water and the water leans towards the hard side and doesn't have a near-perfect pH balance.

You'll save on your energy costs since most salt-free water conditioners don't need electricity to condition your home's water supply. And you'll save a lot of money never buying bags of salt anymore!
Pros and Cons Of Salt Free Water Softeners
Salt-free softener alternatives are great innovations with a lot of benefits, however, there are some drawbacks to be aware of.
What Are The Benefits Of A Salt-free Water Softener?
Removes scale buildup and longer-lasting appliances

Require no drainage or regeneration

, so no waste water
Doesnt requrie salt or chemicals
No sodium added to drinking water

environmentally-safe product

Requires no electricity
Easy installation and maintenance free
Retains healthy minerals in water
What Are The Negatives Of A Salt-Free Water Softener?
Conditions water, so doesn't remove magnesium and calcium like ion exchange
Best to use pre-treatment if you have well water with heavy sediment or iron
Can have a higher upfront price than traditional salt-based water softeners
The Competition
In previous reviews we analyzed the Pentair Pelican Natursoft Salt Free Water Softener however, it did not make the list this year. The Pelican Natursoft water softener alternative was a good value, however, the products in our updated list proved to be more effective. Additionally, the Pelican Natursoft is becoming more difficult to service as less retailers have it available anymore. You can view our full video review of the Pelican softener from last year.
We also reviewed the NuvoH2O Manor Duo Water Softener + Taste Filter System in years past. The NuvoH2O system is unique in that it uses a CitraCharge process. However, the salt-free softeners on our list edged out the NuvoH2O Manor based on our review criteria. You can view our review video of the Nuvo here.
FAQs For Salt Free Conditioners
Do salt-free water softeners really work?
Yes! A process known as template-assisted crystallization can reduce or eliminate the negative effects of scale by up to 99.6%.
Which water softener is better, salt or no salt?
Salt-based water softeners altogether remove hard water minerals and do it well. As a result, they eliminate many of the problems associated with hard water. 
Salt-free water conditioners use TAC or NAC to crystalize hard water minerals so they won't stick to plumbing and appliances. In most cases, a saltless system will do the job. But if you have extremely hard water, an ion exchange system is preferred.
How long does a salt-free water softener last?
Most salt-free water softener manufacturers guarantee at least 6-year shelf life, but our top choices will last up to ten years. Read the fine print and warranty information to understand the value and lifespan of your salt-free whole house water softener.
Are salt-free water softeners more expensive?
The upfront cost for traditional softeners can be lower because there are so many options available. That said, saltless conditioners are not significantly more than salt-based options. Especially when you do the math over the lifetime of paying for salt and water in a salt-based system, salt-free can be less expensive.
The cost to install a saltless softener is typically less than a salt-based softener because you don't have the extra brine tank to deal with.
Can you use a salt-free softener for well water?
Salt free water conditioners can work with well water, however, pre-treatment is recommended so the sediment doesn't foul the softener media. In some cases, it may be best to use a water softener designed for well water if you have heavy iron or magnesium levels. A water softener is able to remove most of the minerals from the water which are present in excess thereby improving the taste as well as the quality of the well water and making it completely fit for human consumption.
Does a salt-free water softener filter water?
No, salt-free water softeners/conditioners are not water filters. They don't use special media filtration and do not work to remove many of the harmful metals POCs and bacteria that a water filtration system is designed to do. So, adding a whole-house water filtration system combo with your salt-free water softener is a fantastic investment. 
---
Why Trust Freshnss?
Ricky is the founder of Freshnss and product reviewer specializing in water filtration, home, and kitchen products. For this guide, he worked with our water review board of experts. And also with our network of industry professionals who offered provided insights on the best salt free water conditioners. Next, he researched today's top salt-free water softeners, considering dozens of options from various merchants and retailers. We reviewed these systems based on price, performance, warranty, and NSF certification. He has tested and re-tested some of our top picks, and looked for filtration companies for new home water treatment options worth trying.