SodaStream is the leader of home based beverage dispensing machines. If you prefer another brand you may be looking for the best SodaStream syrup alternative for your DrinkMate, KitchenAid, or Aarke to help you craft anything from sodas to energy drinks. You'll likely spend less than you would on store bought drinks, reduce environmental waste and consume fewer calories overall. Whether you're looking for off brand SodaStream syrup or a SodaStream alternative flavor, we've got you covered in this review!
We've researched and discovered the nine top-rated SodaStream syrup alternatives and as well as one to avoid.
---
Our Top Picks
---
Best Overall: Stur Liquid Drink Mix
"The healthiest option for natural flavored syrup for your sparkling water at home."
Best Fruit Flavor: Jelly Belly Liquid Drink Mix
"Based on Jelly Belly flavoring, this is the most robust fruit flavoring."
Best Premium: Torani Syrup Soda Flavors
"The go to premium syrup that has a reputation for great flavor and quality."
Best Full-Flavored: Crush Liquid Water Enhancer
"Crush flavors bring an explosion of fruit flavors to your drinks."
Best Fitness: Mio Fit Water Enhancer
"A low calorie option perfect for athletic use."
Best Diet: Stur Naturally Skinny Water Enhancer
"One of the lowest calorie flavor options with great fruity taste."
Best Health Conscious: Sweetleaf Stevia Natural Water Drops
"100% organic with no artificial flavors and keto friendly."
Best Iced Tea: Lipton Liquid Iced Tea Mix
"Lipton brings their classic Iced Tea to a convenient squirt bottle."
Best Nostalgia: Kool-Aid Liquid Drink Mix
"The classic Kool-Aid taste we all remember, but on the go."
Best Throwback: ICEE Liquid Water Enhancer Drops
"The nostalgic ICEE brand is now available for your drink flavors at home."
Best Value: SPLENDA Liquid Water Enhancer Drops
"Each bottle is able to create 30 servings, making it a great value."
Best Caffeine Free: Crystal Light Liquid Variety Drink Mix
"Uses artificial sweetener and caffeine free for high quality taste."
---
Reviews of the 12 Best SodaStream Syrup Alternative, Plus 1 to Avoid
---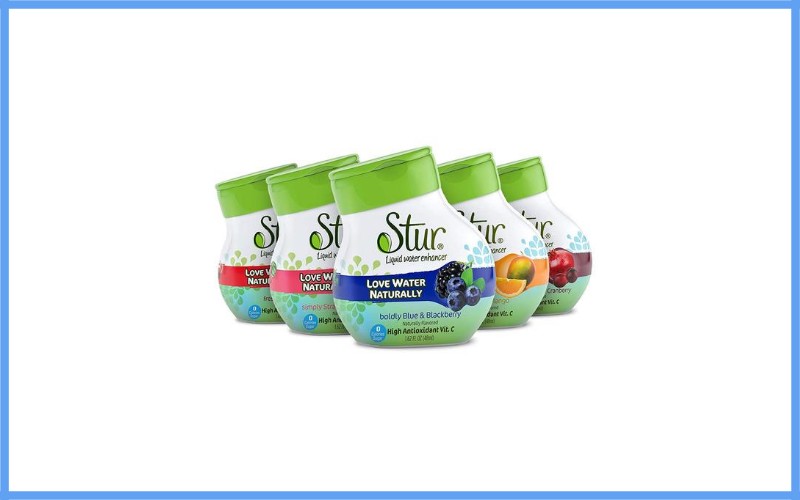 Stur Liquid Drink Mix is a great natural alternative to SodaStream flavor syrups. Any user who feels that they need a good heartfelt drink should definitely try out this brand.
The classic variety pack comes with five flavors, including: strawberry watermelon, fruit punch, and even pomegranate cranberry. All five bottles will make approximately 100 servings of your favorite drinks. That makes the Stur Drink mix not only a tasty option, but friendly on your budget too.
Stur Powdered Drink Mix is the most organic and healthiest choice. Their mixes are gluten and sugar-free, and contain zero calories. So even diabetic users can enjoy them. Additionally, they are keto friendly and kosher!
They also contain a high level of Vitamin C, which grants them a nice tangy flavor.
Stur uses zero artificial flavoring and/or sweeteners, and every ingredient is completely organic and natural. If you're tired of synthetic products in the market, Stur Drink Mixes should be the ultimate choice.
And the best part is that they give full refunds, no questions asked! This is truly the best SodaStream Syrups alternative of 2022.
To watch the Stur Powdered Drink Mix Review on YouTube, click here.
Jelly Belly has a ton of flavor and taste, and they include Cherry, Tutti Fruity, Green Apple, and even Blue Berry.
Jelly Belly's products are very easy to use. Their drink mix is the best. All you have to do is add as much flavoring as you desire into your choice of carbonated water, and you're good to go.
The best part about using Jelly Belly Liquid Drink Mix as an alternative is that you can enjoy fruity flavors without any chemical additives. The mixes are made from real fruit, and the taste is in no way artificial.
One pack can make up to 96 8-ounce servings. This means that not only your whole family but even the entire neighborhood can enjoy this drink. One pack can serve a whole party.
Jelly Belly even provides a full refund on the product. The only downside is that there is no warranty, although you can get your money back.
To watch the Jelly Belly Liquid Drink Mix Review on YouTube, click here.
If you are looking for the best SodaStream syrup alternatives, look no further than the Torani Syrup Soda Flavor Variety Pack. One of the most popular soda flavor options, Torani has been a staple for over 95 years. In fact, they are credited for bringing popularity to the classic Italian Soda in the United States, but are also well known for their coffee syrups.
The Torani Soda Flavor Variety pack comes with blue raspberry, lime, strawberry, and orange. The great thing with Torani syrups is they are known for having the highest of quality standards. The flavors use pure cane sugar, natural flavors and cold filtered water. The bright syrup colors help to create beautiful looking drinks packed full of fresh flavor. All Torani syrups are compatible with your home soda machines.
Torani sets itself apart as having a more refined flavor than many options on this list.  These days, Torani has more than 100 different syrups to pick from.  A perfect sodastream syrup alternative, the flavors can be used for sparkling water, italian sodas, ice tea, slushies, and lemonade. The sky's the limit for your creative recipes given the number of Torani flavors available. 
It is recommended to use two tablespoons of Torani syrup per one cup of soda. However, test it out and adjust the amount of syrup to your liking. Each bottle in the variety pack is 25.4 oz so they also represent a great value as it should make approximately 25 servings.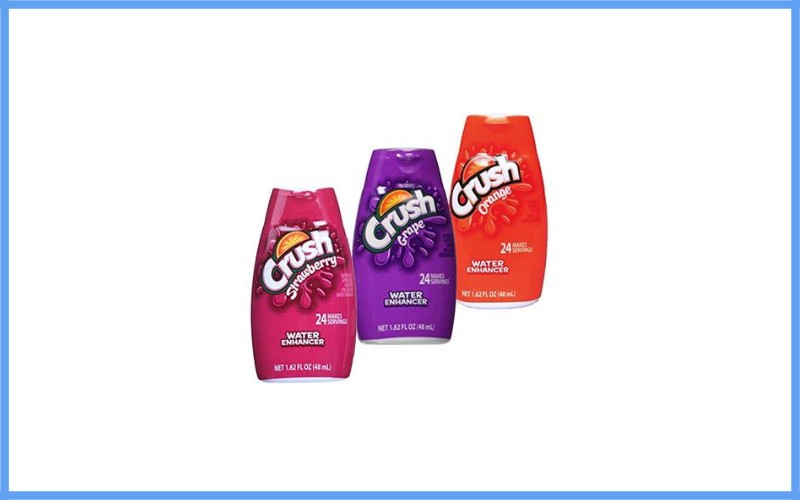 Crush's Water Enhancers and flavors are very unique. They offer their mixes in three tantalizing flavors: grape, strawberry, and orange.
To put it into perspective, one 1.6 ounce container can make up to 24 servings, and will last you for a very long time. Crush's flavors are perfect for a house party, or for a regular family.
The flavors are realistic and natural. For example, if you try the orange flavor, it will feel less like artificial taste and more like actual oranges. This is what we love about Crush.
Crush understands that people don't like adding too much poison in their drinks, which is why its mixes have as little as 5 calories per serving. This is the best liquid water enhancer because it is extra considerate of your diet.
To watch the Crush Liquid Water Enhancer Review on YouTube, click here.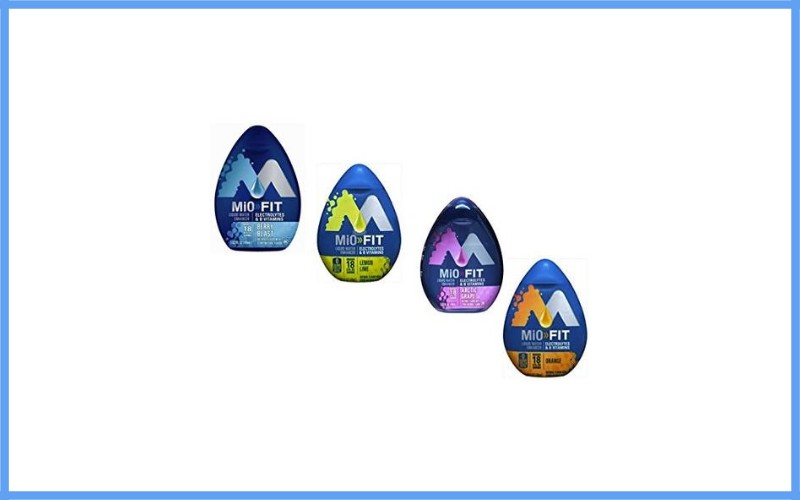 When we tried the Mio Water Enhancer, we were thrilled. Although this pack only provides 4 flavors, just one was enough to make us rush for a second helping.
Mio's flavors are just like any other, except with their own twist. They offer their mixes in Berry Blast, Arctic Grape, Orange, and Lemon Lime, which can be a refreshing change of pace from traditional cola flavors.
The taste is exceptional and natural, with just a hint of additives and artificial flavoring. Our favorite is the Arctic Grape, which tastes a lot like Gatorade.
A single bottle contains about 1.6 ounces. The size is tiny but it will last a very long time, depending on how often you use it.
Unlike the Jelly Belly or Stur Drink Mix, Mio actually uses artificial sweeteners, mostly sucralose, to maintain its flavor. This makes it ideal for diabetic patients or those who otherwise abstain from natural sugar.
To watch the Mio Water Enhancer Fit Variety Pack Review on YouTube, click here.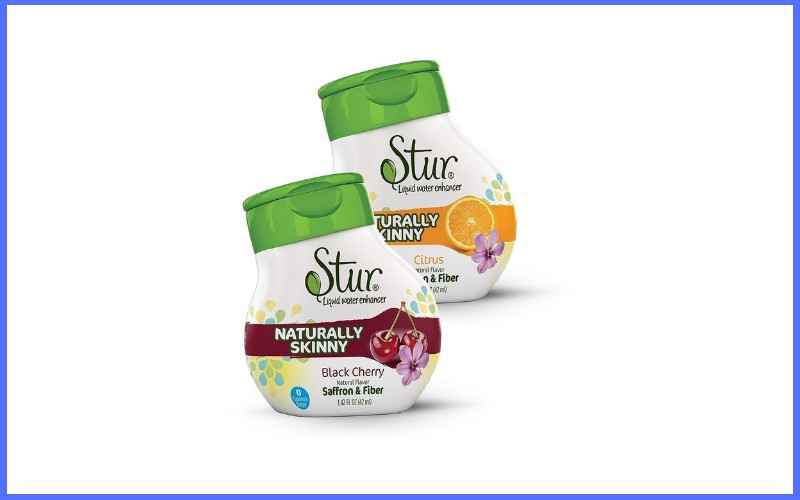 Stur Naturally Skinny Water Enhancer is a great natural alternative to StreamSoda Syrups. Each bottle can serve up to 24 different people, which makes it suitable for the entire house or even for one person.
These drink mixes come naturally sweetened, so anyone who doesn't like artificial flavor can get a taste of real tropical fruits in your sparkling water at home.
These skinny flavors are black cherry and citrus, but Stur also comes in a variety of flavors, including fruit punch and strawberry.
Each serving contains as little as 5 calories, so you know that you are only letting the bare minimum of calories. This mix is a great choice for athletes and runners, especially women, who need the extra energy for their body. All in all, this is one of the top sodastream syrups alternative for women.
To watch the Skinny Girl Liquid Water Enhancer Review on YouTube, click here.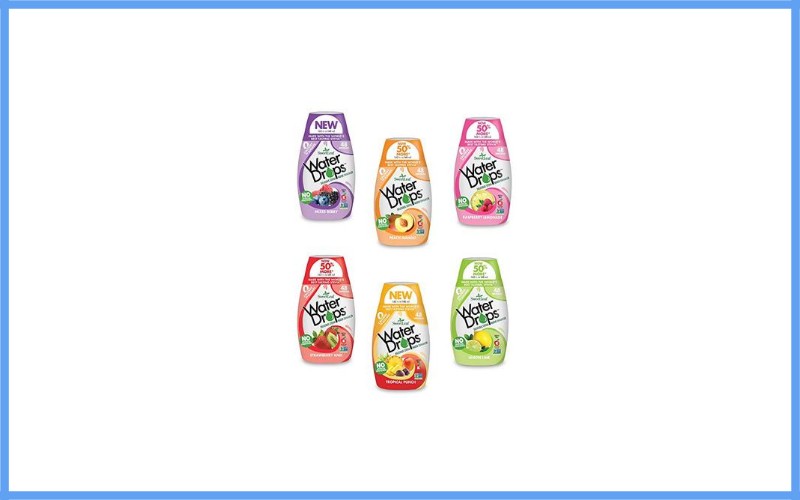 Each bottle of the Sweetleaf holds its own charm and charisma. They come in 6 exciting flavors, including Berry Mix, Tropical Punch, Lemon Lime, Kiwi Strawberry, Peach Mango, and Raspberry Lemonade.
Sweetleaf's bottles can each save up to 48 people, which makes it a great choice for party punches and just for regular use.
100% organic and natural; has zero carbs, fat, gluten, calories, and artificial sugar or flavor. Perfect choice for those who don't trust synthetics.
The most authentic part about using the Sweetleaf Stevia Natural Water Drops is that has some tremendous international acclaim! Which makes this product the most authentic and safe-to-use drink mix.
This drink mix and sparkling water enhancer use Stevia leaf extract as a natural sweetener. They do not use any kind of sucralose or aspartame. Seems like they love to keep everything natural.
To watch the Sweetleaf Stevia Natural Water Drops Review on YouTube, click here.
Of course, SodaStream isn't always about the soda, right? Lipton brings you the best liquid iced tea for use with sparkling water and sodas.
This sodastream syrups alternative is a unique iced tea, and can be used to serve up to 24 people at a time. We love this product as it is so easy to use and mix.
We should warn you about the flavor. Not everyone enjoys iced tea, let alone with added flavors and tastes.
This pack of four contains 2 Summer Peaches, 1 Lemon, and 1 Raspberry flavor (for green tea).
Lipton's Variety Pack is free from all types of synthetic products. Made from 100% natural tea leaves. Contains at least 10 mg caffeine per serving.
To watch the Lipton Liquid Iced Tea Mix Review on YouTube, click here.
Kool-Aid Drink Mix is a great choice, although most of their flavors are artificial. This variety pack of 4 contains: Tropical Punch, Orange, Grape, and Cherry.
Of these, only Tropical Punch is made from natural ingredients. All the others are artificially flavored. But this can be a good thing for diabetics or those who refrain from natural sugar.
Organic or not, these bottles contain absolutely no calories, and are perfectly healthy for those who want to stay lean and fit.
One bottle can serve 24 people, which means that the entire pack can make up to 96 glasses. This is why we consider it as a great choice for the best Sodastream syrup alternative, although some may find the taste to be too plastic.
To watch the Kool-Aid Liquid Drink Mix Review on YouTube, click here.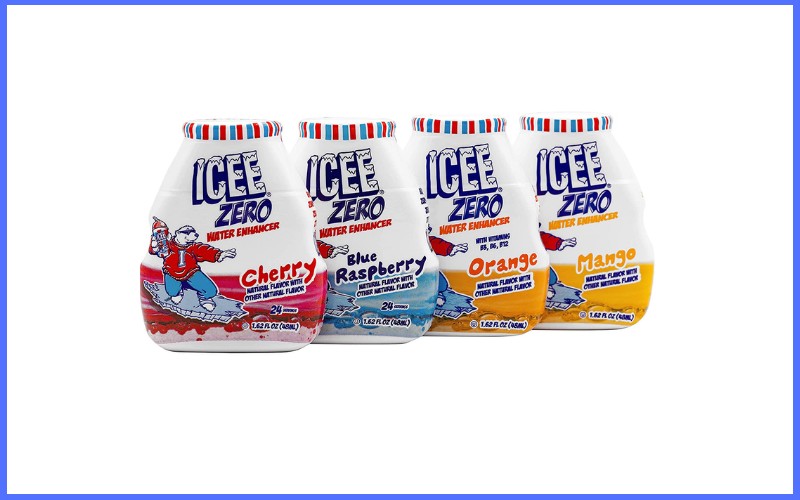 We have to admit, these ICEE Zero Calorie flavors drops had us feeling nostalgic. Finally you can get those famous ICEE flavors to make drinks at home whenever you want. SInce it is hard to pick only one flavor, the variety pack comes with blue raspberry, cherry, orange and mango. All flavors are compatible with soda maker sparkling water.
As if that wasn't enough, there's more good news! You can enjoy the ICEE syrup flavors with zero calories, zero sugar, made with natural flavors, and are gluten free. Additionally, this product is made with sucralose for those that dislike aspartame. We were a little cautious at first, but there was no flavor sacrifice despite the zero calories. The classic flavors still deliver the same great taste they had in 1958.
The convenient 1.62 oz bottles can be taken anywhere. And they require no refrigeration after opening. Each ICEE syrup bottle can make about 24 12 oz drinks, that's about one squirt of syrup per drink. If you are looking to bring back the big flavor from your favorite childhood drinks, ICEE is perfect for the best SodaStream syrup alternative.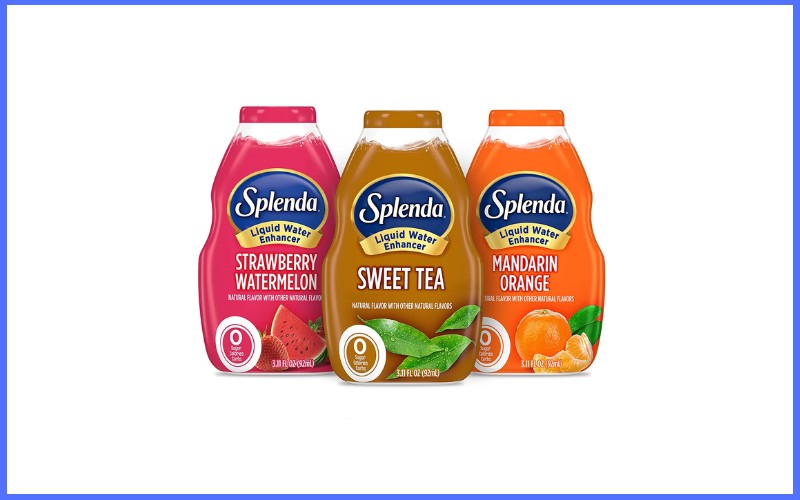 This tasty Splenda Liquid Water syrup mix is amongst the top choices for a low calorie option. The Splenda syrups come with zero sugar, zero calories, and zero carbs! Now you can enjoy great flavored drinks at home without the guilt. It's hard to think of something more refreshing than a cold glass of sparkling soda with sweet tea flavor.
The three pack comes with sweet tea, watermelon, and mandarin orange flavors. All syrups are made from natural flavors. Specifically, the sweet tea flavor is made from real tea. Each one bottle of syrup flavor creates approximately 30 servings of 12 oz drinks. That is a big savings to your bank account, but also a big savings to reduce unwanted plastic bottles.
Despite being the healthy SodaStream syrup option, we found you don't have to sacrifice flavor. Because these syrups use Splenda, it still offers a full flavor of many other syrups alternatives without the calories. The Splenda syrup might also be a great option if you don't particularly like the other Stevia syrup alternatives, but still want a low calorie option for the best SodaStream syrup alternative.
If you are looking for a refreshing naturally flavored drink option, Crystal Light Liquid Drink Mixes are a dependable option. The Crystal Light syrups have zero calories and zero sugar, so it is amongst the healthier options. The variety pack comes with four 1.62 oz bottles that are easy to bring with you anywhere for easy mixing. We also like the unique, refreshing flavor options that go great with soda water. The flavors include mango passionfruit, berry sangria, tropical coconut, blackberry lemonade.
A key difference with Crystal Light's Drink Mix is that it uses sucralose as a sweetener. This is good for people that don't want cane sugar but prefer a sweeter taste. Crystal Light is an artificial product, so it may not be a good fit for those who love organic and natural food. These syrup mixers are also caffeine free.
Each bottle contains approximately 24 servings, which is about one squirt per serving. You can adjust how much flavor you want according to your taste.
To watch the Crystal Light Liquid Variety Drink Mix on YouTube, click here.
Avoid: Dasani Drops Pink Lemonade Water Enhancer Review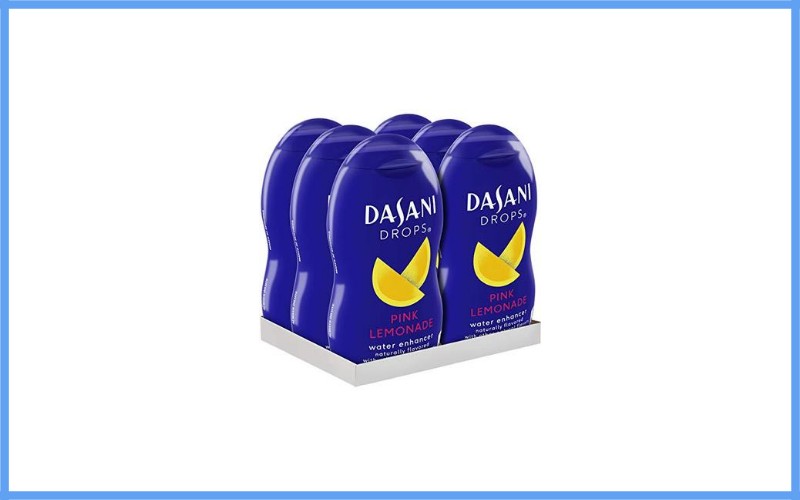 If there's one product which seams to be the worst SodaStream Syrup alternative on the market, it's the Dasani drops.
Don't get us wrong here. We liked this product at first too. But the taste and flavor was so underwhelming and bland that we just had to get rid of it. Overall, the taste is just like a regular lemonade, but of course, it tastes slightly weaker. The flavor is more natural but doesn't taste like Vitamin C.
We found the Dasani syrup alternatives out of stock in most places, and there might be a reason for that. Dasani's Pink Lemonade Mix might sound ridiculous, but it certainly is no joke. We just had to include this in our list, as it is the best solution for boring house parties.
This specific pack contains 6 bottles, each with a serving size of 32. One bottle weighs about 1.9 fluid ounces, making it great for long-term use. The flavor enhancers used are entirely natural and safe additives are used for enhancing the flavor.
Serving is also very easy and concise. All it takes is one drop, and your beverage is ready!
To watch the Dasani Drops Pink Lemonade Water Enhancer Review on YouTube, click here.
---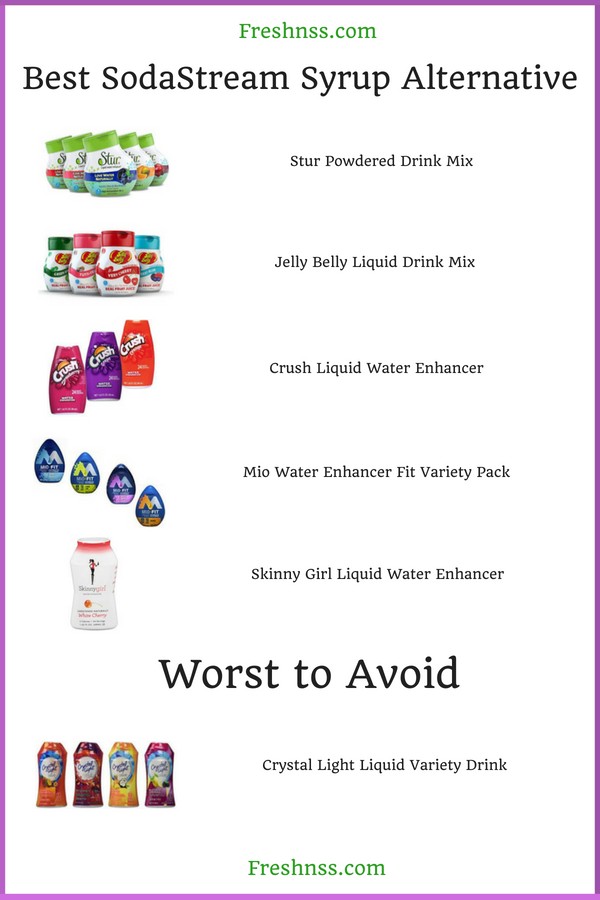 ---
Buying Guide to the Best SodaStream Syrup Alternative
---
Soda makers, sparkling water makers and soda siphons all produce the same basic beverage – carbonated water. If you're excited to start experimenting with different flavor profiles in combination with your fizzy h2o, there are many options on the market. Both popular SodaStream flavors, as well as other sparkling water enhancers offer options for common soda flavors, energy drinks, fruit waters and more. There are a few factors, including price, flavor and ingredients to consider before making a purchase decision. Regardless, it's important to note that since the cost of these products of the lower ticket variety, most people can afford to sample different options.
3 Main Points to Consider
Price: For a lot of people, spending a hundred bucks on some fancy carbonated water seems futile. But don't worry; the best syrups always have the most reasonable prices. The price usually depends on the number of middlemen and the product's standards. A good product will obviously cost more, but never ridiculously so. Websites like Amazon and places like Walmart and Target are great for thrift shopping, as these usually sell these drink mixes in as less as 2 dollars. The dollar store should also be considered, just be wary of counterfeit products. In general, never spend more than 20 or 30 dollars on a bottle of drink mix. Try buying a pack of 4 or 6, as these usually come at a discount.
Flavor: Everyone has a favorite flavor. For us it's grape. Some may like pineapple or lemonade. Whatever the case, always make sure that you're spending your money on the right taste. Many brands use artificial flavor or flavor enhancers to boost up their ratings, but this usually ends in their orange flavor tasting less like actual oranges and more like expired cough syrup. Stick to your trusted product, and if you're trying a new one, don't go back for it unless it has the exact taste you want. Some mixes even come in a whacky combination of flavors, such as lemon raspberry or peach mango. But they're not made for everyone's taste.
Ingredients: The age-old question makes its way here too. This really depends on your own personal choices. Natural products contain almost zero artificial sweeteners, preservatives, and flavors. They usually use leaf extract to sweeten their products, and most use actual organic fruit. Artificial products usually use sucralose or aspartame. This can be great for people who don't use natural or table sugar, and might even prove better for the diabetic. But this also contains chemicals that some people are not comfortable using. Also, do the ingredients adhere to specific diets, like SodaStream flavors for the keto diet? Whatever the case, be sure to read the ingredients label, and if there is none, then forget about the product immediately.
How to make your own alternative sodaStream syrup?
You might think that it is very complicated, but making your own SodaStream Syrup isn't as hard as it looks. In fact, the process can be very easy, and you can even add any flavor you want. All you need is your desired fruit, some sparkling water, and sugar, and you're good to go!
Ingredients:
Your choice of fruit (lemon, lime, strawberry, mango, cherry, etc.) (at least 2 of each)
2 cups water
2 cups granulated/your choice of sugar
Recipe:
Cut the fruit into thin slices or cubes. Preheat a saucepan on the stove at medium heat and leave for a few minutes. Add the water and sugar, and immerse the sliced fruit in this mixture. Gradually keep stirring until the water begins to boil. Stir for at least 5 more minutes, adding more ingredients if desired. Once done, pour into storage pan or bottle, and refrigerate. Use whenever needed in your SodaStream.
---
---
Final Thoughts on Buying One of the Best SodaStream Syrup Alternatives
Though it may seem like SodaStream products rule the home based fizzy drink market, there are tons of options by other reputable brands for both sparkling water makers, soda siphons and the flavor used to create concoctions from them. They may actually be more effective and give you a more preferred taste profile, as well!