Our experts have researched and reviewed the five best tankless reverse osmosis system options. We'll explain how tankless RO systems work to remove up to 99.9% of harmful contaminants from your water so you can find the ideal solution for your home.
Quick Comparison Of Our Favorites
Waterdrop G3P800
Best Overall
Check Price
Bottom Line
The only tankless RO with a UV sterilizer, smart faucet display, low waste water ratio, and unparalleled filtration performance in one package
Pros
Premium filtration reduces 1,000+ substances
UV sterilization rate of 99.9%
Large production capacity of 800 GPD
Cons
Slightly more expensive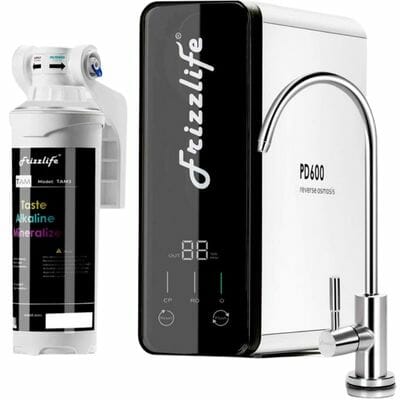 Frizzlife PD600
Best Budget
Check Price
Bottom Line
Thanks to advanced water-saving technology, the Frizzlife system can save up to 450% more water compared with conventional RO filter systems making it a very economical choice
Pros
7-Stage filtration removes 1,000+ contaminants
Water efficient with a 1.5:1 waste ratio
Smart LED display for filter change & TDS reading
Cons
Alkaline filter requires separate installation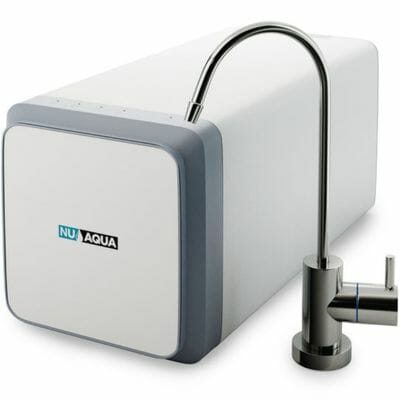 NU Aqua Efficiency
Best Compact
Check Price
Bottom Line
The compact Nu Aqua Tankless Reverse Osmosis System comes with four stages of premium water purification at 25% of the size and multiples faster than other RO filters
Pros
3-stage filtration removes 99% of contaminants
One of the most compact form factors
Smart faucet indicator light for filter changes
Cons
Does not have an LED display screen
We are all familiar with the water crisis that unfolded in Flint Michigan, but most people are unaware of how widespread water contaminant issues have become. It seams like every day we hear of a new state, with a new water problem.
Even with the EPA suggested guidelines, utilities may still be out of the acceptable range for contaminants and chemicals in your water. This also goes for private well water, where chemicals and bacteria can leach into your supply undetected. Fortunately, there is a simple and low-maintenance solution!
This article will explain how tankless reverse osmosis water filtration systems work to purify your home's water and how healthy water enhances your lifestyle. We've considered factors like price, performance, and customer satisfaction to come up with a list of tankless ROs that will meet your needs.
Learn about the average costs of a tankless reverse osmosis water filtration system, installation and maintenance requirements, and how much you'll save annually. We'll even cover when you need to change your reverse osmosis filters.
Finally, you'll learn the main points to consider when purchasing a tankless reverse osmosis system and frequently asked questions consumers like you need the answers to make an informed purchase.
🏆 Best Tankless Reverse Osmosis System
Tankless Reverse Osmosis System Reviews For 2022
Waterdrop G3P800 Tankless RO System With UV Sterilizing Light
Best Overall Tankless RO
One of the most notable features of the Waterdrop G3P800 tankless RO water filtration system is its large interactive LED faucet screen. No more bending over to check how your water filtration system is functioning.
You see all the important real-time information built into the base of the faucet every time you reach for a drink. At a glance, you'll see the working status of the G3P800 as well as the water filter life, a system malfunction alert, and even TDS readings.
The 3 stage filtration system of the Waterdrop features 8 layers of membranes for optimal filtration performance. Initially, two sediment-catching layers trap sand and rust, plus the unique scale inhibitor layer reduces hard water deposits.
Next, activated and post-activated carbon block filters remove chlorine, bad tastes, and odors. With the water free of sediment and impurities, the water flows through the RO membrane designed to reduce impurities, like chloramine, lead, PFAs, VOC, and heavy metals larger than 0.0001 microns.
But that's not all! Waterdrop goes one step further and adds a UV sterilizer packing a 99% sterilization rate guaranteed to kill bacteria and viruses. It works only when water passes, saving more energy.
With the auto rinse functionality, the filters automatically flush for bacteria-free filtration. The RO filter can last up to 2 years or up to 2,900 gallons before replacing, and with the simple twist to change design, replacing the filters take only seconds
The compact Waterdrop G3P800 Tankless RO System With UV Sterilizing Light measures 18.06" long x 5.65" wide x 17.75" high so it can fit in even the tightest undersink spaces.
Pros
Premium filtration reduces 1,000+ substances
UV sterilization rate of 99.9%
Minimal waste water with a 3:1 ratio
Large production capacity of 800GPD
Interactive smart faucet display
Cons
Slightly higher price than more simple tankless RO models
Recommended to have a pre-filter if you have well water
Frizzlife PD600 Tankless Reverse Osmosis Water Filter System
Runner Up Tankless RO
Frizzlife takes tankless water filtration technology seriously. The PD600 is guaranteed to save water using an impressive 1.5:1 pure drain ratio making it not only one of the most eco-friendly RO options but also friendly on the water bill. In fact, the PD600 will save you up to 450% of precious water over bulky conventional RO systems.
Frizzlife's fast-flow water system includes a brushed nickel faucet that that is a perfect complement to any kitchen decor. And no more waiting around for perfectly purified water. Expect an 8oz cup of water in 8 seconds, and the Frizzlife guarantee of up to 600 gallons per day.
On the performance side, the Frizzlife PD600 provides superior 3-stage filtration using an RO 2-in-1 composite sediment filter and a high-grade RO membrane with 0.0001-micron filtration accuracy. This proprietary 3-stage deep filtration removes 99.99% of harmful contaminants like cholorine, lead, heavy metals, PFAs, and much more.
Because the first two filters are so effective at reducing all the nasty impurities in your water, the Frizzlife even adds back healthy minerals! In the 3rd stage of filtration, the alkalinity of the RO water is balanced and adjusted to an ideal PH drinking level of more than 7.5.
The technology doesn't stop with the tankless RO filtration system's water filtration architecture. The outside boasts an intelligent LED Display that lets you see real-time TDS, filter lifespan, and color-changing filter change reminders, plus an impressive 24/7 readout, constantly monitoring the quality of your drinking water.
When it's time to change the filters, simply twist them out and insert the replacement filter in a mater of seconds. The RO filter will last for up 2 years, while the 1st and 3rd stage filters last about 12 months.
Compact by design, the small footprint fits discreetly under your sink. Measuring only 19.5" x 19.3" x 8 inches, the Frizzlife PD600 is our runner-up for the best tankless reverse osmosis system.
Pros
7-Stage filtration removes 1,000+ contaminants
Wastewater efficient with a 1.5:1 drain ratio
Smart LED display
High 600 GPD water flow rate
Cons
Does not include UV light purification
The 3rd stage alkaline filter requires separate installation
NU Aqua Efficiency Tankless Reverse Osmosis System
Best Compact Tankless RO
One of the more compact tankless options on the market, the NU Aqua tankless RO system provides a 2:1 water waste ratio making it highly efficient. But despite the small size, it is still capable of producing up to 600 gallons per day of filtered water.
A built-in booster pump keeps water flowing through the NU Aqua to increase efficiency and allows this system to work great even in homes with low water pressure. That means you won't wait for a tank to fill, just water on demand.
You get three stages of premium filtration with this system to remove up to 99% of contaminants. Initially, the polypropylene and carbon-block filter removes rust, sediment, suspended particles, odor, bad taste, and volatile organic compounds (VOCs). Next, water passes through a granular activated carbon filter to improve taste and remove other unpleasant tastes, odors, and sediments that make the water cloudy.
Finally, water travels through the NU Aqua 600 GPD RO membrane, removing metals, nitrates, salts, and fluoride; nothing stands a chance against NU Aqua's filtration technology. You also have the option to add the alkaline remineralization filter if you prefer the pH levels and minerals added back after the RO filtration process.
NU Aqua's Smart Faucet has a filter replacement reminder and color-changing indicators; red when the water quality is low and blue when your water is fresh and pure!
With limited connections and labeled components, the installation of your NU Aqua tankless RO water filtration system has you up and running in minutes. Best of all, it's backed by a five-year warranty and lifetime support making the NU Aqua Efficiency RO System the best compact tankless RO system.
Designed to free up more space under your counter or sink, the NU Aqua weighs only 31.9 pounds, requires minimal installation, has no extra pipes or tubing, requires no cosmetic changes to your countertops, and measures 27″ deep x 16.9″ high x 13.7″ wide.
Pros
3-stage filtration removes 99% of contaminants
Compact size
Efficient 2:1 waste water ratio
Smart faucet indicator light for filter changes
Cons
Does not have an LED display screen
Alkaline filter is sold separately
Waterdrop D6-MZ Remineralization Tankless Reverse Osmosis System
Best Remineralization Tankless RO
If you've ever taken a refreshing drink of water and told yourself, "that tastes good," chances are you've tasted filtered mineral water. It's difficult to describe the "flavor" of water; clean, clear, and refreshing, but after some sips from the Waterdrop Remineralizing RO, you'll know the feeling!
When you taste remineralized water, you taste perfectly balanced alkaline water, hitting the pH sweet spot of 7.1 – 8.0. It's a fact that some people believe remineralized water is more enjoyable than soda or juice!
The Waterdrop D6-MZ-600GPD tankless RO water filtration system uses advanced 6-stage RO fine filtration and is proven to reduce over 1000+ harmful substances. Waterdrop tankless RO systems use a combination of PP Cotton, activated carbon, micron filtration, RO membrane, post-activated carbon, and non-woven fabric filters.
As these filters work to reduce harmful chemicals and substances, they naturally add back 18 healthy minerals that make your home's water taste especially good and refreshing – like calcium, potassium, magnesium, and more. Importantly, these are natural mineral stones, unlike many alternatives that add back cheap artificial materials that can actually do more harm than good.
Smartly designed to reduce wastewater, the Waterdrop tankless RO system boasts a 2:1 low drain ratio. And the advanced design features a vital waterway to prevent leaking.
We especially like that the Waterdrop D6 RO system includes a lead-free, brushed-nickel smart faucet. The technologically advanced screen shows real-time TDS levels and filter life so you know when to change the filters.
The tankless design measures 15.98" H x 5.98" W x 11.97" D and prevents bacteria and viruses from forming unlike with tank based RO options. Even when you're away from home, Waterdrop's auto-flush features is working constantly, so, when you return home, you can grab a freshly filtered glass of water, making the Waterdrop Remineralization Reverse Osmosis System the best tankless RO system for remineralization.
Pros
6-stage filter composite removes over 1,000 contaminants
Adds back 18 natural healthy minerals
Minimal waste water with a 2:1 drain ratio
Smart faucet display screen
Cons
Does not include a UV purifier like the Waterdrop 800 (can add separately)
iSpring RCS5T Commercial Tankless Reverse Osmosis System
Best Commercial Tankless RO
If you are looking for an ideal solution for your small business or office, look no further! Built for the durability of commercial RO use, the iSpring tankless RO system purifies tap water using a five-stage filter process.
Stages one through three remove rust, sediment, and chlorine, while also removing aesthetic impurities like bad taste, odors, and cloudy water.
The RO membrane at stage four helps remove heavy metals, chloramine, fluoride, lead, arsenic, and more. Finally, at stage five, the total polishing inline carbon filter removes additional chemicals and chlorine and improves the water's taste while removing other odors and impure colors.
Since it was constructed with an eye toward water conservation, the iSpring RCS5T Commercial Tankless Reverse Osmosis RO System features a 1.5:1 pure to drain water ratio, making this one of the most water-efficient tankless RO systems on the market.
A built-in high-efficiency booster pump ensures the system maximizes its potential to increase production to the optimal level during RO filtration. This also means it will work perfectly with homes or business that may have low water pressure.
Each iSpring RCS5T tankless RO system comes with a chrome and a built-in water pressure gauge that helps you understand the system's flow rate at a glance.
With easy-to-install instructions and industry-leading customer support just a phone call away, the iSpring RCS5T Commercial Tankless Reverse Osmosis RO Water Filter System is the best commercial tankless RO system.
With a high capacity output, the iSpring RCS5T commercial RO systems purify up to 500 gallons per day, and the entire system measures only 14″ W x 11″ D x 18″ H. Built into a sturdy metal frame and a footed tip-free stand, the iSpring will last for years to come.
Pros
5-stage filter removes heavy metals, pesticides, chlorine, and improves tastes
High 500 GPD output with low waste water
Built-in booster pump for optimal water pressure
Durable steel frame and pressure gauge
Cons
Not as compact as other tankless RO systems
Does not include filter change indicator
Tankless Reverse Osmosis System Buyer's Guide: Key Factors
If you are looking to purchase a new tankless RO system, we will cover all the key decision-making factors you need to know below. 
How does a tankless RO water filtration system work?
Tankless RO water filtration systems force water under pressure through many layers of activated carbon and polypropylene filters, plus an RO membrane filter to remove up to 99.99% of water impurities from you tap water.
Because the reverse osmosis filtration membrane is typically as fine as 0.0001 to 0.001 micron, the water that makes it through leaves behind contaminants that then need to be flushed from the RO system, hence the waste water used in reverse osmosis systems (Waste Water Ratio).
After making it through the purification process, the water is then pumped out of the undersink reverse osmosis system up to a dedicated faucet to dispense the purified water.
Tankless VS Tank Reverse Osmosis System 
Tankless and tank based reverse osmosis systems have pros and cons for each option.  There is no one size fits all solution for either, so here are some things to consider between the two. 
Benefits Of Tankless RO Systems
Some benefits of a tankless reverse osmosis system are:
Takes Less Space
As the name suggests, tankless reverse osmosis systems do not require a tank and therefore are much less bulky than traditional tank-based units. Most models only require only a fraction of the space under the sink, up to 75% over conventional RO water filtration systems
Consistent Water Delivery
Tankless reverse osmosis systems do not rely on water stored within the tank and can deliver water on demand at a consistent rate.  Whereas, if you have a tank reverse osmosis system and use it heavily, the filtered water in the tank may run out and you will have to wait for it to regenerate. 
More Water Efficient
Reverse osmosis systems work by pushing water through extremely fine filter membranes to remove nearly all contaminants.  The end result is contaminants getting lodged within the filter membranes, and being removed by flushing the filters with water, which then creates waste water. Traditional RO systems may have waste water ratio of approximately 1:5, meaning for every one gallon of water produced, about 5 gallons is wasted!  Thankfully with tankless ROs, this number has been reduced to about 1:1 or even 2:1 so there is far less wasted water.  
Less Bacteria Risk
With tank-based RO systems, water can become stagnant in the water tank creating a risk that bacteria can develop. Additionally, many tank reverse osmosis systems have filters that are enclosed within a reusable plastic filter housing. These filter housings have also been know to harbor bacterial growth. Since tankless RO systems do not have a tank or exposed filters, you do not need to worry about this issue.
Better Smart Technology
Since the tankless RO system itself is an evolution from traditional RO systems, it is not surprising that most tankless options incorporate next-generation smart technology. The Waterdrop 800, for example, includes the interactive display right on your faucet to show TDS level readings, water filter life, and more, while also having a UV purifier and auto flush cleaning feature.
Drawbacks Of Tankless RO Systems
Some drawbacks of a tankless reverse osmosis system are:
Requires Electricity
Unlike tank RO systems, tankless reverse osmosis systems require electricity. They do not consume too much energy and are generally very efficient, but this is something to consider when installing the tankless RO, you will need a plugin under your sink to power the filtration unit.
Can Make Noise
Since tankless RO systems require a pump, you may be able to hear the pump while it is operating to clean the filter. However, most tankless options worth the money (like all the ones on our list) would be very difficult to hear under your sink, if at all. That said, there are indeed lower quality options out there that can vibrate and have very loud pumps that you would be able to hear, and would likely become a source of frustration.
No Water Storage
If your power goes out, you will not be able to access filtered water from your tankless unit. Since they require constant electricity to operate, you will be out of luck. But, with a tank-based unit, you will at least have whatever water was remaining in your tank to utilize until the power comes back on.
Key Factors To Consider When Purchasing A Tankless RO System
If you are in the market for a new tankless reverse osmosis system, consider these key decision-making factors and how each product performs in these areas first.
Filtration Performance
What specific contaminants are you trying to target? Because RO systems are amongst the most effective at removing nearly all harmful pollutants and heavy metals, it is not as imperative to study the fine print. But if you know of specific contaminants that are prevalent in your water source, it is critical to make sure any reverse osmosis filtration system will effectively remove it. It may even be in your best interest to test your water source first, so you can know with certainty what is lurking in your water, and precisely how to remove it.  
Certifications
Check to see if the filter system or the filter itself has been certified by any credible industry groups. Most notably, the National Sanitation Foundation (NSF) has different levels of certifications for different filtration standards. Filters that have the NSF certification have met all the rigorous testing requirements and ongoing inspections to verify the filters continue to comply with the standards.
Waste Water (Efficiency Ratio)
Wasting water is, well, wasteful! It can rack up a higher water bill by impacting how much water your home's tankless RO water filtration system uses daily. Look for an RO system with a higher recovery ratio so that you aren't contributing to gallons of unused water in the name of cleaning your RO filter. A system that has a 1:1 waste water ratio is great, but a 2:1 ratio would mean you waste only one gallon of water per 2 gallons filtered.
Water Production (GPD)
Knowing how much filtered water you will require is an important consideration when purchasing a reverse osmosis filter. If an RO system is 600 GPD, this means it can effectively filter up to 600 gallons per day. If it is just you, maybe a smaller system would be sufficient. However, for more than one person or a family, a 600 GPD or 800 system would be ideal.
Think about how often everyone in the house reaches for a glass of water or fills a pot to make tea or coffee. Will you run a separate line to the refrigerator to make ice and dispense water? 
Any time the tankless RO faucet engages, the output must meet your daily water peak demands. Flow rate and water pressure increase the number of gallons the tankless RO system must filter throughout the day. Finding a tankless RO water filtration system to meet your home's water demands is essential.
Flow Rate
Slightly different from the overall production capacity, flow rate is how quickly the filtered water can make its way through the filtration process and fill up your cup. Most tankless reverse osmosis systems require a feed water pressure of 14.5 to 90 psi to operate effectively and efficiently.
If your home's pressure is slightly lower, you may find the water dispensed through the RO system is a little slow.
To resolve this, some systems even include a booster pump so you can have quick flow rates, even if you have low pressure in your home. If the system doesn't have one built-in, you can purchase a separate booster and install them rather easily.
Water Remineralization
Reverse osmosis filters are so effective at removing impurities from your water, they even remove the healthy minerals! If it is important to you to have the minerals added back, you may want to consider a system with a remineralization filter.
A remineralization reverse osmosis filter adds back healthy minerals that were removed in the filtration process. These minerals include magnesium, calcium, potassium, etc.
Many tankless reverse osmosis systems come either with a remineralization filter included or as an add-on feature. If this is something you are interested in, it is important to make sure the remineralization filter uses high-grade natural minerals. There are products out there that use low-quality "minerals" and chemicals that end up doing more harm than good in the end.
Filter Replacement
Filter replacement costs are a critical component of making the right tankless RO choice. The last thing you want is to get a "great deal" on a unit, just to find that a few months down the road you are paying hundreds for filter replacements.
Reverse osmosis membrane filters should last at least 12 months and up to 24 months before replacing.
The good news is that all the systems we reviewed here check that box. Depending on the system (if it's a 2 stage or 3 stage, etc), it may come with a sediment filter or activated carbon filter, or something to that degree. These filters need to be replaced more frequently, maybe 6 to 12 months, but come at a lower cost.
Ultimately your filter lifespan depends on how heavily you use the system, and how contaminated your water is. If you have extremely harsh water, it may be in your best interest to look at a pre-filter solution for the RO system itself or for your entire home to help extend the life of your filters.
Space Availability
One of the biggest advantages of a tankless reverse osmosis system is that they take up less space than a tank-based option. Despite that, they do still require some real estate under your sink. Before pulling the trigger on your favorite system, check the product specifications to make sure the dimensions will work for the area you plan to install the filter system.
Tankless Reverse Osmosis System Installation and Maintenance
Every modification to your kitchen or main water source requires installation. However, one of the If you aren't keen on drilling holes in your counter or searching for anchor points in your wall, a tankless RO water purification is your best bet, because all you need to do is attach it to your existing home's water source at the source: your home's cold water line. That's it, you're up and running!
Frequently Asked Questions
Is a tankless reverse osmosis system worth it?
Tankless reverse osmosis water filter systems are worth it. Since these water filtration systems take up a small footprint, are friendlier to the environment, and can be integrated with other whole house water filtration systems as an added layer of water filtration protection and superior water quality and taste.
Is tankless reverse osmosis better?
Tankless reverse osmosis systems are better in many ways. Tankless systems are portable, easier to install, waste less water, are more sanitary in terms of bacteria, and are built with better smart technology. That said, they do have their disadvantages that we discuss above vs tank reverse osmosis system.