There is nothing like a cup of hot tea to sooth your soul. I've always been a fan of tea, and have begun to learn more about detox tea, though it seems easier to reach out for a cup of coffee sometimes tea will give you the same boost with more benefits. I remember living in New York I found great tea shop's in every other corner. Once I moved to warmer climates it became difficult to satisfy my tea cravings. Sure you can head to your nearest food market and load up on tea bags but when it comes to my favorite, Chai tea, it immediately becomes more difficult. I started feeling as though I was in the middle of the Sahara searching for water.
Being a DIY fanatic I decided to take matter's into my own hands and make my favorite drink at home getting creative with a vanilla chai tea recipe.
The Quest for the Best Vanilla Chai Tea Recipe of 2020
In the western part of the world we consider Chai to be an aromatic creamy drink but Chai is in fact a word used to describe tea in general. The Chai that has become popular for us originates from India and though the spices used vary depending on the region, the basic ingredients are the same:
Black tea
Milk, cream or dairy-free alternative
Spices
Sweetener
Thankful for all the recipes available online I sat down and searched for the perfect vanilla chai tea recipe. After sorting through various ones, I noticed this wouldn't be an overwhelming task. The spices listed are readily available, most already in my cupboard. I realized that I could either make a liquid concentrate that can be stored for up to one week in the fridge or I could mix the desired dry spices and store them in a sealed container for a longer period of time.
The beauty of making chai at home is that even though most of the ingredients are easily found you can play around with the recipes and fit it to taste or dietary needs. It's ok, and preferred by many, to substitute dairy milk for any non-dairy milk. To increase the flavor profile of your almond milk, or dairy milk, using the best milk frother is a wonderful DIY tool. Some recipes suggest adding black pepper but you can omit and still get delicious results. The basic spices I found in all the recipes I found are as follows:
Ingredients to Make Vanilla Chai Tea:
Cinnamon
Cloves
Nutmeg
Vanilla extract
Additional ingredients to pump-up your vanilla chai tea recipe are:
Ginger root
Star anise
Orange peels
Cardamom seeds
The following recipe includes all the above ingredients, though it does have a longer list of ingredients, I found the flavor to be rich. When you have additional time it's worth giving it a shot!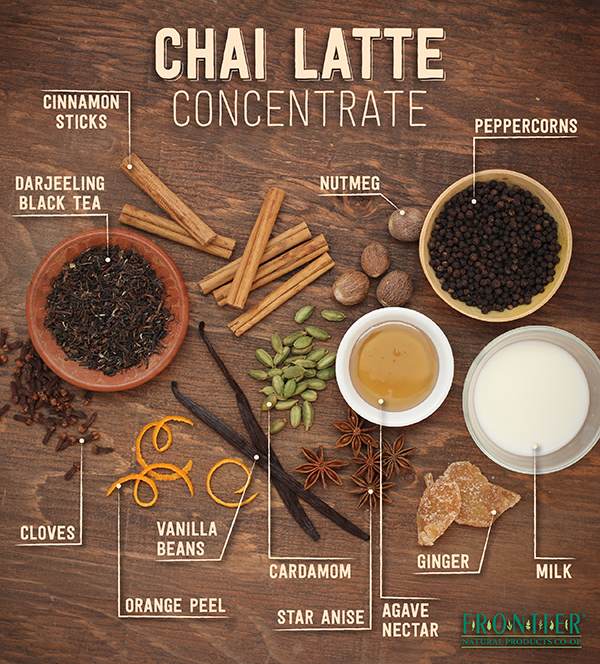 Once you've made your own latte at home heading to a coffee shop will seem unnecessary. Usually a cup of chai will cost over $4 bucks while making the concentrate yourself will cost you around $12 and you'll definitely get more than 4 cups out of it. Not only will you save money but the aroma's will leave your home smelling incredible!
The following is a more basic vanilla chai tea recipe that still gives the warm soothing classic spiciness that defines chai tea's. I started off with this recipe as it is a cinch to make, eventually adding new ingredients to make a more complex taste.
Converting a regular chai latte into a Vanilla chai tea latte is super simple. Most non-dairy milk and creamers offer vanilla flavors. I prefer adding a bit of vanilla extract to amp the flavor and give it a little sweetness.
Living in warmer climates does not limit my chai consumption. When temperatures start soaring I simply turn to a cooler version by icing my tea. I've always been wary of homemade Iced drinks (that are supposed to be warm), I find that simply adding ice cubes turns my drink into a watery mess. This is when the concentrate kicks in, having it ready and cool in the fridge you can simply mix equal parts chai and milk plus a few ice cubes. Yet during my search I encountered a great idea! Make chai ice cubes out of your concentrate and add them to your milk! How genius is this?
---
How to Make a Vanilla Chai Tea (Video Recipe):
---
Summary:
Aside from getting your share of calcium, there are a number of health benefits that come along with this aromatic drink. According to Ayurvedic medicine the herbs and spices have healing properties. The tea is full of antioxidants and flavonoids which neutralize radicals int he body and reduce the risk on cancer, stroke and heart attack.
With so many incredible benefits from health to great taste, what are you waiting for? Hurry to the kitchen and let your taste buds enjoy the best vanilla chai tea latte recipe imaginable!