There is nothing like a cup of hot tea to sooth your soul. If you're a fan of tea, and cast iron teapots, and have begun to learn more about detox tea, you may be intrigued with the allure and natural benefits of chai tea. Sure, you can short cut the process and opt for a chai tea concentrate or a ready-made cup at the coffee shop. But learning how to prepare a cup of chai tea, moreover, vanilla chai tea, is a personal, culinary evolution. If you're a DIY fanatic, you'll find that making a delicious vanilla chai tea recipe at home is a great way to express your creativity and to save money.
The Quest for the Best Vanilla Chai Tea Recipe of 2023
In the western part of the world, Chai is considered to be an aromatic creamy drink. Internationally, Chai is in fact a word used to describe tea in general. The Chai that has become popular originates from India and though the spices used vary depending on the region, the basic ingredients are the same. They are listed here (and a table with links to these items is available at the top and bottom of this blog post):
Black tea
Milk, cream or dairy-free alternative
Spices
Sweetener
In pursuit of the perfect vanilla chai tea recipe, you may notice several of the ingredients listed are readily available, perhaps in your cupboard right now. The options for crafting a chai tea mix are to steep black tea in hot water and create a liquid concentrate that can be stored for up to one week in the fridge or mix the desired dry spices and store them in a sealed container for a longer period of time.
The beauty of making chai at home is that even though most of the ingredients are easily found, you can play around with the recipes and fit it to taste or dietary needs. It's ok, and preferred by many, to substitute dairy milk for any non-dairy milk. To increase the flavor profile of your almond milk, or dairy milk, using the best milk frother is a wonderful DIY tool as it whips up a little more foam in your cup. Some recipes suggest adding black pepper, but you can omit and still get delicious results. The basic spices found in all the vanilla chai recipes are as follows:
Ingredients to Make Vanilla Chai Tea:
Cinnamon
Cloves
Nutmeg
Vanilla extract
Additional ingredients to pump-up your vanilla chai tea recipe are:
Ginger root
Star anise
Orange peels
Cardamom seeds
The following recipe includes all the above ingredients, though it does have a longer list of ingredients that will craft a rich flavor. When you have additional time, and are ready to fully dive in, it's worth giving it a shot!
Sara's Heavenly Chai Latte Concentrate
Prep Time: 5 minutes
Cook Time: 30 minutes
Yields: 8 cups chai concentrate
Ingredients:
8 cups of milk (cow's milk, coconut milk, almond milk or dark chocolate almond milk – my personal favorite!)
2 vanilla beans (optional – could substitute 1 ½ teaspoon vanilla extract, but I love seeing the vanilla bean flecks)
2 tablespoons agave nectar (honey, stevia or cane sugar work as well – adjust to your tastes)
8 cinnamon sticks
6 star anise
½ tablespoon ginger root slices, cut and sifted
2 teaspoons orange peel, cut and sifted (could use fresh if you like)
½ teaspoon cloves, whole
½ teaspoon ground nutmeg (if you can, grate fresh nutmeg – the aroma and taste are spectacular!)
¼ teaspoon cardamom seeds, decorticated (or 10-12 whole cardamom pods, slightly crushed)
¼ teaspoon black peppercorns
¼ teaspoon ground cardamom (optional for more of the Indian chai tea flavor)
½ cup Darjeeling Black Tea (loose leaf)
Directions:
With a knife, halve the vanilla beans lengthwise and scrape the seeds into saucepan. Add the vanilla pods, milk, agave nectar and spices to pan. Let the mixture get hot, almost boiling, then add the tea leaves.
Bring the mixture to a boil, stirring occasionally, and let boil for 5 minutes.
Remove pan from heat and let mixture steep for approximately 30 minutes.
Strain spices and tea leaves from steeped mixture by pouring through a sieve. Let the concentrate cool. Store the concentrate in the refrigerator for up to one week.
To serve a chai latte, combine chai concentrate and milk in a 1:1 ratio. For an extra indulgence, add a dollop of homemade cinnamon whipped cream.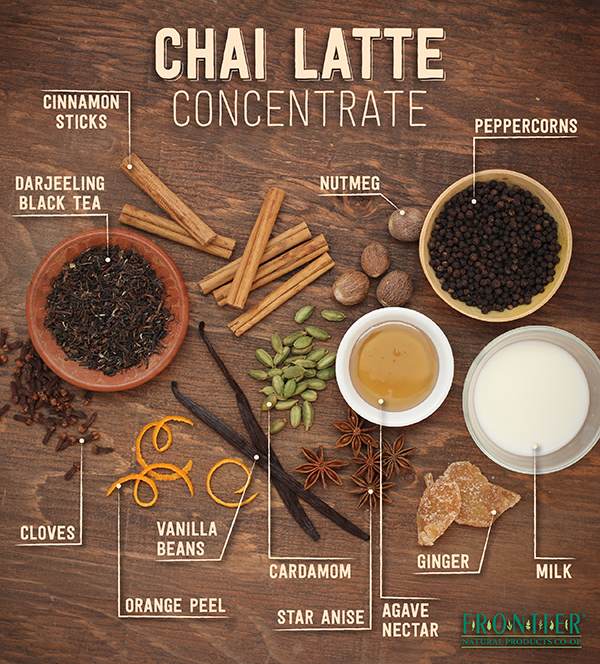 Once you've made your own latte at home heading to a coffee shop will seem unnecessary and overpriced. Usually a cup of chai will cost well above $4 bucks while making the concentrate yourself will cost you pennies on the dollar and you'll definitely get several cups out of it. Not only will you save money, but the aroma will leave your home smelling incredible!
Converting a regular chai latte into a Vanilla chai tea latte is super simple. Most non-dairy milk and creamers offer vanilla flavors. You may prefer adding a bit of vanilla extract to amp the flavor and give it a little sweetness.
Vanilla Chai Tea Ice Cubes:
Living in warmer climates does not have to limit chai consumption. When temperatures start soaring, simply covert to a cooler version by icing your vanilla chai tea. If you're wary of homemade iced drinks (that are supposed to be warm), as you find that simply adding ice cubes turns them into a watery mess – you're not alone! This is when the chai tea concentrate is your best friend. Having it ready and cool in the fridge, you can simply mix equal parts chai and milk plus a few ice cubes. Yet, even better still, is to make chai ice cubes out of your concentrate and add them to your chai drink! How genius is this?
---
How to Make a Vanilla Chai Tea (Video Recipe):
---
Summary:
Aside from getting your share of calcium, there are a number of health benefits that come along with this aromatic drink. According to Ayurvedic medicine the herbs and spices have healing properties. The tea is full of antioxidants and flavonoids which neutralize radicals int he body and reduce the risk on cancer, stroke and heart attack.
With so many incredible benefits from health to great taste, what are you waiting for? Hurry to the kitchen and let your taste buds enjoy the best vanilla chai tea latte recipe imaginable!