After testing the top water softeners, I ranked them based on price, hard water effectiveness, NSF certification, efficiency, and warranty. The best water softener for 2023 is the SpringWell SS Salt-Based Water Softener.
SpringWell SS
Best Overall
Check Price
Bottom Line
Eliminates hard water minerals, extends the usage of appliances, and provides healthier skin and hair.
Pros
Lifetime warranty on tanks and valves
One of the most efficient water softeners on the market
Guaranteed no drop in water pressure
Cons
Requires refilling brine tank with salt pellets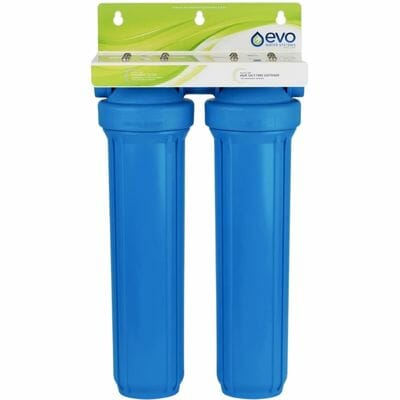 Kind E-2000
Best Cartridge Based
Check Price
Bottom Line
The cartridge system takes zero floor space and has easy installation with the inline design.
Pros
Lower upfront price than tank-based options
Does not require any salt or chemicals
Built in USA with certified premium components
Cons
Not ideal to treat very high hardness levels
SpringWell FutureSoft
Best Salt-Free
Check Price
Bottom Line
The FutureSoft provides 99.6% scale prevention from hard water without using chemicals or salt.
Pros
Lifetime warranty and 6-month money-back guarantee
Eliminate new and existing water scale build Up
No waste water created or electricity required
Cons
Needs pre-treatment if used for well water
Over 85% of the United States suffers from hard water, so it isn't a surprise if you're one of the millions battling limescale, water spots, dry skin, and dull laundry.
But with all the water softening options out there, it can be easy to get lost in an ocean of information. That's where we come in! After reviewing hundreds of home water treatment solutions and with the help of our water treatment expert panel, I meticulously selected only the best filtration options so you don't have to spend time guessing.
Our final list contains water softeners that are best for certain uses so you can find the ideal fit for your circumstances.
Best Water Softener System
Comparison Table For Salt Free Softeners
| | | | | | | | |
| --- | --- | --- | --- | --- | --- | --- | --- |
| | Rating | Flow Rate | # Of Bathrooms | Warranty | Type | Max Hardness | Price |
| SpringWell SS | 5/5 | 11-20 GPM | 1-7+ | Lifetime | Ion Exchange | 500 PPM+ | $$$ |
| Kind E-2000 | 5/5 | 15 GPM | 1-6 | Lifetime | Salt-Free (TAC) | 75 PPM | $$ |
| SpringWell FutureSoft | 4.5/5 | 12-20 GPM | 1-7+ | Lifetime | Salt-Free (TAC) | 81 PPM | $$$ |
| SoftPro Elite | 4/5 | 10-32 GPM | 1-5 | Lifetime | Ion Exchange | 500 PPM + | $$$ |
| Fleck 5600 | 3/5 | 9-15 GPM | 1-3 | 5 Year | Ion Exchange | 350 PPM | $$ |
| SoftPro Portable | 4/5 | 5 GPM | 1-3 | 5 Year | Ion Exchange | 125 PPM | $ |
| Yarna Descaler | 2/5 | N/A | 1-5 | 1 Year | Electronic Descaler | 30 PPM | $ |
⭐Water Softener Reviews For 2023
SpringWell SS Salt Water Softener
Best Overall
If you're talking about value for the money, the SpringWell SS salt-based water softener system is one of the most efficient options in the market. With this model, you will save approximately $200 a year on salt and water savings over old-school downflow softeners.
Lab Test Results
We installed a 32K grain SpringWell Softener (SS1) and performed a before and after water test.
The before water sample contained a total hardness reading of 354.7 ppm, which is considered extremely hard. For context, 75 ppm of hardness is classified as "hard water". The sample also contained 0.67 mg/l of iron. The after water sample showed a total hardness level of only 26.46 ppm or a reduction of 92.5%. The small amount of iron was also reduced by 100%.
SpringWell Water Softener Lab Test Results:
Key Features
High Efficiency: This high efficiency ion exchange softener is tested to completely remove hardness-causing minerals (calcium and magnesium) including any limescale in the water and even gets rid of any existing limescale buildup in your pipes and fixtures.
City Or Well Water: Whether you have city or well water, the SpringWell is ideal. As mentioned above, it is able to treat low amounts of iron or manganese levels of under 1 PPM. Remember to have the proper pre-filtration though. A catalytic carbon filter to protect the softener media from chlorine in city water. And a sediment filter or oxidation system for well water. (Without these the softeners life gets cut significantly)
NSF Certified Components: For starters, you have a tank made with a durable polypropylene body that's wrapped in a neoprene sleeve to protect it from sweating or freezing in different weather conditions. This ensures that your water softener will perform all year round and last longer even if it's exposed to the elements. While the electronic control head is a workhorse and highly efficient.
Multiple Size Options: At a flow rate between 11 and 20 GPM, the SpringWell is more efficient than its competitors which usually operate at just 7 and 10 GPM. This guarantees that your water supply will remain consistent even if your shower, washing machine, and dishwasher are running at the same time. The softener comes in sizes SS1, SS4, and SS+ so there is a perfect fit for all homes.
Bluetooth Control Head: With the next-generation Bluetooth control head, the SpringWell SS salt-based water softener system is also capable of measuring water usage and only regenerates when needed. This helps you cut down on both water and salt wastage while extending each cycle.
Best In Class Warranty: Since it comes with a full installation kit, this system can be installed quickly and easily. But the best part is it comes with a lifetime warranty on tanks and valves, 7 years for the electronic head, and a 6-month money-back guarantee.
Who This Is Best For
The SpringWell Salt Based Water Softener is ideal for homeowners that are looking for the best value with unbeatable performance to treat even extremely hard water. Whether you have city or well water, the system has so many features that separate it from the competition, yet it is still reasonably priced.
Read Our Full SpringWell SS Softener Review Here
Positive
Guaranteed no drop in water pressure after installation
Saves up to 30% on salt and water with the high-efficiency design
6-month money-back guarantee and lifetime warranty
Programmable Bluetooth head to monitor system from smartphone
Negatives
Professional installation may be required if not DIY inclined
Requires refilling brine tank with salt
Kind Whole House Salt-Free Water Softener
Best Cartridge Based
Utilizing the latest in high-performance salt-free softening technology, the Kind is specifically designed for worry-free water from every tap in your home without the negative effects of salt and hard water scale. The Kind system also comes with a 20" pre-sediment filter to remove silt and debris as water enters your home, which helps protect your system for the long-term.
Since the system does not require any salt, electricity, or drain line to operate, it is virtually maintenance-free. And the cartridge does not need replacement since the eSoft salt-free conditioner physically alters the water's composition, rather than chemically altering it like an ion exchange process.
Unlike many competitors which only address future scale, the Kind water softener system will not only prevent future scale from forming in your plumbing, but it also will remove existing scale formation.
The best part is you get all this without a drop in water pressure. The Kind has the capacity to support a house with up to six bathrooms, and has a huge max flow rate of up to 15 gallons per minute. Installation is made simple with the easy Water-In Water-Out design that only requires two connections. Most DIY folks can complete the task in under 60 minutes. And since it is a cartridge based system, it takes up less room than tank based systems.
Read Our Full Kind E-2000 Softener Review Here
Pros
Backed by lifetime warranty and 6-month guarantee
Does not require any salt or chemical to remove scale buildup
Made in the USA with only certified premium components
Comes ready for use with easy installation
Cons
Works best for homes with less than 6 bathrooms
SpringWell FutureSoft Salt-Free Water Softener
Best Salt Free Conditioner
SpringWell salt-free water conditioners are highly rated, and for a good reason. The technology built into the FutureSoft salt-free water softener provides 99.6% scale prevention. Not only does this mean the end of lugging around bags of salt, but it also means a lot of savings.
A more eco-friendly solution, the salt-free Futuresoft system produces no water waste and never discharges harmful salt brine into the environment. It processes your home's water by a process called Template Assisted Crystallization that conditions the hard water minerals like calcium to not only prevent scale build up, but also remove existing scale buildup around the house.
Once the minerals neutralize, they no longer stick to your water fixtures, or glassware and keep your appliances and water heaters free of limescale to prevent costly maintenance.
What I especially like about the FutureSoft is it was designed for maximum water pressure of up to 20 GPM, so you never have a drop in pressure, even if multiple showers are running simultaneously.
The durable Springwell system incorporates 20 years of expertise and is manufactured in the USA using only certified components to protect your investment for the long-term.
Pros
Lifetime warranty and a 1 million gallon water conditioning guarantee
12-month money-back guarantee and lifetime repair or replace warranty
Eliminate new and existing water scale build Up
Guaranteed no drop in water pressure
Chemical and salt-free
No waste water created or electricity required
Cons
May require additional professional plumbing installation costs
SoftPro Elite Water Softener
High-Efficiency Upflow
The SoftPro elite water softener system is designed for efficiency but has also been tested to NSF standards to guarantee its effectiveness and durability.
Being a true high efficiency rated system, it is one of the few softeners that is certified by the IAPMO group. High efficiency is very important as it will save you up to 75% on salt and 64% on water waste compared to other non-efficient water softeners. In fact, this system pays for itself within 2.5 years!
The SoftPro comes with all the advanced features homeowners love, like the large LCD screen, vacation mode, and anti-bacteria growth technology so you never have to worry about stagnant water issues.
SoftPro Elite's next generation upflow technology is designed with new one inch plumbing ports to handle higher flow rates so you can run multiple appliances simultaneously without drops in water pressure.
Another reason I like this system is that it comes with 10% premium resin to combat the aggressive chlorine agents used to sanitize your water. With high grade resin, you can rest assured your SoftPro will not only be highly effective at softening your water, but also last for the long run.
Pros
Lifetime warranty and 6 month money back guarantee
Certified high efficiency water softener system
Includes neoprene tank cover
1 inch ports for high water pressure 
Cons
May require professional installation if not DIY inclined
Fleck 5600SXT Water Softener System
Budget Choice
When it comes to value, this water softener truly has a lot to offer. In fact, the Fleck 5600 valve is the most popular water softener control valve in the world with its Noryl valve body that offers accurate high water efficiency and guarantees lower power consumption.
This highly effective Digitally-Metered Water Softener System uses a paddle wheel meter, which means that you don't need to remove and clean the turbine wheel all the time to keep it from sticking and binding, making the Fleck one of the easiest water softeners to maintain on the market.
Additionally, it comes with a 10% premium resin pre-loaded, whereas many competitors use 8% resin media so the Fleck will last 3-4x longer than competitors and maintain optimal performance against highly chlorinated and hard water conditions.
The entire system is also designed for easy installation and operation. The Fleck comes with quick-connect hoses for easy installation on PVC, PEX, or copper pipes.
Pros
Includes 10 year warranty on tanks and 5 year warranty on control valves 
Very popular softener at a reasonable price point
Paddle wheel meter for easy maintenance
 Programmable computer control and built-in capacitor
Cons
Not a high-efficiency model like alternatives SoftPro and SpringWell
SoftPro Elite Portable Water Softener
Portable Option
Mini but mighty, this is the perfect solution for RVs, boat owners, and car washing applications. American-built PRO + AQUA portable water softeners are constructed using only high-grade NSF certified materials.
The inner tank is high-grade Polyethylene, reinforced with a solid fiberglass wrap. Inside the tank, an additional Polyethylene inner shell houses NSF-certified food-grade premium resin.
PRO+AQUA's tank sits on a tailor fitted base for maximum stability and uses sturdy double-sided 3/4″ high-flow copper ports which attach easily to a standard garden hose to offer high water flow rates. The removable tank head arrives fully assembled and ready to get the soft water flowing.
The Pro+Aqua quickly regenerates in less than 30 minutes with only 2 boxes of table salt. While the 16,000 grain capacity provides up to 2,000 gallons of soft water depending on your hardness and usage.
Pros
Steady 5 GPM water flow
Softens well or city water
Ready for use in 5 minutes
Provides up to 2,000 gallons of soft water per charge
Built with high grade NSF materials
Negatives
Tank does not include a handle
No safety caps for the dual ports
Yarna Capacitive Electronic Water Descaler
Electronic Descaler
Designed to be a whole house treatment solution, the Yarna uses capacitive electric impulses generated by its electronic unit to reverse the negative effects of hard water and descale your pipes and appliances.
A key differentiator of the Yarna is that it works with any water hardness level. Unlike many competitors, the Yarna has no max hardness limit making it perfect for well water and extra hard water conditions. And the Yarna works with any pipe type up to 1" thick, whether copper, PVC, or PEX.
Because the system doesn't remove any of the minerals that are actually good for our bodies, you can rest assured that your water will be healthy and safe to drink while improving skin and hair.
Whether you're a homeowner or a small business owner, the Yarna Capacitive Electronic Water Descaler is a great choice for descaling your water. The easy installation and low maintenance make it a popular choice, and the reasonable price point makes it our top choice for electronic descalers.
Pros
Risk-free 365-day money-back guarantee
Designed for whole-house water treatment
Not max water hardness limit
Easy installation in less than 15 minutes
Works on any pipe
Negatives
Slightly higher price than some more simple descaler models
---
2023 Water Softener Buyer's Guide
Buying your home's water softener can be an arduous task, much like selecting a reverse osmosis system or whole house water filter. The devices seem complex and installation feels nearly impossible. But the cost of not addressing your home's hard water will add additional cost to running your household, and may negatively impact your family's health.
Hard water means that your water supply carries a lot of extra minerals like calcium, magnesium and heavy metals such as iron. Finding the right water softener to combat this requires consideration of these key points, which affect the water softener's overall performance and lifespan.
Key Considerations For Choosing A Water Softener
Salt-Based or Without Salt: Salt-Based water softeners basically exchange the unwanted calcium, magnesium, copper, iron and more for harmless ions. This is done in the tank, so the salt isn't in the flow of your water. When the hard water passes over salt media inside the tank, it goes through an "ion exchange." So, this way when the water is done passing through the salt it is softer. Your water doesn't taste salty, and your appliances are protected. Salt-Free water softeners are actually "water conditioners" because they don't technically soften water. Instead, they remove some particles like sodium and magnesium with a filter. Then they prevent lime scale and disruption to your pipes and appliances because the unit breaks the minerals ability to bond to metals. For many homes, this is enough and will protect your appliances.
Water Hardness: Are you sure your water is hard? The tell-tale sign is that your detergents aren't as effective. If you're pulling out glasses or plates with water spots and streaks, then your detergents aren't as effective as intended. Hard-water is probably the culprit. But, there is some grey area when it comes water hardness. If you're looking for the best water softener for your home, start by checking your water's hardness. There are several kits that are inexpensive. Because water softeners are expensive, you don't want to go out, and by the biggest one out there is your water is only moderately hard. The scale on water hardness starts with "soft" and ends with "very hard." Soft water is 0-1 grains per gallon and slightly hard is 1-3.5 grains per gallon. If you're in this range, you could use a less intense water softener than a house that registers as "hard" in the 7.0-10.5 grains per gallon range.
Water Flow Rate: Finding out your water flow rate isn't an exact a science. But the last thing you want is a drop in water pressure! The water flow rate of your home is determined by how much water is regularly used. Most people make an estimate based on these factors: How many bathrooms are in the home? How many people are living in the home? How many water-based appliances are in use? Take into consideration appliances like your washer, and the dishwasher then counts them almost like another person in the household. Usually, bigger tanks have faster water flow rates, but the biggest on this list is the Iron Pro 2. It features the fastest water flow rate available at 16 gallons per minute. If you're really not sure and considering a salt-free system, then you're in luck. There are many salt-free models that don't affect the water flow rate. However, many salt based systems can track and adapt to your water flow needs.
Regeneration Process: Throughout our research, the "regeneration process" came up a few times. This sounds really technical but is fairly simple. This is how long it takes the water softener to completely recover from a period of hard use. Each model has a different regeneration rate. For some people, this isn't a make or break aspect, but if you constantly use large amounts of water in your home, you could have difficulty with a long regeneration time frame. Many of the best water softeners can track and time their regeneration process. The best water softener should have the ability to track your water flow rate and time its regeneration process only when necessary. That way it uses the absolute minimum amount of water and salt necessary.
The Competition
In previous years, the Aqausure Harmony made our list of top softener options. However, based on our ranking criteria – notably customer support and quality concerns, the Aquasure was nudged off our list for this year.
We had also reviewed the GE Water Softener in years past, but it did not make the cut this year. Our primary concern was the price and restrictive servicing outweighed the performance. Spare parts for the GE Softener are also very difficult to come across for any repairs.
FAQs For Water Softeners
How does a water softener actually work?
A salt-based water softener uses the ion exchange process to remove hard water minerals calcium and magnesium. As water passes through the resin media where it removes the minerals and some of the heavy metals then, it replaces them with harmless ions. When the media contains a large amount of calcium or magnesium, it begins its regeneration cycle to flush the system and start over.
A salt-free water softener system uses template-assisted crystallization to remove the mineral's ability to bond instead of removing them. After chemically altering the state of the unwanted minerals the water is technically conditioned, not softened.
Is a salt or salt-free softener better?
Both salt-based and salt-free water softeners work best for different scenarios. The ion exchange softeners work best for hardness levels greater than 15 ppm. Salt-based softeners are also better suited for well water supplies with iron or sulfur. Saltless softeners are ideal for city water that has less than 15 ppm of hardness. They are also best for areas where ion exchange water softeners are banned.
Which water softener is best?
The SpringWell SS is the best ion exchange water softener for home, while the SpringWell FutureSoft is the best saltless conditioner.
How long does a water softener last?
If a water softener is properly maintained, the system components and media can last for up to 20 years. A salt-free system typically lasts between 10 – 15 years.
Final Thoughts on Buying A Water Softener
Living in a location with hard water, potentially amidst a large household, running multiple water-based appliances, can determine whether water softener is necessary or not for your home.
At this point, you've probably recognized that, for most, it's a wise preventive measure.
Remember, a water softener aims to remove magnesium, calcium, and other dissolved minerals from hard water, making it "softer".
Your skin and hair will likely feel healthier and less dry, may be reason enough to invest in a water softener system that suits your family's needs.