Our experts have researched and tested the best reverse osmosis system filters on the market. My top choice for 2023 is the Waterdrop 800 GPD Tankless RO System with UV Sterilizer. But it's not one size fits all. I'll explain how the different systems work to remove up to 99.9% of harmful contaminants so you can find the ideal fit for your home.
Quick Comparison Of Our Favorites
Waterdrop 800 GPD
Best Overall
Check Price
Bottom Line
The complete package: high water flow rate, digital display faucet, UV light sterilizer, and barely takes any under sink space.
Pros
Reduces 1,000 + harmful water substances
Sterilizes 99.9% of viruses and bacteria
3:1 drain ratio for minimal waste water
Cons
Slightly more expensive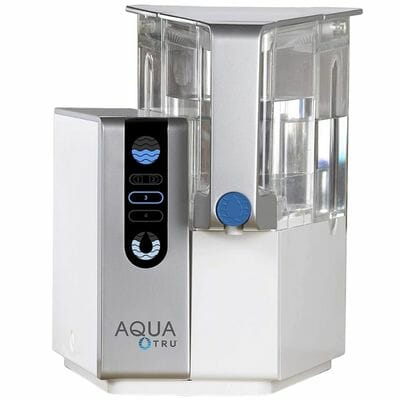 AquaTru Countertop RO
Best Countertop
Check Price
Bottom Line
Get all the benefits of an under sink RO unit in a compact countertop system that can be setup in under 5 minutes with no installation.
Pros
NSF tested to remove over 82 harmful contaminants
Requires zero installation or plumbing modifications
Digital LED display with "change filter" alerts
Cons
Need to refill throughout the day depending on use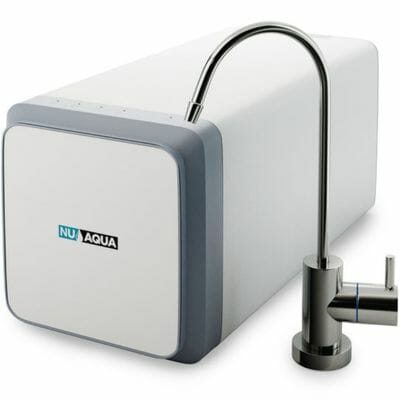 NU Aqua 600 GPD
Best Efficiency
Check Price
Bottom Line
This high efficiency tankless RO unit has a 2:1 pure to waste ratio making it one of the most efficient reverse osmosis systems on the market.
Pros
High efficiency 2:1 waste ratio
600-gallon per day capacity
Very compact design
Cons
Remineralization filter sold separately
Reverse osmosis is a purification process by which water passes, by force, through a semipermeable membrane with pores that are only .0001 microns in size. One side of the membrane collects and keeps the unwanted particles and contaminants. What passes through to the other side of the membrane is clean H2O.
RO systems are a very popular home filtration option because they are reasonably priced while still being able to remove the broadest spectrum of harmful contaminants. This list of finalists is based on price, filtration performance, NSF certification, efficiency, and warranty.
Best Reverse Osmosis System
Reverse Osmosis System Reviews For 2023
Waterdrop 800 GPD Tankless Reverse Osmosis System
Best Overall RO System
Filtration Stages: 3 Stage | Flow Rate: 800 GPD | Warranty: 30-Day Guarantee | Dimensions: 18.06 x 5.65 x 17.75 inches | Filter Life: 24 Months | Filtration Method: Activated Carbon, RO, UV Light
Combining best in class efficiency, technology, and filtration effectiveness, the Waterdop is hard to beat. One of the most notable features of the Waterdrop G3P800 tankless RO water filtration system is its large interactive LED faucet screen. No more bending over to check how your water filtration system is functioning.
You see all the important real-time information built into the base of the faucet every time you reach for a drink. At a glance you'll see the working status of the G3P800 as well as your water's quality filter life, even a system malfunction alert.
Designed to reduce over 1,000 harmful substances, the Waterdrop filtration system incorporates a sediment catching layer to trap sand and rust, plus the unique scale inhibitor layer reduces hard water deposits.
Next, an activated carbon block filter removes chlorine, lead, PFOAs, and more. With the water free of sediment and contaminants, the water pushed through the RO membrane designed to reduce impurities, like fluoride and any heavy metals larger than 0.0001 microns.
Waterdrop goes one step further and adds a UV sterilizer packing a 99% sterilization rate guaranteed to kill bacteria and viruses. It works only when water passes, saving more energy. And with its advanced water dispensing technology you save 12 times more water than with traditional RO systems.
Related: Read Our Full Waterdrop Reverse Osmosis Review
Pros
Reduces 1,000 + harmful water substances
Sterilizes 99.9% of viruses and bacteria
Treats 800 gallons of water per day
3:1 drain ratio for minimal waste water
TDS reduction rate exceeding 90% meets the NSF/ANSI standards
Cons
Slightly higher price than some more simple RO models
Should use pre-filter if you have well water 
 Filter replacements can add up if you have heavily contaminated water
AquaTru Countertop Reverse Osmosis System
Best Countertop RO System
We added concentrated chemicals to a water sample and lab tested the untreated water and the AquaTru Filtered water. To my surprise, the Aquatru was able to significantly reduce or remove all of the nasty contaminants! It eliminated 100% of the disinfection byproducts, lead, lithium, and nitrate. It also removed 87% of the fluoride.
AquaTru is proud to be tested and certified by ​​the International Association of Plumbing and Mechanical Officials IAPMO. The impressive amount of harmful metals removed from the AquaTru countertop RO system ranges between 93.5% – 99.1% for impurities like chromium, copper, fluoride, lead, and more.
The system uses three filter cartridges. The first filter is a combination of two Pre-Carbon filters to remove large particles and odors. Next, the RO filter uses pressure, forcing water molecules through its semipermeable membrane to remove the remaining contaminants.
Lastly, an additional carbon filter uses carbon particles to "grab hold" of harmful volatile organic compounds found in cleaning products, solvents, and bio and fossil fuels.
A single set of AquaTru countertop RO "quick change, twist and seal" filters purifies the equivalent of 4500 16oz plastic water bottles. AquaTru filters are guaranteed to last between six to twelve months.
Take the AquaTru straight out of the box and onto the counter. It requires no extra plumbing, tubes running to the faucet, holes drilled into the counters or tricky installation. You're drinking RO purified water in minutes.
Related: Read Our Full AquaTru Countertop RO Review
Pros
Backed by a 30-day unconditional 100% satisfaction guarantee
NSF tested to remove over 82 harmful water contaminants
Requires zero installation or plumbing modifications
Digital LED display with "change filter" alerts
Wi-Fi and app connectivity upgrade
Cons
Need to refill water throughout the day depending on use
Takes counter space unlike an under sink RO
NU Aqua Efficiency Series Tankless Reverse Osmosis System
Best Efficiency RO System
With a compact space saving design, the NU Aqua tankless RO system provides a 2:1 water waste ratio making it one of the most efficient options on the market.
A built-in booster pump keeps water flowing through the NU Aqua, up to 600 gallons per day. And that means you won't wait for a tank to fill, just water on demand. A booster pump ensures the perfect water flow when your home's water pressure is too low.
Two-stage polypropylene and carbon-block filters remove rust, sediment, suspended particles, odor, bad taste, and volatile organic compounds. Next, water passes through a granular activated carbon filter to improve taste and remove other unpleasant tastes, odors, and sediments that make the water cloudy.
Finally, water travels through the NU Aqua 600 GPD RO membrane, removing metals, nitrates, salts, and fluoride; nothing stands a chance against NU Aqua's filtration technology.
NU Aqua's Smart Faucet has a filter replacement reminder and color-changing indicators; red when the water quality is low and blue when your water is fresh and pure!
With limited connections and labeled components, the installation of your NU Aqua tankless RO water filtration system has you up and running in minutes.
Pros
5 year warranty and lifetime support
High efficiency 2:1 waste ratio
Ultra-silent booster pump 
600 gallon per day capacity
Water quality indicator light for filter replacements
Cons
Does not contain any smart display functionality like other tankless ROs
Remineralization filter sold separately
SpringWell 4 Stage Reverse Osmosis System
Best Under Sink RO System
The Springwell Reverse Osmosis water filtration system is the perfect solution for filtering harmful contaminants such as lead, fluoride, and arsenic. This RO system is also ideal if you have well water. The point of use water filter system fits neatly under your kitchen sink and provides 75 gallons per day of crisp filtered water.
With its 4 stage process, the SpringWell RO system removes heavy metals and contaminants commonly found in our city's drinking water. The first stage removes sediment and larger particles before moving to the Carbon Filter in stage two where chlorine, PFOAs, pesticides, and more are removed. In stage 3, the Reverse Osmosis Membrane filters out heavy metals such as lead, mercury, arsenic, fluoride, iron, aluminum and more. Lastly, stage 4 uses a carbon filter to finish and remove any additional contaminants that made it through the first 3 stages.
Filters will need to be replaced about every 6 months, while the RO membrane filter will last up to 24 months. The system is made for easy installation and easier filter replacements with a quick 1/4 turn design, you can swap filters without shutting the water off in only a few minutes.
Related: Read Our Full SpringWell RO Review
Pros
One year warranty and 6-month money back guarantee
4 Stage filtration removes common city and well water contaminants 
High 75 gpd water flow rate 
Includes designer metal faucet 
Cons
May require professional installation if not DIY inclined
Filters replacements can add up if you have heavily contaminated water
Tank based system takes a little more under sink room
Home Master TMHP HydroPerfection Reverse Osmosis System
Best Well Water RO System
With its incredible 9-stage filtration system, the HomeMaster is designed to remove 99.99% of chlorine, PFOAs, fluoride and thousands of other contaminants, while safely sterilizing microorganisms, viruses, and bacteria with its UV purifier.
Although this system works great on all water sources, it especially sets itself apart for use on well water. Dissolved iron commonly found in well water would destroy reverse osmosis membranes without an iron pre-filter protecting it. The HydroPerfection's iron pre-filter contains an advanced KDF85 media that removes dissolved iron from the water so you can count on crisp clean water that won't shorten the lifespan of your RO system.
Home Master filters last longer than traditional RO systems' filters, only requiring a filter change once a year or every 2,000 gallons. The unique modular 'all-in-one' filters are incorporated into their housings to make annual filter changes fast and efficient, while also reducing bacteria build up like with traditional filter housings.
The home master is extremely eco-friendly with its fast flow kit that nearly doubles the flow rate by incorporating larger fittings, tubing and other high flow components. The included non-electric permeate pump further improves efficiency by reducing water waste by up to 80% for about a 1:1 waste water ratio.
Pros
5-year warranty with 30-day money back guarantee
Ideal for well water filtration
Meets or exceeds NSF standards for safety and performance
Includes patented remineralization system
UV sterilizer destroys viruses and bacteria 
Cons
May require professional installation if not DIY inclined
Slightly more expensive than some alternatives because of the premium design and functionality
Aquasana OptimH2O Reverse Osmosis System With Claryum Filter
Best Budget RO System
One of the more popular undersink RO options on the market, and for good reason. The Aquasana comes at a reasonable price point but is packed with all the functionality you want.
This system combines Claryum filtration and reverse osmosis technology in a multi-step process to remove 88 harmful contaminants including fluoride, arsenic, PFOAs and more. In fact, it has been tested and certified to NSF/ANSI Standards 42, 53, 58, and 401 for effectiveness against the most common water impurities.
But the best part is that while the Aquasana is busy removing harmful contaminants, it still retains the beneficial minerals like calcium, potassium, and magnesium for healthier, pH balanced water. Since no chemicals are added during the filtration process, you can have peace of mind knowing the end result is the purest water possible.
The Claryum filters will last for 365 gallons or up to 6 months, while the RO membrane and Remineralizer will each last for 12 months before being replaced. When it's time to replace the filters, there is no need to disconnect hoses or water lines, simply twist off and replace them in a matter of minutes.
Included with the Aquasana system is an all-metal dedicated faucet that is available in three premium finishes so you can match your kitchen décor.
Pros
2-year warranty with 90-day guarantee
NSF tested to remove over 88 contaminants
Reliable 35 gpd water flow rate 
Improves pH balance and water alkalinity
Includes premium metal faucet 
Cons
Purchasing replacement filters can add up (but you can subscribe to auto replacements and save)
May require professional installation if not DIY inclined 
Flow rate is a little lower than other models
---
Reverse Osmosis Water Filter System Buyer's Guide: Key Factors
The popularity of reverse osmosis spiked because people prefer knowing that their water isn't just "purified" but essentially cleaned. Whereas water softeners are intended to remove heavy metals, and water purifies remove some harmful chemicals, a reverse osmosis drinking system removes harmful products with a system that's beneficial to your health.
People know that this process works and that it's used by top brands to offer health benefits as well as hydration. Additionally, some water drinking systems will create an undesirable taste effect, but with the best reverse osmosis drinking water system, the actual quality and flavor profile should improve. To narrow in on the right ro system, here are three key points to consider.
Key Factors To Consider For A Whole House Water Filter
Type of RO Membrane
Knowing the current level of quality that your water comes out of the faucet at will help you identify which membrane is right for you. For instance, if your tap water is chlorinated as most tap water is, you should use a cellulose triacetate membrane. These membranes resist chlorine more effectively than other membrane options. However, if you're using well water, which may not have chlorine, you should use a TFC membrane. A TFC membrane guards against more bacteria.
Installation
Many people don't want to call a plumber for any reason, especially to install a simple reverse osmosis water drinking system. However, most reverse osmosis water drinking systems require a bit of confidence in DIY projects, home improvement, and handling tools. If you're confident and have taken on minor DIY projects before, you can install a good system without issue. Where installation goes wrong is when the unit's tubes, fittings, and faucet don't work well together. Read through reviews to ensure that you're not going to have mix-matched parts when you open your box.
Stages of Filtration
Reverse osmosis water drinking systems rely on at least 3 stages to achieve the reverse osmosis process. However, many of these systems have 4 or more stages for additional purification. If you know your water quality is exceptionally poor, invest in a 7-stage system. However, if you are simply looking to increase the current quality of your drinking water a 3 or 4-stage system will work well. As you dig further into which system is right for you, the membrane may help determine how many stages of filtration you need. If the membrane caters to one issue in your water, you may need another filtering stage to address other concerns
The Competition
In previous reviews we analyzed the APEC Water Systems ROES-50, however it did not make the list this year. You can view our full video review of the APEC Ro System from last year. The APEC ROES-50 proprietary WQA Certified 5-stage carbon-block filter and premium RO membrane filtration system removes up to 99% of contaminants.
We also reviewed the Express Water 5-Stage Reverse Osmosis System in years past. Express puts its name to the test to quickly remove 99% of Lead, Chlorine, Fluoride, Arsenic, and more. You can see our full video review of the Express Water 5-Stage RO.
FAQs For Reverse Osmosis Water Filtration Systems
Is it safe to drink reverse osmosis water?
Yes, it is safe to drink reverse osmosis water. Many bottled water companies use reverse osmosis to remove as many chemical, biological and metallic properties as possible before bottling.
Reverse osmosis removes unwanted minerals and chemicals which helps your water taste cleaner too. It also removes bacteria and viruses. There is no indication that removing any of these can cause adverse health effects.
Because many mineral and chemical compounds are added to our tap water, removing them restores it to its most simple form. Well, water, however, can encounter contaminants through the ground. Iron, arsenic, radium, sulfate, lead, copper and chromium are all known to infiltrate well water through the ground.
Using a reverse osmosis drinking water system and removing these hazards is a safer drinking option than leaving the water unprocessed or simply filtered.
Is reverse osmosis water the same as purified water?
No, reverse osmosis is a process that coincides with purification, but they are different. Purified water takes well, or tap water then passes it through a few filters. Reverse osmosis is another process where water is pushed through the membrane with pressure that allows only water molecules through.
In the end, reverse osmosis cleans the water more effectively than a series of filters. Most reverse osmosis drinking systems are highly effective but still, contain multiple layers of filters. These pre and post-filters ensure that all contaminants, chemical or biological are filtered out.
Do reverse osmosis systems waste water?
Yes, the average reverse osmosis filter system has a 1:4 waste-water ratio. This means that every one gallon of purified water produced, 4 gallons are wasted.
Most reverse osmosis drinking water systems immediately dispose of the water which contains contaminants. When you have this type of system, you have no access to the water and lose complete use of it.
However, some models do offer the versatility sought out to use the unwanted water for other things. Many people use the water for gardening and cleaning. If you are concerned about the water waste, make versatility a top priority feature.
Final Thoughts on Buying a Reverse Osmosis System
With more concern than ever regarding contaminants and adding minerals to drinking water, RO systems are an ideal solution.
Before selecting the best reverse osmosis water filtration system for your home, consider the following factors. Locate the home's water source to determine how your home's water supply. It may come from either a water plant or a private well. Well water intake typically requires extra UV light and extra filters to remove living microorganisms, viruses, and bacteria.
Understand the water pressure forcing water through the RO. Determine the flow rate, how much water flows into the house. These two factors determine how many filters to use to decontaminate the water. Finally, consider your budget to get the best value out of your RO filtration system.