We laboratory tested and reviewed the 5 best water filter pitcher options in 2023. The top performing pitcher according to the test results is the Clearly Filtered Water Filter Pitcher. Being able to test the water pitchers in a certified lab provided accuracy, objectivity, and the ability to test for 109 specific contaminants, chemicals, and heavy metals. The final tap score is based on a scale of 0 – 99, with 99 being the best.
Quick Comparison Of Our Favorites
Clearly Filtered
Best Overall
Check Price
Bottom Line
Tap Score: 98
Pros
Lead Removal: 100%
Uranium Removal: 100%
Fluoride Removal: 100%
Strontium Removal: 100%
Copper Removal: 95%
Barium Removal: 100%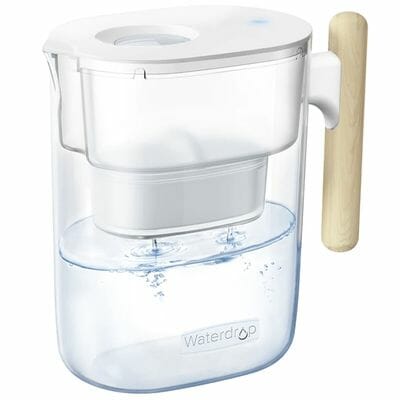 Waterdrop Chubby
Runner Up
Check Price
Bottom Line
Tap Score: 87
Pros
Lead Removal: 100%
Uranium Removal: 100%
Fluoride Removal: 0%
Strontium Removal: 73%
Copper Removal: 92%
Barium Removal: 82%
Epic Pure
Best Alternative
Check Price
Bottom Line
Tap Score: 83
Pros
Lead Removal: 100%
Uranium Removal: 100%
Fluoride Removal: 67%
Strontium Removal: 8%
Copper Removal: 100%
Barium Removal: 66%
If you're on the hunt for the best water filter pitcher, you've come to the right place! Unlike most review sites that rely on brand popularity or data provided by the companies, we actually collected water samples and lab-tested all of our water pitchers.
To decide on the best overall water pitcher we relied heavily on the expertise of our water scientists. The lab technicians provided an independent analysis of our water samples from a certified lab. Next, we weighed the filtration performance against other qualities like price, capacity, filter life, and NSF certifications to create a definitive list of the best water filter pitchers.
🏆Best Water Filter Pitcher
Ranking Criteria Comparison
| | | | | | | |
| --- | --- | --- | --- | --- | --- | --- |
| | Rating | Tap Score | Filter Life | Capacity | NSF Tested | Price |
| Clearly Filtered | 5/5 | 98 | 100 Gallons | 10 Cups | Yes | $$$$ |
| Waterdrop | 4.5/5 | 87 | 150 Gallons | 10 Cups | Yes | $$ |
| ZeroWater | 4.5/5 | 87 | 40 Gallons | 10 Cups | Yes | $$$ |
| Epic Pure | 4/5 | 83 | 150 Gallons | 8.5 Cups | Yes | $$$ |
| Brita | 3/5 | 45 | 40 Gallons | 10 Cups | Yes | $ |
---
Water Filter Pitcher Reviews For 2023
Clearly Filtered Water Filter Pitcher
Best Overall
-10%
Based on the laboratory data, the Clearly Filtered is the best water filter. It removed 100% of the most harmful containments in the drinking water including lead, uranium, and fluoride. Importantly, it didn't add any contaminants during the filtration process while still removing most other heavy metals and minerals. What made it even more impressive is that it even maintained a balanced pH level of 6.6.
When purchasing the Clearly Filtered water pitcher, it includes one of its proprietary AffinityFiltration 3-stage filters. In the first stage, water passes through a woven stainless steel mesh screen to block out large particles. Next comes a granulated coconut carbon filter to remove chlorine, odors, and bad tasting impurities. Lastly, the exterior composite shell slows down water flow to increase the contact time between water and filter for maximum purification. The best part? The Affinity Filter lasts for 100 gallons, that's multiples longer than many competitors.
Additionally, Clearly Filtered is the only water filter pitcher to be independently tested to NSF standards in an EPA-certified lab.
The Clearly Filtered Water Pitcher has a capacity for up to 10 cups of water. It is constructed with 100% BPA-free Tritan material which is not only durable but also ensures no chemicals leach into your filtered water. We especially like the easy-fill design and anti-spill dam to prevent spilling out water while filling the pitcher.
Made in the USA, the Clearly Filtered water filter pitcher comes with a limited lifetime warranty. If you are looking for the best water filter pitcher for performance and functionality, the Clearly Filtered Water Pitcher is the best overall.
Positive
Removes up to 99.9% of 365+ dangerous tap water contaminants
Independently tested to NSF standards 42, 53, 244, 401 & 473
Made of 100% BPA-free medical-grade Tritan material
Long 100 gallon filter life
Negatives
More premium priced pitcher
No filter change indicator to keep track of filter life
Waterdrop Chubby Water Filter Pitcher
Runner Up
The Waterdrop Chubby Water Filter Pitcher combines the best of aesthetics and filtration performance. We love the durable BPA-free construction with the stylish wooden handle. The filter is independently NSF 42 certified for the reduction of chlorine, fluoride, taste, and odor.
The filter is able to purify up to 200 gallons of water before replacement. Using an activated carbon filter, the Waterdrop Chubby Water Filter Pitcher has a flow rate of .5 gallons per minute which means it fills in only a minute. And you won't have to be filling the water pitcher frequently with a large 10 cup water capacity. However, when it's time to refill it's very easy as you don't need to remove the lid.
The lid of the Waterdrop Chubby Water Filter Pitcher has a convenient LED indicator to monitor filtration life. If the light stays blue, your filter is good. However, if the light flashes red, it needs to be replaced soon. If it stays red, it's time to replace it now.
Waterdrop designed the Chubby Water Filter Pitcher to neatly tuck into your fridge door with dimensions of 10.43 x 5.31 x 10.04 inches. Additionally, the Waterdrop comes with a 30 day satisfaction guarantee return policy.
Positive
NSF 42 & 372 certified for the reduction of chlorine, taste, odor
Made with high-grade BPA-free plastic
Smart LED filter life indicator
Filter lasts 3 months or 200 gallons
Negatives
Did not remove fluoride from water sample
ZeroWater Water Filter Pitcher
Best Alternative
ZeroWater uses a 5-stage filter not only to filter out chlorine, lead and other heavy metals but also chromium. The ZeroWater filter is NSF certified, a bonus in proving its ability to remove lead and chromium.
The ZeroWater filter stands out from the competition with a single design feature, the bottom dispenser. Yes, this is still a pitcher that sits inside your refrigerator and filters water. But, it has a dispenser at the bottom for easy access.
There is also a total dissolved solid, or TDS, a meter which is a separate device that shows how clean your water is. This device helps you keep tabs on how effective your filter is, so you aren't wasting money on replacing filters that are still in good working condition.
Positive
Certified to NSF/ANSI standards 42 and 53 to to reduce PFOA/PFOS, Lead & Chromium
premium 5-stage water filtration removes 99.6% of all dissolved solids from your tap water
Negatives
Removes even healthy minerals
Does not have a filter replacement indicator
Epic Pure Water Filter Pitcher
Close Contender
The Epic Pure Water Filter Pitcher is designed for those living in the city dealing with common city water contaminants like lead and chlorine. It is capable of removing 99.99% of tap water impurities and over 200 contaminants. If you are into data like we are, Epic Water Filter Pitchers are independently tested to exceed NSF/ANSI Standards for contaminant reduction – with the full lab results available here.
Aesthetically the Epic Pure Water Filter Pitcher has many positives. The compact 10 x 6 x 10 inch size makes it easy to pour and stash in your refrigerator, while it can still store an impressive 2 liter water capacity. The pitcher itself is constructed with 100% BPA/BPS-free materials so you don't have to worry about harmful chemicals creeping into your filtered water.
The Epic Pure Water Filter Pitcher also has an LED indicator that counts down from 90 days so you never have to guess when it's time to change out the filter.
When purchasing the Epic Pure Water Filter Pitcher, one replaceable Pure Filter is included. Each Pure Filter is capable of purifying up to 150 gallons. That is one of the longest lasting on the market for a water filter pitcher replacement filters, making the Epic Pure an economical choice over the long-run.
Epic Filters are manufactured in the USA, and are backed by a 100% money back guarantee and lifetime warranty.
Positive
Removes up to 99.99% of tap water contaminants
Produces up to 150 gallons of clean water
Independently certified across the globe in both field and laboratory tests
Negatives
Slightly more expensive than some pitcher options.
Removed 8% of strontium and 66% of barium
Brita Everyday Water Pitcher Filter
Best Brita
The brand that everyone knows, and brought the filtered water craze back, Brita. This filter is one of the cheapest models available for its size. The Brita Everyday Water Filter is the best Brita water filter pitcher. It uses an activated carbon filter to remove heavy metals including lead, and copper.
With these contaminants gone the filter produces high-quality, odorless water that tastes great. The price tag reals people in but people keep purchasing filters because of the quality. The filters through is where the value starts to shift.
Brita makes these filters and issues a sticker on them to indicate when it's time for a replacement. But the filter isn't always spot on for timing. You might notice a taste difference a few weeks before the sticker indicates the need for a change.
Brita filter replacements seem cheap until you realize how often you're changing the cartridges. Keep in mind that your replacement schedule can vary with how often you're refilling the pitcher.
Positive
Certified to reduce bad taste and odors from drinking water
Made with PBA free material
Large 10 cup capacity
removed 100% of fluoride
Negatives
Added contaminants to drinking water like nitrate and cobalt
Laboratory Test Results Summary
Here is a summary table for the lab test results comparing Clearly Filtered vs Brita vs ZeroWater vs Waterdrop vs Epic. The data displays what percent of the specific contaminant was removed by the filter, with the exception of pH level.
| | | | | | | | |
| --- | --- | --- | --- | --- | --- | --- | --- |
| | Lead | Uranium | Fluoride | Copper | Strontium | Barium | pH Level |
| Clearly Filtered | 100% | 100% | 100% | 95% | 100% | 100% | 6.6 |
| Waterdrop | 100% | 100% | 0% | 92% | 73% | 82% | 7.0 |
| ZeroWater | 100% | 100% | 0% | 96% | 75% | 86% | 6.8 |
| Epic Pure | 100% | 100% | 67% | 100% | 8% | 66% | 7.7 |
| Brita | 100% | 100% | 100% | 96% | 66% | 93% | 8.3 |
Water Filter Pitcher Lab Results Comparison
Below are the links to the full laboratory testing data and results:
Testing Process
The first step was to collect water samples from two different locations to find water that was bad enough to put these pitcher filters to the test. These were both taken in the Minneapolis area from two different suppliers. Both results were not great, but the first result scored a 44 out of 99 was the worst, putting it in the bottom 25% of water in the United States. Therefore, this is the water source used for the testing.
Next, we collected samples from each water filter pitcher. All of the pitchers used were brand new and never used. To begin, we prepared all the pitchers and primed the filters by running water through them before collecting our samples.
Now that the pitchers are prepped, we began the collection procedure. We used rubber gloves and a 5-gallon bucket to ensure all the same water is being used and no cross-contamination to ensure the most accurate results possible. We then used the water to fill all the pitchers and poured the filtered water into the tap score vial.
Lastly, we packaged up all the test kits in the pre-paid package and send them off to TapScore certified lab for testing. After 5 days we received the lab test results.
Lab Test Results Analysis
Let's look at some highlights of the lab test data from the water pitcher filters. This is just a snapshot, for a full comparison of all the data side-by-side go to our spreadsheet.
Starting with the two biggest health detractors are heavy metals Lead & Uranium. The EPA has a max lead concentration level of 15 parts per billion in drinking water, however, they set the maximum contaminant level goal for lead in drinking water at zero because lead can be harmful to human health even at low exposure levels. Lead can come from plumbing in the home and in the water supply lines, or from brass fixtures or solder. The bottom line is that priority number one was to remove the lead and fortunately the Clearly Filtered, Waterdrop, ZeroWater, Epic, and Brita did indeed remove 100% the lead.
The uranium concentration in our tap water was also elevated to a concerning level. Although all water has some amount of radioactivity, constant exposure to radioactive elements is known to cause damage to the tissues and organs and increase risk for certain types of cancer. Again, the Clearly Filtered, Waterdrop, ZeroWater, Epic, and Brita all removed 100% of the uranium from the water.
Other Heavy Metals like Copper and Barium that were present in our source water. Barium which is known for its reactivity and is commonly used during a swallowing test to make certain areas of the body show up more clearly on an X-ray. The Clearly Filtered removed 100%, the Brita removed 93%, Zero Water removed 86%, Waterdrop 82%, and the Epic 66% removal.
With copper, which generally enters drinking water through plumbing corrosion, we can see Epic removed 100%, while the other four pitchers removed between 91 and 96%, so a pretty strong showing across the board.
Next, let's look at Fluoride removal performance. Fluoride is commonly added to municipal water for its ability to reduce tooth decay. Whether it should be consumed is a debated topic that we won't get into, but what we can show is these filters' ability to remove it. We can see the Clearly Filtered and the Brita removed 100% of Fluoride, while the Epic removed 66%, and the Zero Water and Waterdrop did not remove any fluoride.
Buyers Guide For The Best Water Filter Pitchers
Many people turn to a water filter pitcher because they don't want to deal with installing a filter system or want a water filter on a budget. These two reasons continue to fuel demand for the water filter pitcher products, which as in turn kept the prices reasonable and the products quality high. When you're ready to purchase the best water filter pitcher for your home, consider these main points: pitcher capacity, filter lifespan, NSF Certifications, and overall cost.
Key Consideration Points
Filtering Ability
Not all water filters are created equal. As our lab tests demonstrated, different filters or more effective at removing different contaminants. Some filters even add contaminants to your drinking water! That's why it's critical to know what is in your water to select the best filter for your needs. One way to see what is. in your tap water is to search the EWG database. After you know contaminants to target, you can make an informed decision which water pitcher to choose.
Pitcher Capacity
A water filters capacity isn't usually a make-or-break factor for purchasing. However, with a water filter pitcher, the capacity makes all the difference. How often do you plan on refiling your water filter? Constant refills are not only a nuisance but also a way of masking how long your filter's cartridge lasts. If the filter has a large capacity and the filter only lasts for a month at a time, then the cartridge itself is low quality. But, a large capacity filter which requires changing every 2 months is essentially the same as a filter half that size having a cartridge that lasts for 4 months.
There is the delicate balance of filter capacity in identifying how much water is comfortable to hold, lift and pour versus identifying the hidden filter quality. The cartridge quality usually falls somewhere in the middle but most moderately sized water filter pitchers should only need their filter changed every 3 to 6 months. If you're going through a lot of water each day, you might want to take advantage of a larger capacity option. Whereas, if there is only one person in the household, a smaller capacity can save your refrigerator space.
Filter Lifespan
The lifespan of water filter pitchers varies greatly. Because each brand uses their blend of plastic and design for structure the brand indicates the relative lifespan. Brita's are known for only lasting a year or 2 but are usually the household name that people trust. Other brands such as ZeroWater and PUR have more stable structure designs and plastic that is more resilient to abuse. Remember that these filters travel between the refrigerator and the sink they risk damage. If a filter is too heavy, it can pull on the handle and lead to cracking and leaking as well. Take note of which brand you purchase to ensure you're buying a quality product that will last for years. With replacing filter cartridges regularly, there's no reason that the best water filter pitcher shouldn't last for years.
Overall Cost
The initial purchase isn't the overall cost of the pitcher. The significant price is what the initial cost is plus the boost of replacement filter cartridges throughout the lifespan of the pitcher. If the pitcher lasts for 1 year but has relatively inexpensive replacement cartridges that must change every 2 months you end up spending more money than if you had bought a more expensive unit.
Brita is known for having replacement filters which are cheap enough not to warrant purchasing another unit. Then you're essentially spending the price of a new unit every 4 months, rather than opting for a model with a filter that lasts for 6 months or more. The price of filter replacement cartridges varies a lot, but always check the price of replacement cartridges before purchasing a water filter. For an overall quality cost, you should see an initial investment of maybe $15 to $50 and replacements in the $5 to $10 range. Usually, more expensive units have cheaper filters and less expensive filters have deceptively more expensive replacements.
NSF Certification
Not all water pitchers are NSF certified, but purchasing one that is will ensure it is tested to the most rigorous standards. Note that NSF/ANSI standards have variations for certain specifications. Some standards test for the removal of certain contaminants, while others are for bad tastes or odors. There are detailed explanations of the various standards on the NSF website.
FAQs For Water Pitcher Filters
Do water filter pitchers remove chlorine?
Most water filters will remove chlorine to varying degrees. Because activated carbon does a good job removing chlorine, and most filter pitchers use some amount of carbon, they can remove up to 100% of chlorine. Chlorine is one of the most closely watched contaminants and is added through the city water supply.
Do Brita pitcher filters remove lead?
Yes, the Brita pitcher does remove lead from drinking water. Our test results indicated the Brita Everyday Pitcher removed 100% of lead from the sample water.
Do water filter pitchers work?
Water filter pitchers can remove a wide rang of contaminants, but they have their limitations. Due to their small filter size relative to an under-sink filter or whole-house filter, they simply don't have as long of contact time with the water. That's why it's important to test your water to understand exactly what is in it. In many cases a filter pitcher will be sufficient. However, they cannot remove all contaminants and may not remove 100% of certain contaminants that may be present in your water.
For comprehensive purification look to a reverse osmosis system that uses a membrane to eradicate all chlorine, heavy metals, and chemicals. The second-best option is a water distiller, which will also eliminate all nearly all impurities in drinking water.
The Competition
In previous years we reviewed the PUR water pitcher filter. PUR is a well-known brand and was a top contender, however, the PUR filter has a few downfalls. Notably, the lifespan of the cartridge is only about 2 months. Ultimately, the PUR was edged off our list this year based on our review criteria. You can watch our PUR Water Filter Review here.
We also tested the LARQ PurVis Water Filter Pitcher. The LARQ is unique in that it incorporates a UV purification light to help eliminate harmful bacteria in your drinking water. But at a cost of $168, it is by far the most expensive option and the carbon filters need to be replaced more frequently. While the LARQ is innovative, it will end up burning a hole in your pocket.
We previously reviewed the Lake Industries alkaline water pitcher. The Lake Industries features a 7-stage filter that uses tourmaline, minerals, carbon, and ionic exchange. In this year's review, the Invigorated Water alkaline pitcher proved to be a better choice based on our criteria. You can watch our Lake Industries water filter pitcher review here.
The Invigorated Water Filter Pitcher made our list last year and comes with its unique PH001 filter that removes lead, chlorine, and bad tastes while letting beneficial minerals like magnesium and calcium through. Additionally, the water ionizing system can bring water alkalinity up to pH10. Despite it's strengths, it is not NSF certified and it has a smaller capacity – both are critical factors in our ranking method.
Lastly, the Nakii pitcher was on our prior top water filter pitcher list. The Nakii has a unique design featuring a wooden handle and a carbon filter to catch contaminants like mercury, lead, sediment, and chlorine. The downside is that the Nakii only holds 1.8 liters of water and the replacement filters can add up. To watch the Nakii Water Filter Pitcher review, click here.
Final Verdict On The Best Water Filter Pitcher
Overall, the top performer based on our laboratory testing was the Clearly Filtered. Hopefully, we've provided all the information necessary for you to choose which is the right option based on your specific circumstances. Always consider your home's tap water chemistry as all water sources are different!
High-quality drinking water is always the priority. Stick with the top brands mentioned here for durable and effective filters.