If you're new to hiking or are an experienced adventurer, you need the best backpacking water filter to ensure your safety in the great outdoors. Ensuring a clean drinking water source is something you must consider, in the event that the worst case scenario occurs. A quality backpacking water filter can save you from unpleasant stomach parasites and a wide variety of bacteria. We've researched and filtered through the options and have determined the top backpacking water filters, as well as a couple you should avoid.
Reviews of the 5 Best Backpacking Water Filters, Plus 2 to Avoid
1. MSR Guardian Review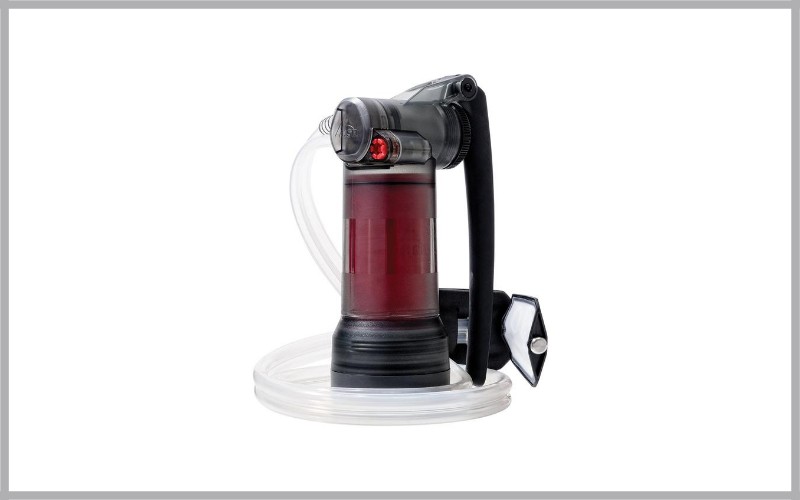 The MSR Guardian is a top-tier water purifier. As the best backpacking water filter of 2022, it does so much more than you would expect from a simple travel water filter.
What makes the MSR Guardian stand out is the fact that it filters:
If you've ever been so unfortunate as to get a virus while backpacking, you'll pay anything to make sure it doesn't happen again. This filter is a great option for anyone who will have terrible water sources or will be traveling in international waters.
With a self-cleaning mechanism, you can ensure that the MSR Guardian isn't going to run out on you eventually. The pump has a high flow rate and requires very little effort to pump. The only downside to the MSR Guardian is how expensive it is. But, you could look at it as an investment.
As the best backpacking water filter of 2022, it holds up through many years of use. It's a great investment for the avid backpacker. This system is also the best volume backpacking water filter as it can filter 10,000 liters of water without a loss in quality.
To watch the MSR Guardian Review on YouTube, click here.


2. Katadyn BeFree Collapsible Bottle Review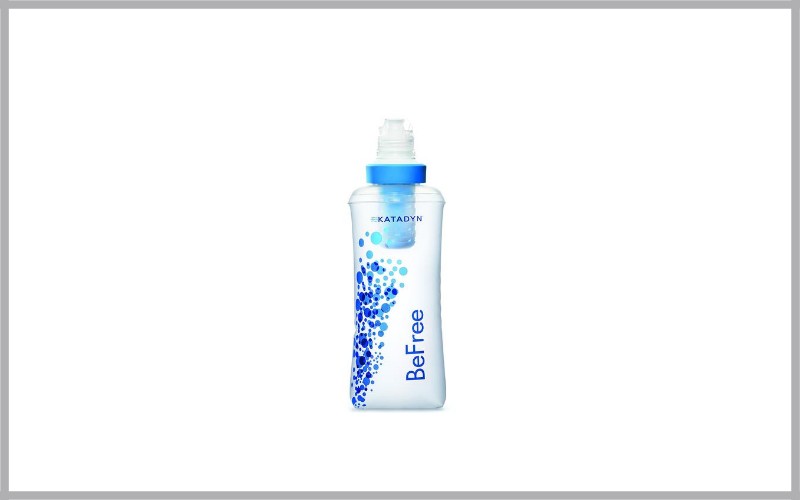 There are so many things to love about this filter. First, it's ultra-lightweight and expands or collapses as needed. The Katadyn BeFree Collapsible Bottle is a relatively new system, but it can contend with the best of them.
The BeFree bottles use a filter that targets bacteria and viruses. Although it took second place, the BeFree bottle is the best trail running water filter available right now. Its weight makes it ideal for trail running and day hiking.
The only downside we could find to this filter is the filter life. It filters about 1,000 Liters before needing a filter replacement which means it's not great for a serious backpacker. However, the filter replacements are fairly cheap, so it's still an option if you don't mind carrying many filter cartridges with you as well.
To watch the Katadyn BeFree Collapsible Bottle Review on YouTube, click here.


3. SteriPen Adventurer Opti Review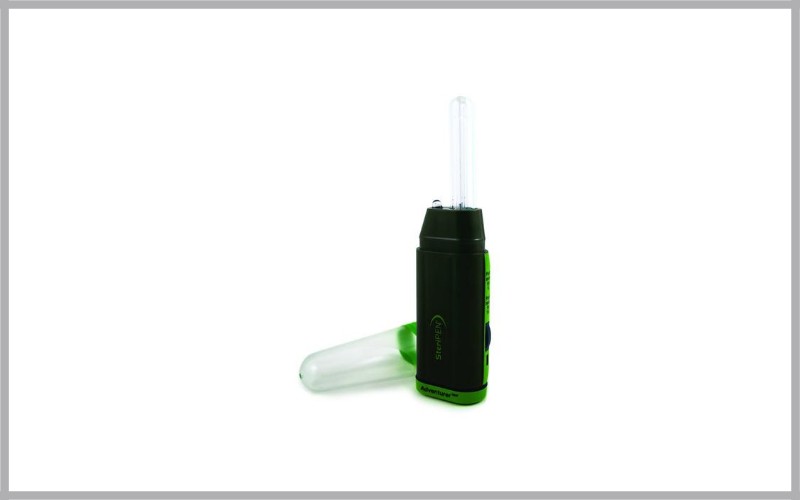 SteriPen is a well-known name among avid backpackers. Although it requires a good water source, it clears regular water for viruses, bacteria, and protozoa. It's incredibly easy to use. You drop the SteriPen Adventurer Opti directly into your water bottle and swirl it until the light turns green.
The SteriPen uses ultraviolet rays to purify your drinking water. The filter takes about 90 seconds to create 1 Liter o drinking water successfully. Because the filter goes right into your water you want a good water source.
The downside to the SteriPen Adventurer Opti is that it uses wonky batteries or charges via USB. However, the odds of you finding a place to plug in if you're backpacking are slim. Be sure to have extra CR123 batteries in case yours run out. But without a doubt, the SteriPen is the best UV light backpacking water filter.
To watch the SteriPen Adventurer Opti Review on YouTube, click here.


4. Platypus GravityWorks Review
This unit is convenient and works best when you're caring for a group of people. However, the system is an investment. If you have the budget for it, the Platypus GravityWorks is worth every penny. But, many people simply can't afford it. Another downside is that it doesn't filter viruses.
If you're looking to filter was for large groups such as family camping trips or boy scout adventures, the Platypus GravityWorks is a quality solution. You simply fill the first bag with dirty water and then hang it over the second bag. Gravity does all the rest, and you don't have to squeeze the bag or pump for hours.
This system works best if you fill the bags at night and let them filter until dawn. With the Platypus GravityWorks, you need to plan for your water needs. This unit came up so low on the list because it can't provide immediate drinking water.
To watch the Platypus GravityWorks Review on YouTube, click here.


5. Grayl Bottle Review
Although this bottle is small, it's mighty. The Grayl bottle doesn't hold much, it's true. But, has an amazing filter and it captures viruses as well. If you regularly go on weekend backpacking trips, this is a great option.
However, there is another use for the Grayl Bottle which put it in the running for the best backpacking water filter of 2022. This bottle is a convenient solution to the serious problem of plastic bottle waste. Many backpackers must take many plastic water bottles to ensure that they can use a new one if their bottle becomes contaminated.
As one of the best backpacking water filters available, the Grayl Bottle can do wonders to reduce your plastic waste. You can refill this bottle regularly if you're backpacking near accessible water. It's a useful tool that shouldn't be discounted just because of its size.
To watch the Grayl Bottle Review on YouTube, click here.


Avoid – Sawyer Squeeze Review
The squeeze bag is a well-known filtering method in the backpacking community. Typically squeeze bags are preferred when you're on a long trip and don't have room for anything else in your pack. The filter itself only weighs 3-ounces and is tiny.
But, the bags are where the Sawyer Squeeze goes wrong. Squeeze bags must put up with quite a bit of abuse. Aside from the extreme temperature changes in your bag you're squeezing water from this bag, through a filter, and into your container.
The squeeze bags meant to work with the Sawyer Squeeze don't hold up. Avoid this backpacking water filer at all costs. There are plenty of other, more reliable, filter options that will fit in your pack even if it's filled to the brim.
To watch the Sawyer Squeeze Review on YouTube,  click here.


Avoid – LifeStraw Review
Positively the worst backpacking filter, the LifeStraw has left many new backpackers without a quality water filter. The LifeStraw Personal Water Filter aims to draw in new backpackers because it's extremely affordable and lightweight.
Unfortunately, the LifeStraw barely filters anything and doesn't filter for viruses at all. Not to mention that you literally must lay down on the ground to use it. Laying on the ground is never a wise position if you're trying to drink water.
The only scenario that the LifeStraw may be remotely useful is working as a backup during a day hike when you already have water on you. There is another system from LifeStraw which is the LifeStraw bottle system. The system resolves the laying on the ground issue but doesn't fix it's filtering abilities.
To watch the LifeStraw Review on YouTube, click here.


---
---
---
2022 Buyers Guide to the Best Backpacking Water Filter:
There are a few aspects to consider when looking for the best backpacking water filter. You must put thought into what type of water filter you want to bring with you on your backpacking excursions. But you must also think about how heavy the system is, and if it takes up a lot of space.
Finally, the life of the filter must meet your requirements for the duration of your trip, or you will have to accommodate packing filter replacements.
3 Main Points to Consider
Type of Water Filter: There are 6 well-known types of filters suit backpackers well. The gravity filter operates with gravity alone and requires no pumping or squeezing. There are many benefits to gravity filters, and typically they can handle a large volume of water. Hand pump filters are typically in the form of either a tradition pump or require to you squeeze the bag, essentially pumping the water out. Straw filters are one of the most basic backpacking filter types as they only require you to suck through a straw. Chemical and UV purifiers don't filter the water, so you need a good quality water source. These 2 filter types rely either on ultraviolet rays or chemicals to kill bacteria, protozoa, and viruses. Finally, bottle filters are the easiest to carry if you're a part-time backpacker. You simply fill your water bottle and are ready to go.
Weight: You might already have the type of water filter that you want in mind, but the weight may change your mind. Backpackers rely on small devices to do big jobs. Unlike the space you may have available as a backup at home, in regards to an emergency water filter where weight isn't the biggest consideration, the range of backpacking water filters narrows drastically when you're looking for something lightweight and small. Focus on combining small water filters with chemical drops or water purification tablets to purify the water further. If you're only going out for the day, you might consider a straw filter, although these aren't exceptionally great options. But, if you plan on backpacking through the country or even for just a weekend, you'll want something that can handle lots of water, so you don't have to carry so much. The Best backpacking water filter should save your pack weight in water, and it shouldn't take up too much space either.
Life of the Filter: There are 2 ways to calculate the life of the filter, either you take the initial price at face value and add the filter replacement costs or figure the cost per each liter filtered. It's far easier to take the initial purchase price and add the replacement filter costs than it is to factor down what each liter will cost you. Before deciding which is the best backpacking water filter for you, consider how many liters of water you'll go through a day. Because backpacking water filters don't have a lifespan based on time, you'll have to estimate your water consumption. Some backpacking water filters require filter replacement every 750 liters, and the replacement cartridges are expensive, but the initial price of the unit was cheap. Some backpacking water filters don't even have replacement cartridges because they last for so long, but they're also expensive. The only guidance we can offer here is to consider the cost of the filter replacements as well. You want a filter that will last you for years without destroying your wallet.
In what situations might you need to use a backpack water filter?
Too often backpackers and campers intermingle the terms purification and filtration. But a water filter and a water purifier are different things altogether.
You need a backpack water filter when you don't have quality water sources. A water filter will protect you from microorganisms such as protozoa, and bacteria. While a purifier does all these things and it addresses the concern of viruses.
You need a backpack water filter when you're going through North America and have clean water sources. Typically, backpackers in North America have immunization to many of the virus naturally found in our water. But remember that there are many bacteria and protozoa risks in clear water. A filter is a great resource to treat seemingly harmless water.
---
Best Backpacking Water Filter Review (2022 Buyers Guide):
---
Final Thoughts on Finding the Best Backpacking Water Filter:
There are a ton of options to treat, clean, purify, and filter your water when you're out in the wild. But you don't want to take your chances with a subpar system. Instead, finding the best backpacking water filter of 2022 revolves around one need: filtering ability.
Although there are a few other aspects to consider, the need for safety in the wilderness outweighs them. The filters above are our favorite solutions for clean water when you're in the wild. Take special note of any manufacturers instructions before setting out! Have safe adventures!