There are a lot of wonderful cookie decorations out on the market these days, and that can make finding excellent edible markers for cookies very difficult. Some of us will remember when that was not the case. For us, this is a truly magical time in decorating that no one from the younger generations could possibly appreciate as we do. Gone are the days when the only way to create a picture on your fondant was to hand-paint it with thinned food coloring!
What is the best edible marker for cookies to buy in 2022? AmeriColor's Gourmet Writer Food Decorator Pens are tasteless, super easy to use, the color flowed well, stayed true, and if you take care of them you get a lot of good use out of them. All those things together made Gourmet Writer Food Decorator Pens from AmeriColor our top choice!
In our test kitchen, we researched and discovered the seven top-rated edible markers for cookies, as well as one you should avoid, and are happy to present our results to you.
Reviews of the 7 Best Edible Markers for Cookies, Plus 1 to Avoid
1. AmeriColor Gourmet Writer Food Decorator Pens Set of 10 Review
There were a lot of good reasons to congratulate AmeriColor for producing high quality edible markers for cookies of 2022. The very first thing that came to mind when we tried the Americolor Gourmet Writer Food Decorator Pens was how wonderfully versatile they are. Of course, Americolor is and has been a top choice for us in the past, but we were still surprised by just how wonderfully useful these food-safe edible markers really are. You can achieve different thicknesses in your lines based on what angle you hold them while you are coloring, so it is relatively easy to cover large areas, yet you can still draw thin lines as well.
These edible markers work well on any dry surface, but like all the markers we worked with on this list, they did best on fondant. We ended up having to clean the nibs between uses, but the manufacturer did warn about that.
This is a ten-color set, so it comes with purple, blue, orange, yellow, green, pink, red, fleshtone, black and brown. Per the AmeriColor website, these are all U.S. certified safe food colors. Each color is the same color as the pen it is inside, just that vibrant, and they had great color staying as well. The cookies that made it through the day were the same colors the following day, without lightening or darkening.
We were able to use these pens to decorate over twelve dozen cookies without any issues. We tried storing nine of them in the refrigerator and left the other one—cap on—out on the counter. The ones we refrigerated were fine the next day and able to decorate other cookies. The fleshtone marker we left out was not entirely dried out, but we could tell the difference.
When working with these food coloring markers, they stayed wet the entire time. This was almost an issue for some of us who were not familiar with food markers. However, the trick we have found is to work extra fast, so the colors do not have the chance to bleed. After they've been used on a cookie, the colors dry surprisingly fast. Most important of all, these edible food markers left no extra flavor or aftertaste on our cookies, making these the best overall edible markers for cookies.
The only issue we ran into with these markers is that it was impossible to get a truly fine line. This may be due to how well the color flows out of them, and we certainly would not change that aspect. They still worked for everything we were attempting, but if you are trying to get a razor-thin detail, you may need to purchase a specialized marker for that, such as the Rainbow Dust Jet Black marker, since it has the finest tip of any of the edible markers on our list.
To watch the AmeriColor Gourmet Writer Food Decorator Pens Set of 10 Review on YouTube, click here.
Pros:
Versatile
Flavorless
Vibrant Colors
Colors Last
Cons:


2. Edible Ink Food Coloring Pens Set of 11 Review
There's a lot to love with pens from Edibleink. They come with two black pens as well as yellow, orange, red, light and dark green, sky blue, purple, brown and pink. They are FDA approved as edible ink—which is just a fancy way of saying, they contain food dye, not actual ink!
The Edible Ink pens all come with double nibs, so you can draw intricate details with the fine point, and color huge swatches of an area with the bold point. We found this set as easy to use as any traditional marker. The ink is very wet, so care must be taken when using these. If you do not wear gloves while decorating, you can expect to have rainbow fingers when your project is finished.
All the colors are bright and true to the exterior color of the pen, with the notable exception of the black pens—which we will further discuss below. The colors stay true even overnight, although to be fair we only had a few cookies that made it that long. As vibrant as the colors were, they did not in any way change the taste of the cookies we used them on. Even the cookies we selected for all red and black ink designs were yummy!
When coloring large areas, it may be necessary to wipe the nibs off in order to keep the ink flowing properly. This was a little inconvenient, but anyone who has worked with edible coloring markers should be familiar with the practice.
The biggest issue we had in the test kitchen when it came to using these food-safe edible markers was that the black was just not as rich as we were expecting. In every case, we had the allow the ink to dry entirely and then color over the cookies again. This proved just one inconvenience too many, so most of our cookies had dark gray designs instead of black.
After careful consideration, we still decided these were the top-rated edible markers for cookies on a budget. They are perfect for working with children, and the results you get are almost as good as using the AmeriColor edible markers.
To watch the Edible Ink Food Coloring Pens Set of 11 Review on YouTube, click here.
Pros:
Two Black Pens
Double-Sided
Flavorless
Vibrant-Mostly
Cons:
Black Pens are NOT Vibrant


3. Nomeca Flexible Brush Tip Food Coloring Markers Set of 10 Review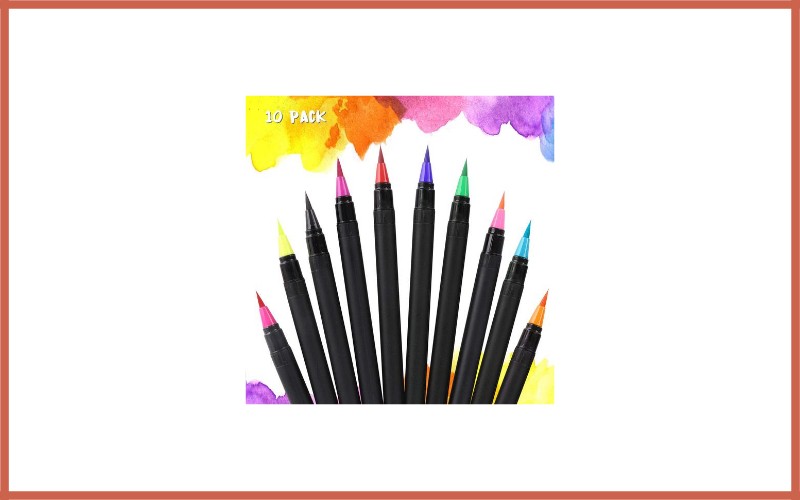 What first struck the staff of the test kitchen upon first using these markers was just how much the results look like watercolor painting! Nomeca Flexible Brush Tip Food Coloring Markers Set includes sky blue, dark blue, red, black, fuchsia, bright pink, orange, and fluorescent yellow. These are not exactly the colors you might expect when thinking of the muted colors generally associated with watercolor painting, but that was part of the fun.
The colors come out almost as bright as the exterior colors of the pens, but instead of flowing onto the cookies like ink, they looked more like we had painted them on with a brush. The results were exciting and totally yummy, with no aftertaste.
Nomeca only produces food-grade, FDA approved edible ink, so it's perfectly safe. The marker nibs are super fine at the tips, larger toward the base, and all lines can be thicker or thinner based on how you hold the pens. We were able to apply hand-written notes on some of our cookies, and the ink did not bleed. They made fabulous markers for drawing calligraphy on the fondant.
The only real problem any of us had with these edible food markers was that the few of us who were experienced with watercolor painting were disappointed that the marker tips did not have the feel of a paintbrush. If you happen to be a painter as well, we recommend you experiment a little with these markers before starting in on your project, so you have a good feel for how they work.
To watch the Nomeca Flexible Brush Tip Food Coloring Markers Set of 10 Review on YouTube, click here.
Pros:
Gorgeous Results
True Colors
Vibrant
Flavorless
Cons:


4. Rainbow Dust Professional Cake Decorators Food Pen Jet Black Review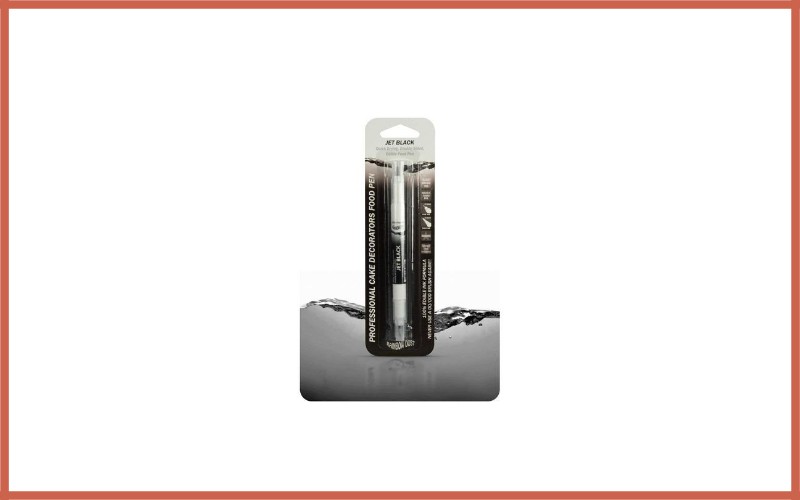 Rainbow Dust produces the best black edible marker for cookies that we found. It is totally flavorless, so even if you decide to decorate your cookies in all goth, they still taste great. It does not produce a strong smell either, in case you were wondering.
Rainbow Dust Professional Cake Decorators Food Pens have a duel tip, much like the Edibleink markers we mentioned earlier. The superfine nib is 0.5mm, which means it is as fine as the finest true ink pens on the market. Because the food coloring in this edible marker comes out like a regular ink pen, you can draw on your cookies as you would on a piece of paper, and the ink will not bleed unless you stop moving and allow it to bleed on purpose.
The other nib is 2.5mm, which places it closer to the size of a regular ballpoint pen. This is great for filling in larger areas, or if you happen to be drawing anime type characters on your cookies.
The black is a deep, rich color the first time you draw, so there is no need to go over anything twice. Normally, when using a black edible marker, if you stop mid-way and start drawing again, you get an annoying black spot. With Rainbow Dust edible markers, you do not run into that issue.
The only thing about this product any of us took issue with was that you can only buy these pens as singles. There are other colors available, but they do not have a large set like other manufacturers sell. Overall, this was our very favorite black edible marker, in or out of a set. It is worth the extra money buying this pen separately.
To watch the Rainbow Dust Professional Cake Decorators Food Pen Jet Black Review on YouTube, click here.
Pros:
Rich Black
Smooth Color
Dual Tip
Flavorless
Cons:


5. Chefmaster Double-Sided Food Coloring Markers Set of 10 Review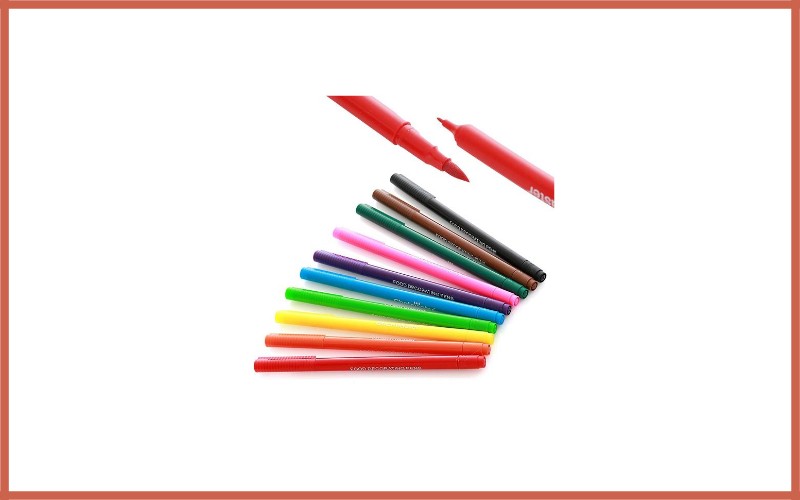 The food-safe edible marker set from Chefmaster includes all your primary colors as well as a few other useful ones. Red, yellow, orange, light green, light blue, purple, brown, black, dark blue, and pink. They are 100% food-safe edible markers. They are double-sided, so each has a large and a fine tip.
Our test kitchen found Chefmaster Double-Sided Food Coloring Markers to be tasteless and surprisingly vibrant. Using them to create designs on our cookies was not difficult. The food color comes out very easily, so you will want to watch what you are doing because they have the potential to bleed. On the other hand, that also means it was super easy to get our cookies colored quickly, so that is a bit of a double-edged blade.
We did, however, discover a few issues with the markers. The small nibs on these markers are very soft. That allows for a good flow of food color, but that also means they can get a little sloppy. They are not a good set of markers for anything detailed. Used with a different marker, such as the Rainbow Dust Jet Black mentioned above, this is not a problem. On their own, however, you might be disappointed with the results you get from this set of food-safe edible markers.
Another issue we ran into with these markers is that it takes a very long time for them to dry. By a long time, of course, we mean they still had not dried the day after the cookies were finished and decorated. This might not be an issue for some, but for anyone who intends to create cookies and then move them to a location outside their kitchen, it can be a big problem.
To watch the Chefmaster Double-Sided Food Coloring Markers Set of 10 Review on YouTube, click here.
Pros:
Tasteless
Vibrant
Double-Sided
Cons:
Messy Soft Tips
Don't Always Dry


6. Bakerpan Food Coloring Markers Set of 7 Review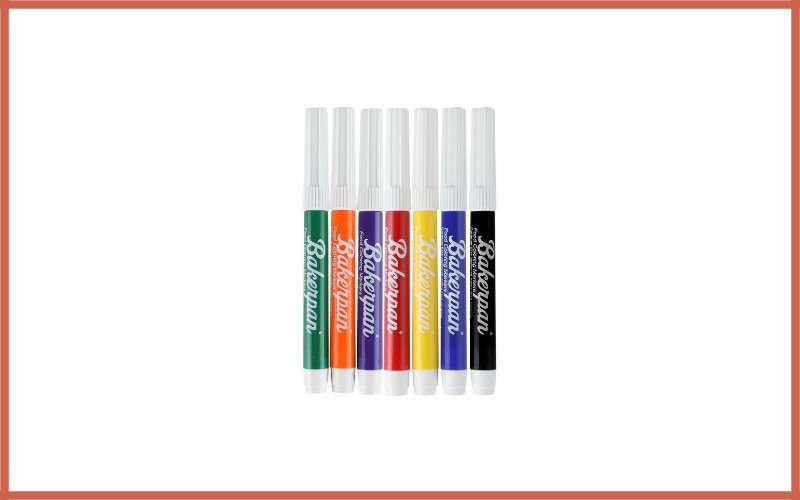 Of all the edible markers for cookies that we tried in our test kitchen these are the ones we thought most appropriate for children's projects. They are very inexpensive and are perfect for practicing technique. The dye washed right off our fingers, so even if a mess is made, there are no long-term signs of it.
Bakerpan Food Coloring Markers comes in a set of seven colors; red, blue, green, yellow, black, purple, and orange. Each color left our cookies tasting unchanged by the food coloring. These are also Kosher, making them perfect for those who follow a Kosher diet.
These food coloring markers do not write well on any fat-based products, where the ink tends to smudge and run instead of being absorbed. For the purpose of coloring on fondant, however, they were perfectly adequate.
The nibs on Bakerspan markers are all very large, almost like a classic ink marker in size. This is part of what makes them so perfect for children. Adults, however, might find this to be annoying. They are too large for creating any kind of fine detail.
Another issue for adults is that the colors are not vibrant, but instead look a little washed out. This is no doubt due to the fact they are a drier marker. They do not bleed easily—which helped prevent our hands from becoming very stained—but that also means that if you want anything to be a vibrant color, you may have to color over it twice.
To watch the Bakerpan Food Coloring Markers Set of 7 Review on YouTube, click here.
Pros:
Perfect for Kids
Easy Clean-Up
Kosher
Cons:


7. Foodoodler Fine Line Markers Set of 10 Review
Our favorite part about the Foodoodler Fine Line Markers was the name! That is not to say that there are not other great things about this edible marker for cookies. In fact, there were several in our test kitchen who liked these markers the best.
Foodoodler markers come in a set of ten and include black, brown, red, light blue, navy blue, green, yellow, orange, purple, and pink. These food coloring markers are certified 100% Kosher.
The nibs on these markers are very fine, making them great for drawing details. However, they are so fine you may want to have a secondary set of markers for coloring in large areas. This means they would make a great addition if you choose to buy the Chefmaster Double-sided markers, as the colors complement each other well.
We colored on a number of fondant-covered cookies with these markers and found their food coloring to be vibrant and to match the markers perfectly. They did not fade with time, nor did they leave any taste on the cookies.
The biggest issue we had with this set of markers was that the colors can take a few hours to dry completely. Caution would be recommended to ensure you give yourself plenty of time to use the markers—and for them to dry before packaging. Overall, we would say this a good set of edible food coloring pens and worth giving a try if you need something colorful that is also great for detail work.
To watch the Foodoodler Fine Line Markers Set of 10 Review on YouTube, click here.
Pros:
Cons:
Long Drying Time
Not Double-Sided


Avoid – Wilton W609105 Food Writer Markers Set of 5 Review
Wilton's W609105 Food Writer Markers are one of the worst sets of edible markers for cookies on the market. They only come with five colors; brown, red, blue, green, and black. This is not a particularly good variety. There is nothing bright in the package, as even the green is a dark shade.
On the positive side, these edible food markers are all completely tasteless. This was a bit of a shock for those of us in the test kitchen. Wilton food colors usually have a very off-putting taste. We are not sure why they could not use this same color technology in their regular food colors. They are also very vibrant colors and they hold that vibrancy even over time.
On the negative, there are a lot of problems with these markers. To start with, the brown and the green markers were completely dried out when they arrived, and we were not able to revive them. Also, they are imported from China, so consumers concerned with quality and potential additives would want to avoid this product.
The markers dry out fast when you are attempting to color with them. Even wiping the tips between designs did not help solve the issue. They offer very poor coverage and what coverage we did get was mostly choppy. Strangely enough, they would go from not covering anything well, to bleeding all over the place any time they hit a crack in the surface of the fondant.
Overall, the quality of Wilton's food coloring markers is just far too poor for us to recommend to anyone.
To watch the Wilton W609105 Food Writer Markers Set of 5 Review on YouTube, click here.
Pros:
Cons:
Imported from China
Often Arrive Dried Out
Poor Coverage
Bleed
Not Smooth


---
---
---
2022 Buyers Guide to the Best Edible Markers for Cookies:
These days, there are so many options available to us, it can be downright overwhelming to pick the right edible markers. There are three main factors to keep in mind when picking out the best markers for your project. In our case, we were only looking at the best edible food markers for cookies. Think hard about the dry time you will need, the vibrancy of the colors, and the size of the nibs. These three factors will make all the difference in the world when it comes to how your project, and any future projects, will turn out.
3 Main Points to Consider:
Dry time – Some of the edible food coloring markers on our list have a dry time so fast, you will probably not even notice the wait, as the first cookies you colored will be dry long before you finish the last. In some cases, however, dry times can be significantly longer. If you intend to move the cookies you are baking outside your house, you will want to keep drying time in mind.
Vibrancy – Not all food colors are made equal, and the same can be said of food color markers like those on our list. While most of the markers we listed are vibrant, there are a few that are not.
Nib Size – If you want to color anything with fine details, having a marker with a tiny nib is a must. If you want great coverage, a large nib is a necessity, or you may never get your project finished. If you are only buying so you have something to do in the kitchen with your children, you may not want to make the investment as getting something with a fine nib, knowing it will likely go to waste.
Can you draw on royal icing?
Yes! All the edible food coloring markers we have on our list work very well on royal icing. They are also perfect for decorating fondant and most of them can be used on nearly any other food surface. The only exception to this is the Foodoodler markers, which do not work well on any surface that has a fatty base, such as chocolate.
Are edible Markers Food Safe?
You should always check to ensure that your edible markers are in fact FDA approved food safe. All the markers on our list meet that requirement, but when conducting your own research, you should always check that part out for yourself. Food coloring that is not FDA approved does hit the market, usually from overseas, so always check.
---
Best Edible Markers for Cookies (2022 Buyers Guide):
---
Final Thoughts on Buying Edible Markers for Cookies:
Edible food coloring markers can be a lot of fun to decorate with. They make coloring on a wide variety of cookies and cakes a joy, and even your children can get in on the fun. Markers are easy enough to use that even those who do not have the training or the knowledge to create grand designs in icing, can still make something very special.
There are a lot of great options on the market today for food coloring markers, and that can be overwhelming. That is why we chose to take on the question, what is the best edible marker for cookies to buy. We are happy to say, we found several fantastic options for you.