Let's face it, nothing ruins the perfection of a neon pink frosted cupcake quite like a metallic aftertaste. We created this list to determine the highest quality gel food coloring kits because we know the struggle. From the disappointment of a bright amethyst cookie cooling off to roughly the same shade purple as McDonald's Grimace monster, to the difficulty of attaining a true black or bright red—we all want the same thing. We want a cooking dye that gives us the color we want—without fading or darkening—and we want it to come without its own flavor.
The AmeriColor Heavenly Seventy Soft Gel Paste Kit was a pretty easy pick! The colors stay true after baking as well as after adding to icing, very little is needed, and its consistency is super easy to mix in.
We've researched and discovered the six top-rated gel food coloring, as well as the one to avoid.
Reviews of the 6 Best Gel Food Coloring, Plus 1 to Avoid
1. AmeriColor Heavenly Seventy Soft Gel Paste Kit Review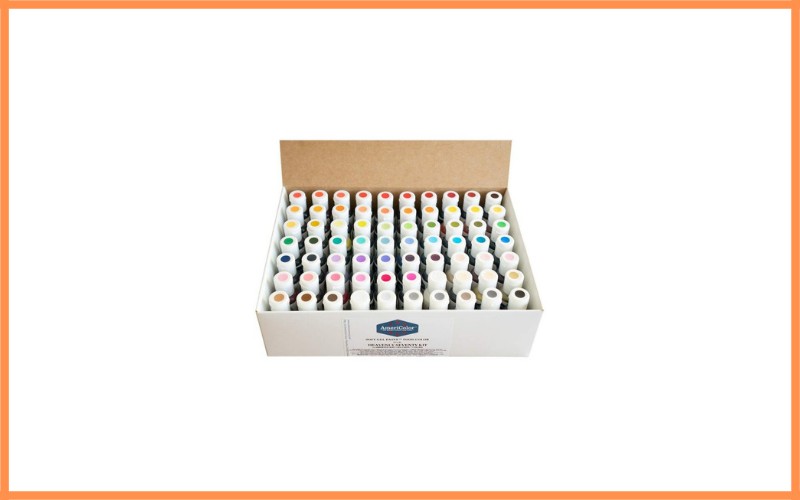 This is a huge collection and it deserved to be our pick for the best food coloring kit overall! It includes every color in the AmeriColor Soft Gel Paste line—all 70 colors—and every one of them comes in a 0.75 oz bottle. AmeriColor gel food coloring hold their colors true after cooking better than any other food coloring on the market today.
No one could possibly use all of these food colors up fast unless they were running a bakery. Even then, you would have a problem using them all up, because it only takes a drop or two to get the rich color you are aiming for. Those facts might be a problem with most food colors, but it is not an issue with AmeriColor Heavenly Seventy Soft Gel Paste Kit! This soft gel paste doesn't get gross or harden with time, it doesn't lose its vibrant colors, and every bottle always mixes into the batter or icing smooth as silk.
When we tried the AmeriColor soft gel paste for ourselves, we found that we could mix an endless variety of colors. Every food color we came up with held it's color true from baking to cooling. Even days after the cookies were made, they were still the same color they were from the start. No other food coloring soft gel paste can offer performance like that, which makes these the best food coloring for cookies. Even when mixing these soft gel pastes into something delicate like whipped cream, the colors hold true and they don't separate.
There is very nearly no flavor to any of the colors, and what there is isn't off-putting. The bottles are all easy squeeze bottles, making it easy to measure as you go. The only thing we can say against them at all is that when you finally do get to the bottom of the bottle, they are as hard to get those last drops out of as any other soft gel paste on the market. You are going to have some waste there.
This kit is amazing—we honestly can't say enough about it. It is beyond compare the Best Food Coloring Kit of 2022.
To watch the AmeriColor Heavenly Seventy Soft Gel Paste Kit Review on YouTube, click here.
Pros:
Smooth consistency
Vibrant colors
Least amount of flavor
Age well
Cons:

2. AmeriColor Student 12 Color Kit Review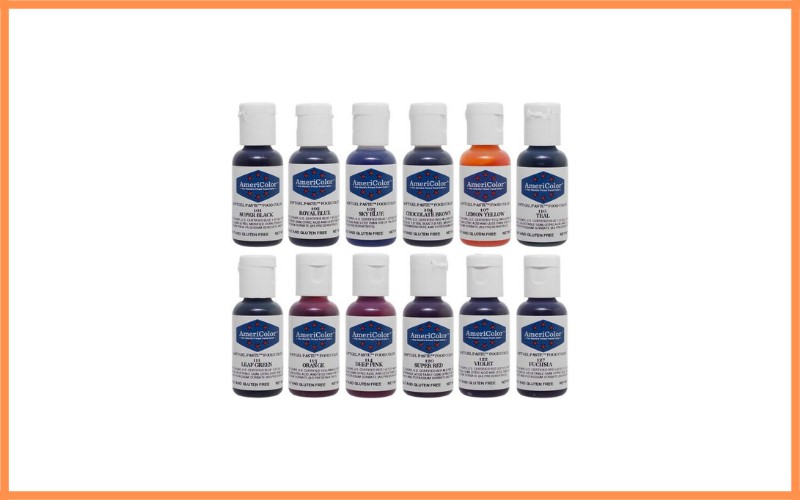 Like its big brother, the AmeriColor Heavenly Seventy Soft Gel Paste Kit, the AmeriColor Student 12 Color Kit offers only the best in food coloring. The soft gel paste mixes smoothly into whatever you may be coloring. Baking a red velvet cake? You'll get a deep, vivid red—without that nasty aftertaste—every single time, and it will only take a few drops to achieve. Making pastel pink macaroons with a seafoam green filling? You can achieve that as well, and the color will stay true from baking to cooling and even days after the cookies have finished—if they even last that long!
This option is the best food coloring for cakes and the best food coloring for macaroons.
This soft gel paste works equally well in candy. Unlike traditional food colorings, it won't create an off-putting taste even if you have to add in more color. Trying instead to just color the icing? Not an issue with AmeriColor gel food coloring, and the colors available in the 12-color kit are more than enough to get any student started.
Included in this kit are all the colors an artist really needs to create a great pallet. There's red, green, yellow and blue—all the primaries! After that, they threw in some hard to find colors. Chocolate (brown), black, teal, violet, pink, fuchsia. There's even a rich hue of orange included!
If there were any fault at all to be found with this food coloring kit, it would be that there's a kit available from AmeriColor with more colors in it and you will love the results you get with this kit so much, you are going to want to go back and order the rest of them! For that reason, this kit gets our stamp of approval and we can firmly say this is the best food coloring kit on a budget available on the market today.
To watch the AmeriColor Student 12 Color Kit Review on YouTube, click here.
Pros:
Mixes great
Colors stay true
Consistent results
Almost tasteless
Cons:

3. 12 Soft Gel 0.75 Oz Food Color Chefmaster Set Review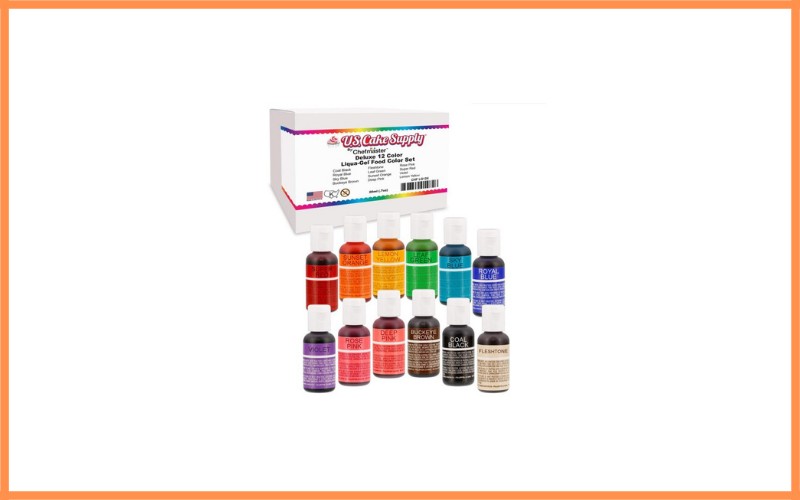 The 12 Soft Gel 0.75 Oz Food Color from Chefmaster includes all the colors of soft gel paste you need to mix and create signature looks of your own. The coal black is the richest black we have ever seen. There's a lovely royal blue, sky blue, and flesh-tone.
The buckeye Brown is an unusual food coloring shade sure to go well on a boy's birthday cake decoration. Although we here do not typically need brown, when we do it's a nearly impossible color to find, and it is equally difficult to create on your own. Having a great shade of brown in an easy squeeze bottle, that won't weep or harden with time, is a wonderful convenience. It is possible to get even a single drop of color out of the bottles without any issues.
Leaf Green, Sunset Orange, Deep Pink, Super Red, Violet, and Lemon-yellow round out the colors in the kit very well.
Unlike most food coloring, Chefmaster products are not only Vegan, but they are also certified kosher too! Made in the U.S.A. instead of imported from overseas, you can rest assured that there are no nasty surprises or pollutants in this soft gel paste.
Most of the colors available in this kit are as vibrant as the ones offered by AmeriColor. These food colors do have a little bit of a taste to them, so you should be careful when adding them to things like whipped cream or icing. For baked goods, the taste was not noticeable at all.
The biggest issue with this set is that the bottles are only 0.75 oz. For someone who only uses food coloring on the holidays, this would be an ideal set. For anyone trying to follow along with Cake Boss, this just does not have the volume of color you will need.
To watch the 12 Soft Gel 0.75 Oz Food Color Chefmaster Set Review on YouTube, click here.
Pros:
Vegan
Kosher
Made in the U.S.A.
Dropper top
Cons:

4. 12 Soft Gel 2.3 Oz Food Color Chefmaster Set Review
This soft gel paste set tied with its sister set and ended up as number four through no fault of its own. It is almost equal to the other set in every way. The only reason we chose the other set with its smaller containers over this one is that the other set included Flesh-Tone and that is a nearly impossible color to find.
One of the nice things about 12 Soft Gel 2.3 Oz Food Color set is that it comes with a color mixing wheel to make customizing your colors even easier. Like the 0.75 oz color set above, this set has a few harder to find colors as well as some no kitchen should be without.
First off, we have Sky Blue and Royal blue. Between these two food colors, you can mix a nearly infinite variety of blues for flowers. There's Violet, Leaf Green, Lemon Yellow, Sunset Orange, Buckeye Brown, and Coal Black as well. All of these colors are included in the 0.75 Oz kit we chose as number 3 on our list.
Unlike the other set, this one includes more red tone food coloring. There is a vibrant Red Red, Christmas Red, Baker's Rose, and Burgundy Wine. Our personal favorite was the Burgundy Wine. Only a few drops made the most amazing shade of buttercream icing we ever saw. This is truly the best food coloring for buttercream icing!
The soft gel paste food colors available in this kit are all super high quality. We loved that the larger size of the bottles meant we had a lot more product to work with. Chefmaster colors are not quite as intense as AmeriColor food colors, so it should be noted that you may need to use another drop or two if you are after a very rich color.
To watch the 12 Soft Gel 2.3 Oz Food Color Chefmaster Set Review on YouTube, click here.
Pros:
Vegan
Kosher
Made in the U.S.A.
Dropper top
Cons:

5. 12 Bold Primary Color 0.75 Oz Chefmaster Set Review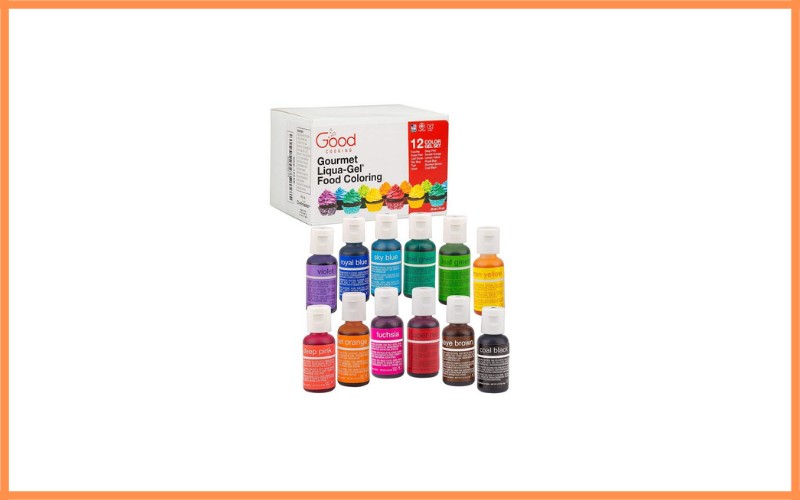 There is not very much difference between this color kit and the one we talked about in our number three spot. Like that food coloring kit, this one has twelve different colors. These easy-squeeze bottles are also 0.75 Oz and are super easy to use. Like all Chefmaster products, they mix into your batter, icing or whipped cream smooth and without causing any type of weeping.
This 12 Bold Primary Color kit contains Coal Black, Royal Blue, Sky Blue, and the ever-useful Buckeye Brown. There's also Lemon Yellow, Leaf Green, Sunset Orange, Super Red, and Violet. All those colors are available in the kit mentioned in our number three spot.
What's new here is the addition of Teal, Deep Pink, and Fuchsia. Teal is another food color you don't see very often, and it's a personal favorite of several people in our test kitchen. For that reason, it was argued that perhaps this kit deserved a better spot in our product line-up, but in the end, Flesh-Tone won out as a harder to find food color.
Because of the color selection involved, this is a great all-around coloring kit. You get all the colors you need for most projects as well as harder to find food colors that can be used to make some truly unique combinations.
All Chefmaster bottles have an original droplet design that is perfect for getting the exact amount of soft gel paste out, for what ever you're trying to color. More than that, the design makes it easy to get even the very last drop of color out of the bottle without a struggle.
To watch the 12 Bold Primary Color 0.75 Oz Chefmaster Set Review on YouTube, click here.
Pros:
Consistent color
Easy to use
Good selection
Cons:

6. Wilton Color Right 8-Base Color Kit Review
Wilton color has been on the market for years, but they have fallen behind the times. More recently, they introduced what they refer to as 'Tasteless Red,' but for some reason, they decided not to replace all the red they offered with that option. It is puzzling why they would think anyone would prefer the unpalatable red variety, but for including it in this kit, we had to take off a lot of points.
All Wilton food colors have an after taste. When baking, that is not an issue. The flavor is slight enough you won't notice it. However, when it comes to coloring icing or whipped cream, it becomes obvious that you went with the cheaper option and bought Wilton. As though that were not bad enough, Wilton food colors have a well-earned reputation for changing within an hour or so of your baked goods cooling off.
The squeeze bottles of Wilton Color Right Kit allow for easy application, although you will want to be careful if you are trying to be exact because these applicators will allow more than a single drop out at the time. On the upside, you will be able to get every single drop of this food color out before tossing the applicators out.
This is still a good kit for the price and the savvy shopper will see the value in it. The colors are enough to get you started with customizing your pallet. If you have young children just learning to bake and decorate, or if you are trying to color your own bath bombs, this is the absolute perfect kit to do it with.
To watch the Wilton Color Right 8-Base Color Kit Review on YouTube, click here.
Pros:
Good color selection
Perfect for bath bombs
Cons:
Cheap squeeze bottles
The red is horrible
After taste

Avoid – Wilton 12-Count Gel-Based Icing Colors Review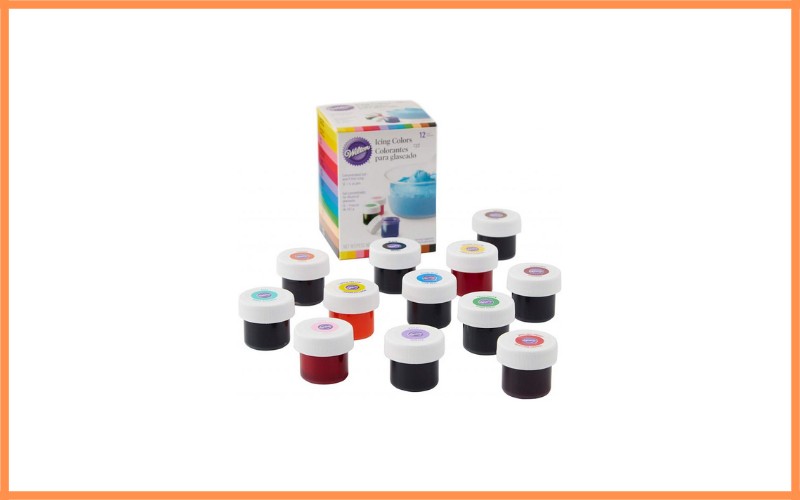 One of the worst food coloring kits on the market, with good reason. Wilton's is your grandma's food coloring. They do seem to be trying to keep up with the times, but they have a long way to go to catch up to any of their competitors.
Wilton 12-Count Gel-Based Icing Colors kit contains their 8 base colors as well as four additional colors. Although the No Taste Red does not taste as bad as Wilton red generally tastes, it still has a taste. As a matter of fact, all the food colors in this kit have a horrible after taste. These colors are meant specifically for creating icing—exclusively. For that reason, color fading is not an issue with this kit when used as directed, but the kit has plenty of other problems.
Instead of squeeze bottles, these soft gel pastes come in small jars. Yes, you read that right. Jars. There is no easy way to measure out this food color. The jars Wilton provides in this kit each have a seal that can only be opened by puncturing and tearing them off, causing splatter. There is no real way to ensure you do not get food color all over yourself and your countertops. Perhaps they thought chefs would prefer to scoop out their food coloring with a measuring spoon, but if that were the case, they could have included one that would fit inside the jars.
To watch the Wilton 12-Count Gel-Based Icing Colors Review on YouTube, click here.
Pros:
Cons:
After taste
No squeeze bottles
Messy to open

---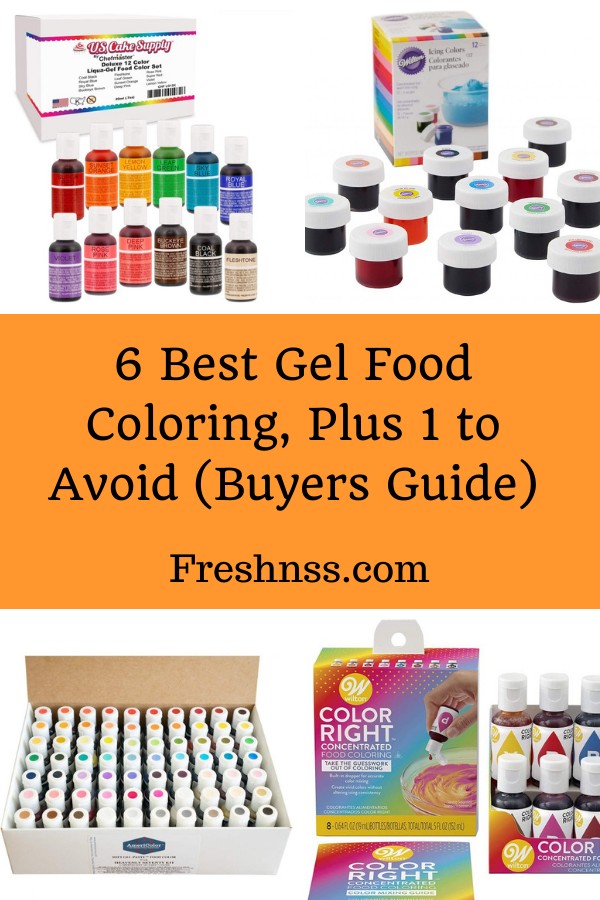 ---
Buyers Guide to the Best Gel Food Coloring:
When buying any type of food coloring, for cookie airbrushing or any other baking usage, it is important to keep several things in mind. You want a food coloring that mixes well into whatever you're trying to create. You want the food coloring you select to be as tasteless as humanly possible. You also want to make sure you get a kit that at the very least contains the primary colors—Yellow, Blue, and Red.
3 Best Food Coloring Brands:
AmeriColor: As flavorless and odorless as anything you will find on the market today, AmeriColor has quickly risen to become the favorite brand of chef across America. However, it can be difficult to find this brand in smaller stores in towns where there are fewer discerning customers. Fortunately, the internet is here to save us from bad food coloring experiences, even as it gives us an endless supply of new recipes to try out.
Chefmaster: Chefmaster is a great middling food coloring. It only has a slight taste to it that is barely discernable unless you upend an entire bottle into your batter. It mixes like a dream, and they've developed a bottle design that is far superior to everyone else's. It is as close to AmeriColor as you can get without buying AmeriColor.
Wilton's: One of the oldest brands on the market, Wilton's was good enough for us to learn with when we were children. It is certainly good enough for our children to learn with. It's inexpensive and a little goes a long way. Its easy to clean. Its easy to measure out if you don't purchase the icing kit! It has an off flavor you can taste if you are heavy-handed with it, so we do not recommend it for adult cooking. It makes fantastic bath bombs.
Is liquid or gel food coloring better?
The biggest difference between gel food paste and regular food coloring is the mixability and ease of use. Regular food coloring is a liquid and is prone to weeping. Soft gel paste mixes evenly into batter or icing without separating. Soft gel paste is also significantly easier to measure out than regular food coloring is.
Does food coloring have a taste?
Food coloring should never have a taste. Unfortunately, most food coloring still has one. In most cases, the taste can only be detected in icings. In the case of red food coloring, you can usually taste it when baking, as red food coloring has an unusually strong after taste. This is why it is so important to purchase the right food-coloring brand. Most of them have a great selection of colors, many of them have perfected their soft gel pastes so that they mix in well to any product without weeping. Almost no one has managed to create a food coloring that is both vibrant and flavorless.
---
Final Thoughts on Buying Gel Food Coloring:
There are many options on the market today for coloring your baked goods. Some of them mix into icing or batter better than others, some of them have more color selection. Only the very best mix like a dream, have more colors than you can name off-hand and do all of that without any detectable after-taste.