If you live in a city where contaminants like chlorine, PFAS, lead, and hard water are commonly found in water supplies, this article is for you.  We installed and tested the EVO Water Systems E-3000 to see why it has quickly become the best cartridge-based whole house water filter and salt-free softener combo for city water.   
Our E-3000 review will cover how the system is so effective, the benefits of a cartridge-based unit, along with the installation and maintenance requirements. Let's dive in!  
Filters out hundreds of contaminants
Prevents and removes scale build-up
No waste water, salt, or chemicals
High water pressure 15 GPM flow rate
Lifetime warranty & 120 day guarantee
How Does The EVO E-3000 Whole House Water Filter And Softener Combo Work?
The EVO E-3000 combines the best of both worlds with the benefits of a whole house water filter and salt-free softener into one compact system. Specifically designed to give you healthy and soft water from every tap in your home without the negative effects of salt and chemicals.  We immediately noticed better-tasting water, brighter clothes in the laundry, and no more slimy shower water.
The three stage filtration system starts with water flowing through the premium 5 micron sediment filter. This extra-large 20 inch sediment filter will remove silt, dirt, rust, and other debris that will cleanse the water and help extend the life of the carbon filter in the next stage.
The high-performance Catalytic Activated Coconut Shell Carbon Block filter does the heavy lifting to remove harmful contaminants normally found in municipal water [1]. Its uniform pore structure increases water contact time with the carbon block to further increase the ability to address hundreds of contaminants like:
Chlorine & Chloramine
Volatile Organic Compounds (VOCs)
PFAS (PFOA & PFOAS)
Heavy Metals (Lead, Copper, & Arsenic)
Herbicides
Pharmaceuticals
In the third and final stage, water is conditioned in the eSoft media cartridge. We love this system because it will even remove existing scale buildup, unlike traditional salt-based softeners that only address future scale [2].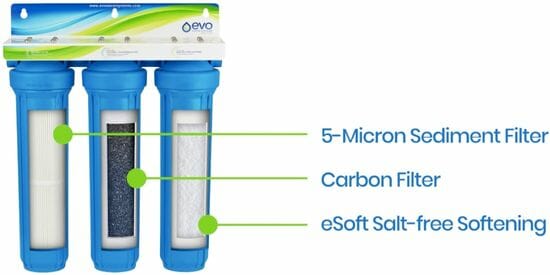 Best of all, it requires no salt or chemicals, while salt-based softener systems utilize an ion exchange chemical alteration process, which mixes sodium into the drinking water supply [3]. The salt-free system is ideal for soft hair and skin while preventing the costly effects of calcium buildup on appliances.
"Swapped out my old salt softener for the E-3000 which Evo claims is the best of both worlds, and it actually is! I immediately noticed a big difference in my water quality."

Rebecca H. – Verified Buyer
But, there's one more addition to mention. If you have issues with bacteria or boil advisories, the EVO system can also come with a UV purifier to completely sterilize microorganisms for the safest drinking water possible [4].
Easy EVO Water System Installation
For a whole house filtration system, this is about as simple as it gets. No more bulky tanks that require expensive installs and take up valuable floor space. It took us approximately 90 minutes to install our system.
The EVOs come ready for use straight out of the box with an easy in-line design. The two water-in and water-out connections will save you a lot of time and money. Since it is not an invasive installation process, you can easily take the system with you if you move. Additionally, the EVO is capable of being installed both inside and outside.
The best part is it includes everything you need for a wall mount install. If you run into any issues, the customer support is top notch and can walk you through the process.
System Specifications
| | |
| --- | --- |
| | EVO Water Systems E-3000 |
| Number Of Stages | 3 Stages (Pre-Sediment, Carbon Block, Salt-free Conditioner) |
| System Type | Cartridge Based |
| System Dimensions | 25¼"(H) x 23¼" (W) x 8″ (D) |
| Max Flow Rate | 15 Gallons Per Minute (GPM) |
| Max Capacity | 6 Bathrooms |
| Max Hardness | 75 Grains Per Gallon (GPG) |
| Connection Size | 1″ FNPT |
| Operating Pressure | 25 – 120 psi |
| Operating Temperature | 36 – 120 F |
| Ph Range | 6.5 to 11 |
Filter Changes and Maintenance
When it's time to replace the filters, swapping them out takes only a couple of minutes.
The sediment pre-filter is able to be washed several times before replacement if your water has heavy sediment. It is recommended to replace the sediment filter and carbon filter once a year. Compare that to other cartridge options that need to be replaced every 3 – 6 months.
The eSoft softener cartridge never needs to be replaced. It is virtually maintenance-free since it uses a physical alteration process and not a chemical alteration.
Although tank-based whole house systems do not require replacement for several years, the benefit of annual filter replacements is the Evo consistently operates at peak filtration performance.
To save extra money, Evo Water Systems offers AutoShip, which includes a 15% discount on your sediment and carbon filters so they show up right at your doorstep.
Warranty
The Evo system is built in the USA using only NSF certified components. It is backed with an industry-leading lifetime warranty plus a 120 day money-back satisfaction guarantee.
System Comparison
What makes the EVO so special? Let's look at a comparison between the EVO E-3000 vs tank-based systems. Overall, it takes less space, has a lower price point, but still checks the boxes on a lot of the performance metrics. Expand the section below to see the comparison table.
Comparison: EVO E-3000 VS Traditional Tank-Based Systems
Positive
Removes hundreds of contaminants like chlorine and chloramine
Soft water for skin and hair, while protecting your appliances from scale buildup
Doesn't require salt, chemicals or electricity
High flow rate of 15 GPM so no drop in water pressure
Easy installation with everything included
Negatives
Filters replacements can add up if you have heavily contaminated water
Does not remove calcium and magnesium from water
May require professional installation if not DIY inclined
FAQs For The EVO E-3000 Water Filter and Softener Combo
Where do I install a whole house filter and softener system?
A whole house water filter system is sometimes referred to as a "point of entry" system because it is installed where your main water line enters your home. The EVO is designed to be simple to install and takes up very little space. It can also be installed both inside or outside.
Do salt-free water conditioners work?
Yes, salt-free water softeners work to deliver over 99% scale prevention with no salt or chemicals, while ensuring no drop in water pressure. They use a process called template assisted crystallization (TAC) that crystallizes calcium and magnesium minerals so they can't stick to your plumbing or appliances.
Are salt-free or salt water softeners better?
Salt-free water conditioners require no salt, chemicals, or electricity to operate. Salt-free units also do not need to discharge salt brine concentrate, which not only wastes water but is also detrimental to the municipal water system. Therefore, they are more environmentally friendly. The exception to using a salt-free alternative is if you have well water with high concentrations of iron. In that case, an Ion exchange softener may be better suited.
Where are EVO water filters and softeners made?
EVO Water Systems develops, designs, and builds there products in the United States using only certified parts.
---
Why Trust Freshnss?
Ricky is the founder of Freshnss and product reviewer specializing in water filtration, home, and kitchen products. For this review, he worked with our water review board of experts. And also with our network of industry professionals who offered qualities that made the EVO E-3000 Whole House Water Filter And Salt-Free Softener Combo stand out from the competition. Next, he researched today's best whole house water filter and salt-free softener combos, considering dozens of options from various merchants and retailers. The EVO Water Systems unit stood out based on scale reduction performance, water flow rate, warranty, and overall value. He has read thousands of user reviews, and written hundreds of product reviews. He has also tested and re-tested some of our top picks, and looked for filtration companies for new home water treatment options worth trying.
Freshnss uses only the highest-quality sources to support the facts used in our articles including: government organizations, independent studies, peer-reviewed journals, and lab testing results. Read our editorial review guidelines here to learn more about how we verify and fact-check our writing to keep our content reliable, accurate, and trustworthy.